Increasing House and Land price in Damak ! Why?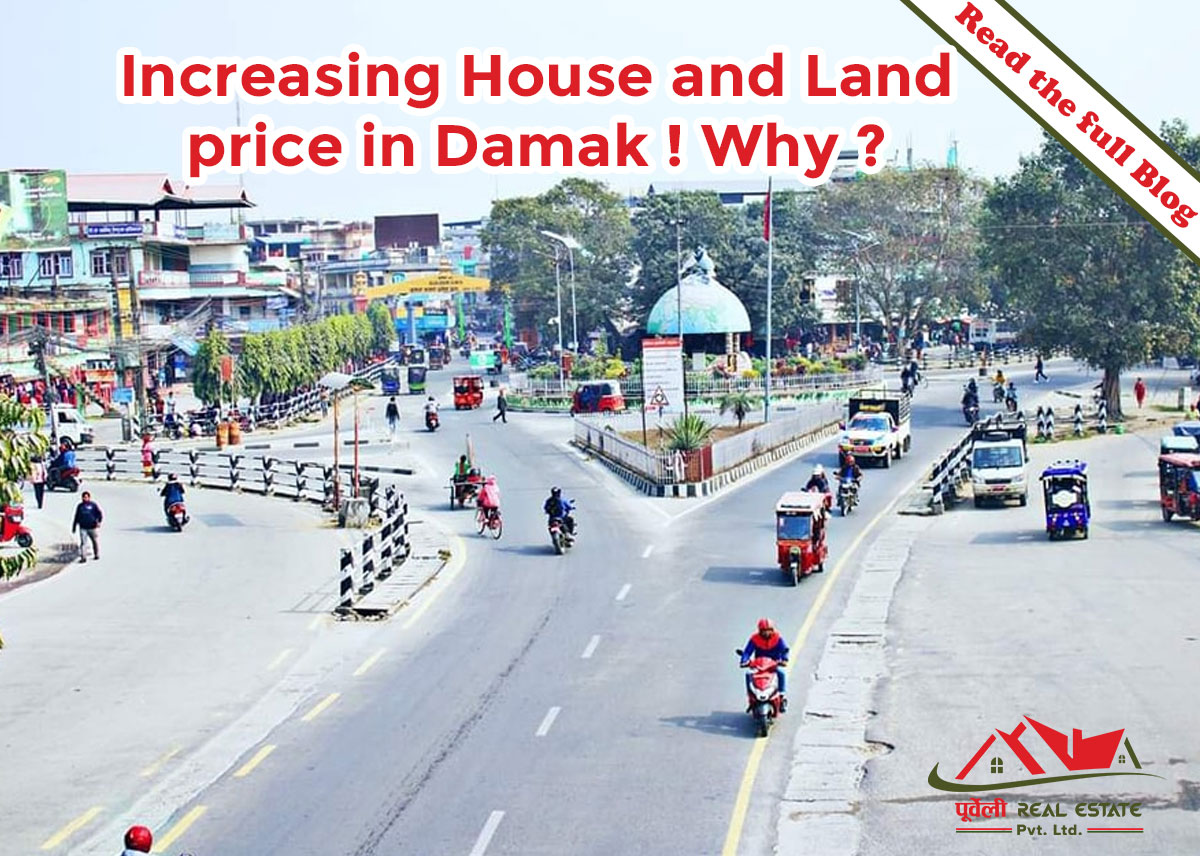 Increasing House and Land price in Damak
Damak located at center of eastern region of Nepal is an attractive real estate investment destination for investors and buyers in Nepal. Located at a basement of high hills it connects different parts of Nepal that is why people are attracted towards Damak city rather than other buzzling cities.  Also See: city buyers making move to jhapa damak . 
With the increasing demand for land and houses in Damak, the value of real estate properties is also in pace to rise. In this blog we will explore why the price of real estate is increasing in Damak.
Population growth and Urbanization
People migrate in Damak from different rural areas for better opportunities. As the population increases there is increase in demand for housing. Damak is emerging city, and it cannot fulfill the demand for housing at present scenario. According to the supply and demand rule, when demand outpaces the supply, the things became valuable, and price automatically increases.
As we all know, land is indestructible i.e., the supply of land is limited. The capacity of Damak to provide land for residence is limited but the demand of land in Damak is on rise. The scarcity of land drives up the price as developers and investors to compete for potential   land available in Damak city.
Investment and Potentiality
Real estate is frequently regarded as a secure and profitable investment option. Price increases may be influenced by potential buying. Investors purchase real estate with the hope of a future price increase. Damak city provides lots of potentiality for commercial as well as residential purposes which leads to the high appreciation of value of property in near future.
Infrastructure Development
Damak city provides you with greater amenities, connections, and transportation which increase the popularity of a location as a place to live or invest. Demand and property values may rise because of this greater desirability.
As real estate market in Nepal is unmanaged, people don't know about the registered real estate agent and work with the local agents whose commission rates are high which ultimately increases the price of the property.
Purbeli Real Estate is the registered real estate company in Nepal established to provide professional and managed real estate services.  If you are willing to invest / purchase in real estate property in Damak then Purbeli Real Estate offers you with remarkable real estate properties in prime location of Damak.  See this : why Purbeli? 
About Us :
At Purbeli Real Estate, we take pride in offering top-notch services in buying, selling, and renting properties across Nepal. Our team of experienced professionals is dedicated to providing you with easy, fast, and reliable real estate solutions. Whether you're a first-time buyer, an experienced investor, or seeking to sell your property, we've got you covered!
🏆 Why Choose Purbeli Real Estate?
✅ Easy Process: We understand that navigating the real estate market can be overwhelming. That's why we simplify the process for you, making it stress-free and straightforward.
✅ Fast Transactions: Time is valuable, and we respect that. Our swift and efficient service ensures that your real estate transactions are completed promptly.
✅ Trustworthy & Reliable: With years of experience in the industry, we've earned a reputation for being dependable and honest. You can count on us to deliver on our promises.
✅ Extensive Property Listings: Our wide range of properties caters to various preferences and budgets. From cozy apartments to spacious villas, we have something for everyone.
✅ Knowledgeable Team: Our team of experts has an in-depth understanding of the Nepali real estate market. We offer valuable insights to help you make informed decisions.
📞 Contact Us:
Have a question or need assistance? Our friendly team is ready to help! Get in touch with us through
Facebook: पूर्वेली Real Estate
Whatsapp: whatsapp
email: [email protected]
phone: 023-580777, +9779702011339
🌐 Website:
Visit our Website: Purbeli Real Estate to explore our latest property listings and learn more about our services.
At Purbeli Real Estate, we are passionate about turning your real estate dreams into reality. Join our growing community and experience the joy of finding the perfect property in Nepal!