7 Reasons: why? City Buyers making move to Jhapa Damak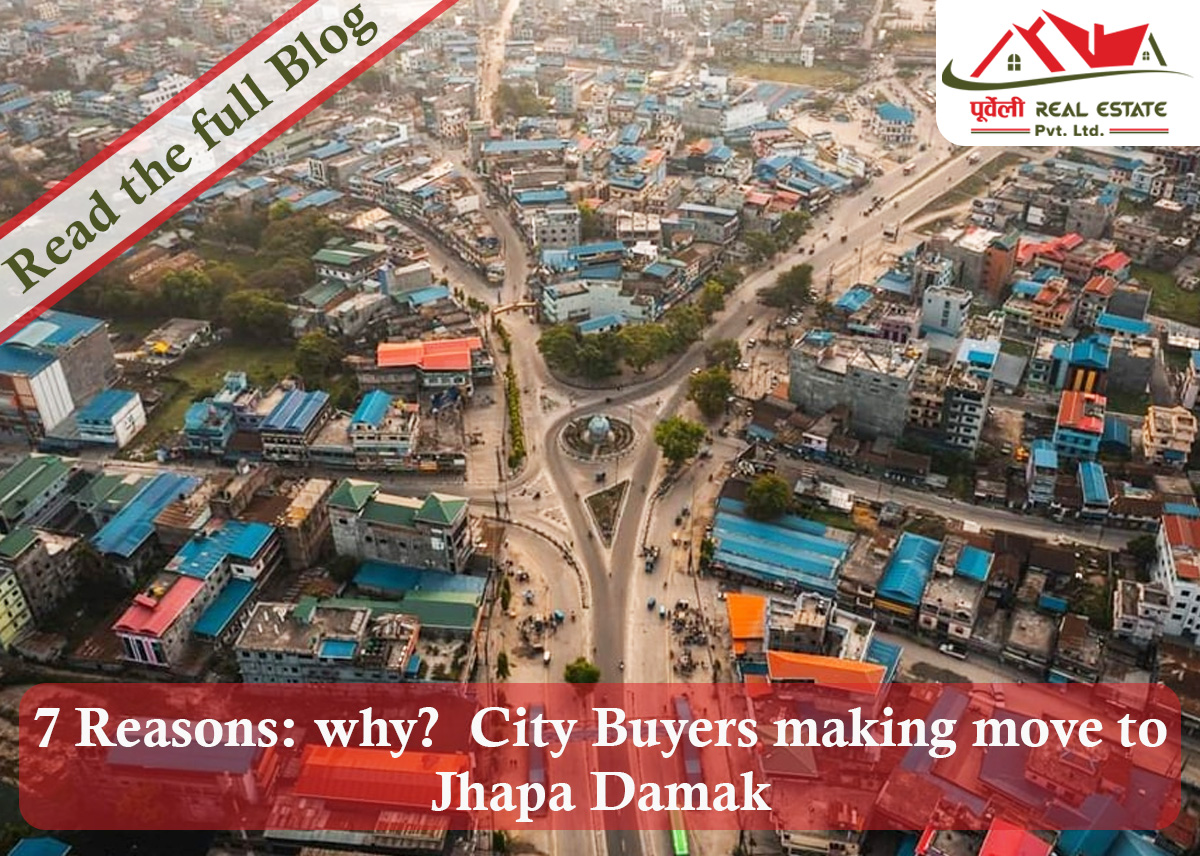 7 Reasons: why?  City Buyers making move to Jhapa Damak  
With the ongoing trend of urbanization in Nepal, Damak City can't stay away from it. Located at the heart of the Jhapa district, the base of hills, Damak is a trending destination place for city buyers. The city has a main attraction for the residents from the neighboring district Ilam and Pachthar. Also, this city is getting market among investors as it has great potential in business activities. Well, people move to different places driven by economic, social, and personal motivations. In this blog, we will be exploring seven reasons why city buyers are making a move to Jhapa, Damak.
Affordable Real Estate
As compared to other cities in Nepal, Damak offers more affordable housing options for households or investors making it attractive. The city appeals to better deals to the purchasers who want to buy/invest with marginal value. Most of the Nepalese community belongs to Middle-Class families so it is affordable for them to buy the property that suited them financially.
Infrastructural Development
Damak experiences significant development and improvements in terms of Infrastructure. The modern amenities such as roads, health facilities, technological advancement, and educational facilities make it a more desirable place to live.
Serene and Natural Environment
Damak offers you a peaceful and natural environment as it lies at the bottom of the hill region. You can enjoy both the beautiful views of high hills to the North and the horizon from the nearest to the South. Away from the bustle of the city, Damak is attractive to those who seek simple and pleasant city life. Damak is neat and clean as compared to other cities, which is one of the most attractive features of Damak for both residents and investors.  
Potential for Property Growth
Damak is a developing city and still it has greater potential to develop even higher. The real estate market in Jhapa is attractive for buyers as an excellent investment property because the city has the possibility for long-term property value growth as the city lies at the center which connects different parts of hilly regions with the terai ones, which adds additional potentiality in the growth of the value of property in near future.
Lower cost of living
Damak is a significant draw for buyers looking to reduce their expenses because it has a lower overall cost of living as compared to other big cities. There is a negligible difference between village living expenses and Damak living expenses.
Job Opportunities
 The city experiences economic growth which leads to increased job opportunities. The emerging business activities, and establishment of new offices, industries, plans, and projects lead to the generation of employment opportunities. So, Damak is a viable choice for individuals or families seeking employment prospects.
Socialized Neighborhood
Damak has a high literacy rate as compared to other places in Jhapa. The people living here are more civilized, well-mannered, and respectful. People want to live in such places where they have peace and harmony. So, Damak is becoming a residential attraction. Damak's relaxed environment, coupled with lower living costs also attracts retirees looking for a peaceful place to spend their golden years.
          Damak offers numerous benefits and meets the modern needs of individuals which fosters employment opportunities, education, and learning facilities, access to amenities and services, diverse social and cultural environment, networking, and social opportunities, infrastructure, technology entertainment and lifestyle options, healthcare facilities, public services and safety, cultural and professional opportunities.
This is why city buyers are making a move to Damak Jhapa. If you are also searching for a move to the city, then Damak is one of the best alternatives for you. Purbeli Real Estate offers you a variety of real estate properties in Damak. Embrace your luxurious city life with Purbeli Real Estate.
About Us:
Purbeli Real Estate is a registered real estate company located in Damak-05, Jhapa established to develop professional real estate services.  Since 2022 AD (2078) BS, Purbeli Real Estate has been providing quality services to sell/buy/rent your land/house/apartment. To know more about us connect with us at: 
Facebook: पूर्वेली Real Estate
Twitter: पूर्वेली Real Estate
Website: Purbeli Real Estate
Call us on 023-580777 or 9842666298. You can visit our office at Damak-05, Jhapa (next to the Inland Revenue Office).