Why Purbeli Real Estate?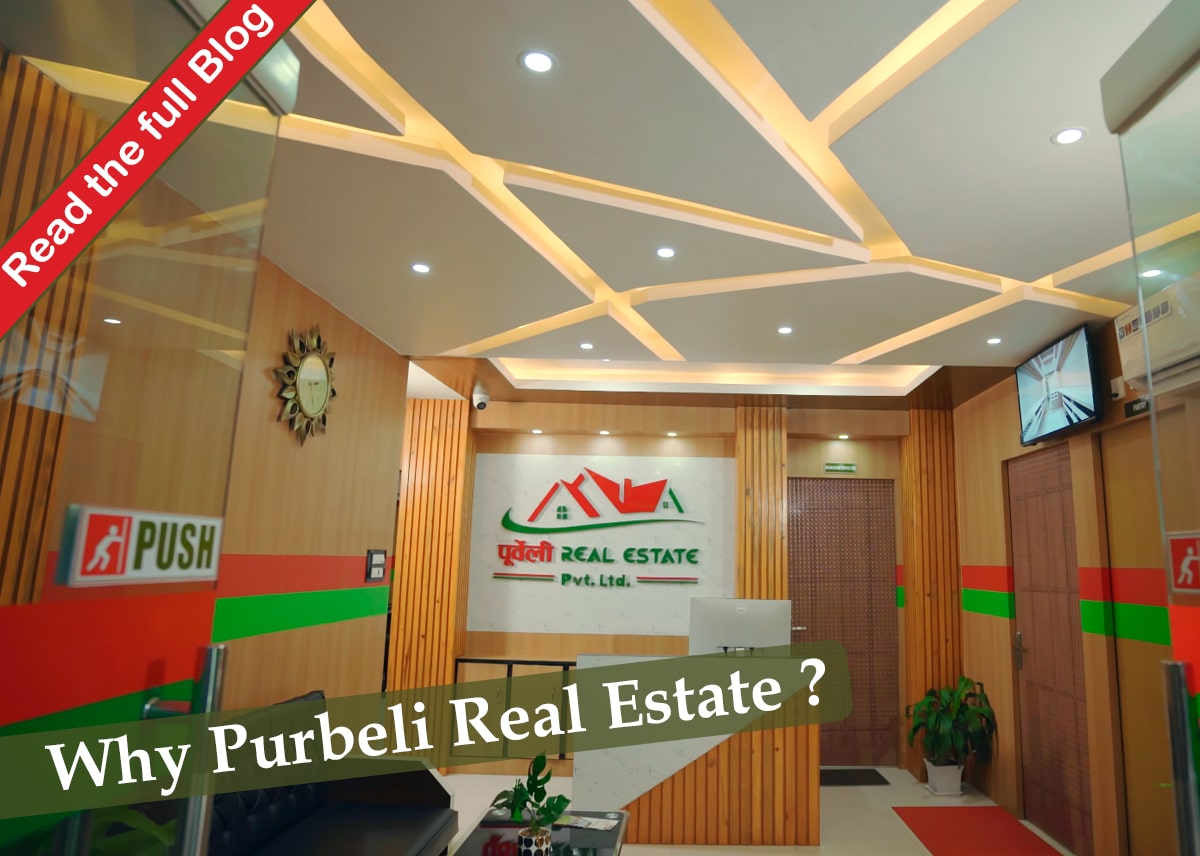 Real Estate in Nepal – Purbeli Real Estate
            The real estate market culture is unorganized in Nepal. It is normal to be tired of a costly deal with brokers to promote your property or find the best property for you.
 To solve the persisting consequences for clients like you, Purbeli Real Estate has been established.
Purbeli Real Estate is a registered real estate company located in Damak-05, Jhapa established to develop professional real estate services.  Since 2022 AD (2078) BS, Purbeli Real Estate has been providing quality services to sell/buy/rent your land/house/apartment. Purbeli Real Estate tends to provide the reliable and best way for sellers to sell their property and find the best property that meets buyers' expectations. 
Why Trust Us?
You are totally wrong if you think we are like other real estate brokers/scammers. Purbeli real estate is the registered real estate agent authorized by the Government of Nepal for real estate business in Nepal.
 Within one year of working, the company has been able to create a good name and fame among the people which is impossible as a real estate agent in Nepal.
Legality is our main concern. We ask sellers to produce legal papers and documents to ensure the real ownership and legality of the property.  
The commission is a crucial part of the real estate business. Our only intention is to serve you with the best deal of plates decorated with reliability and legality. We want to restore the faith that real estate agents can be good.
Aims and Objectives
To provide professional and reliable real estate services.
To find a property that is best suited for the clients.
To offer basic valuation, sales, and marketing services through different promotional packages.
To connect with clients directly and help them in the best possible way.
To offer advice to the clients and negotiate with them.
To be one of the best real estate companies in Nepal.
To assist clients with providing mortgage finance.
How do we work?
            Whether you are an investor, first-time home buyer, or seller we provide you with perfect solutions relating to real estate services. Our unique customer services ensure a smooth dealing process.
For seller:
As a seller primarily Connect with us. We will ask for details about your property (either land or house) and legal papers and documents of the property for the valid contracts.
We provide you with a smart and digital platform to list and promote your real estate property. You need to pay some sum to us. No, these are not commissions. You will be paying for:
Our team of photographers will visit the location of your property to take photos and videos of your property.
Professional photos or videos are prepared for attractive advertisements and listings on our high-traffic official website.
Also, we created a sponsored post on our social media which has thousands of likes.
We will be providing you with different packages, so you will pay a reasonable amount of money based on the promotional package you prefer.
For Buyer:
We have created a platform to contact us. When you contact us, we will ask what type of property you are searching for. We will provide you with the best-suited listed property as per your demand.
We will ensure the genuineness of the buyer and then help them to connect with the sellers.  We will negotiate with both parties for smooth dealing. To ensure the fairness of the deal we will evaluate the property appropriately with the most suitable price neither too cheap nor expensive.  And finally, the deal is done.
Choose Us
We are passionate about your dream as you are. Purbeli Real Estate provides you with abundant in-detailed properties equipped with modern amenities. The perfect solution for sellers who want to sell or tenants who want to rent their property or the one who wants to exchange their property. Get in touch with Purbeli Real Estate to live a life in your dream home. . To know more about us connect with us at : 
Facebook: पूर्वेली Real Estate
Twitter: पूर्वेली Real Estate
Website: Purbeli Real Estate
Call us at 023-580777 or 9842666298 . You can visit our office at Damak-05,Jhapa (next to Inland Revenue Office ) .