Impact of Migration on Rental Housing Demand in Damak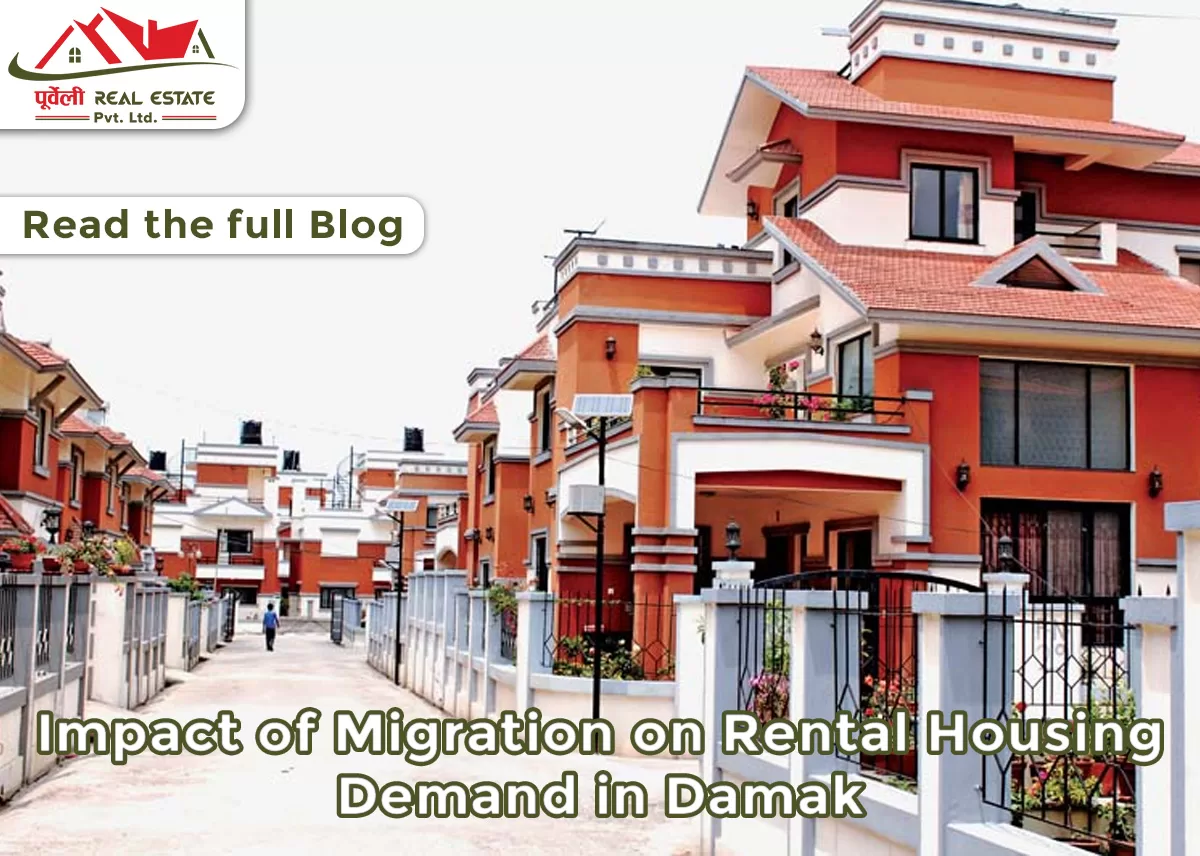 Impact of Migration on Rental Housing Demand in Damak
In the years there have been notable migratory trends in Nepal. The socioeconomic environment of the country has seen dramatic changes because of migration. The houses in villages are countable in number, on the other hand, houses in cities are growing massively.  So is the case in "Damak" a developing city in Jhapa. See:  why city buyers making a move to Damak 
In this blog post, we'll explore how the population movement has reshaped the housing market and presented possibilities in Damak.
Demand for rental accommodation has increased because of migration, in Damak. The need for housing alternatives has increased dramatically as individuals migrate in search of better job opportunities, higher levels of education, and higher living standards. The demand for rental residences has outpaced its supply which led to increased rental prices.
Housing shortages and an increase in rental costs are both results of the interaction between migration and demand for rental housing. Landlords have been enabled to raise rental prices due to the competitive nature of the housing market, where a greater pool of potential tenants competes. Which stands advantageous for investors who tend to have rental income.
Migration not only increases rental accommodation. It also works as a catalyst for rental commercial spaces. As the population increases, the demand for food, clothing, recreational activities, and different services increases. Which ultimately increases the demand for commercial space in rent.
Most of the students come here to Damak for their higher studies which gives rise to the demand for rental residence. Along with this, there is an increase in demand for office spaces for tuition centers, institutes, consultancies, and educational service providers.
Development has been sparked by migration in Damak. Property values rise when real estate investors invest in run-down communities, changing the urban landscape. While this process may result in better living and infrastructure.
Trend of Migration in Damak has fostered the demand for rental housing. You can see most of the houses are built on a flat-based system. Rental income is one of the finest sources of income without any risk or labor.
If you are searching for the best investment opportunity. Then have easy and passive money with potential opportunities offered by Damak via Purbeli Real Estate. Different properties i.e.houses/land are offered for sale at the premium location of Damak.  If you are in search of office spaces/flats in Damak? Or do you want to rent your flats and office spaces? Look no further than Purbeli Real Estate where we provide you with premium listings to find potential tenants. Also, we assist you to find the spaces of your choice in Damak. For more details, visit us at:
Facebook: पूर्वेली Real Estate
Twitter: पूर्वेली Real Estate
Website: Purbeli Real Estate
About Us:
Purbeli Real Estate is a registered real estate company located in Damak-05, Jhapa established to develop professional real estate services.  Since 2022 AD (2078) BS, Purbeli Real Estate has been providing quality services to sell/buy/rent your land/house/apartment. 
🏆 Why Choose Purbeli Real Estate?
✅ Easy Process: We understand that navigating the real estate market can be overwhelming. That's why we simplify the process for you, making it stress-free and straightforward.
✅ Fast Transactions: Time is valuable, and we respect that. Our swift and efficient service ensures that your real estate transactions are completed promptly.
✅ Trustworthy & Reliable: With years of experience in the industry, we've earned a reputation for being dependable and honest. You can count on us to deliver on our promises.
✅ Extensive Property Listings: Our wide range of properties caters to various preferences and budgets. From cozy apartments to spacious villas, we have something for everyone.
✅ Knowledgeable Team: Our team of experts has an in-depth understanding of the Nepali real estate market. We offer valuable insights to help you make informed decisions.
Call us on 023-580777 or 9842666298. You can visit our office at Damak-05, Jhapa (next to the Inland Revenue Office).