Property Alert!! Highly Commercial Land on Sale at Urlabari Main Market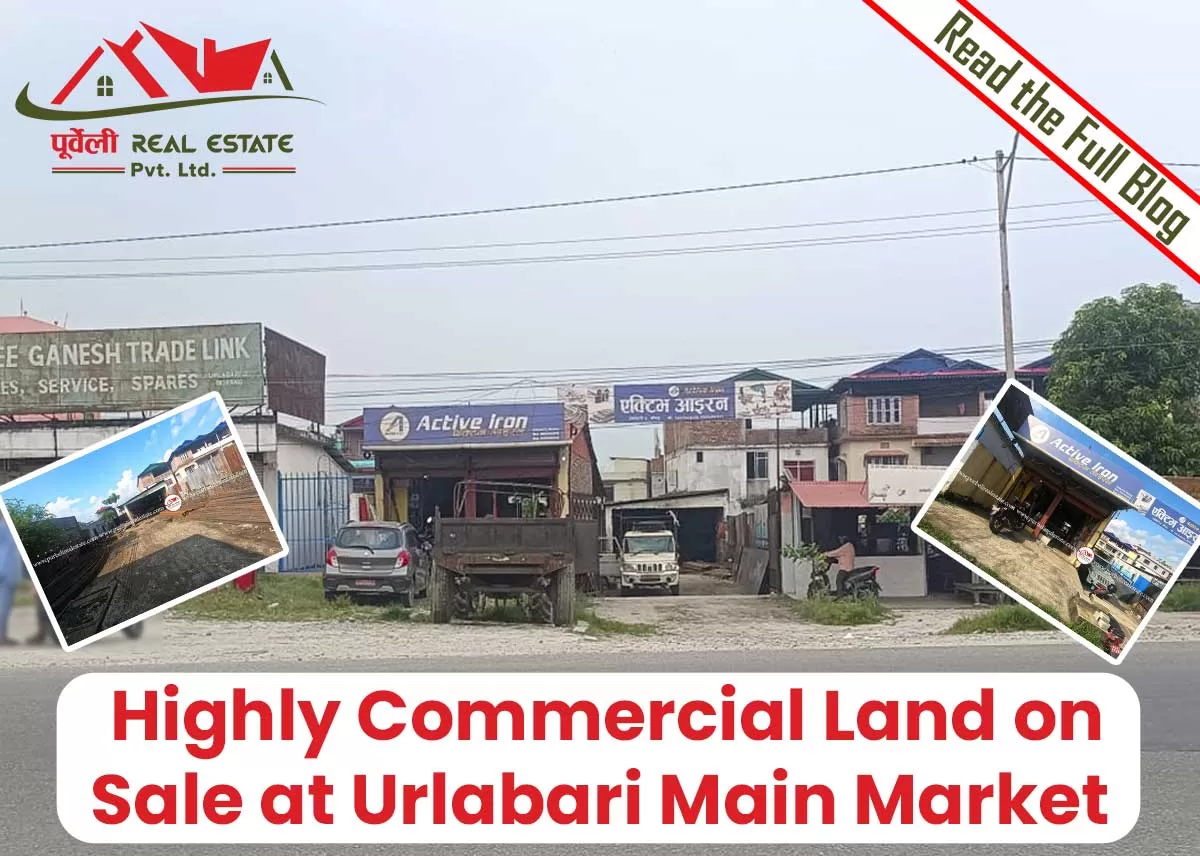 Property Alert!! Highly Commercial Land on Sale at Urlabari Main Market
Welcome to Purbeli Real Estate, the leading real estate in Nepal. In the journey of providing, you with different properties on sale all over Nepal, we are very excited to introduce you to the amazing plot of land on sale in the emerging city of Urlabari brought to you by Purbeli Real Estate.
Property Overview:
Land Area: 2 Katha 2 Dhur
Face: North / South
Face Size: 35 ft / 33 ft respectively
Road size/Types: 50 ft pitch Mahendra Highway
land Backside Road: 20 ft pitch road linked
Touched by Mahendra Highway
Price: 14 Lakh Per Dhur /-
Property Description
This beautiful plot of land with a land area of 2 Katha 2 dhur is in the Urlabari Municipality ward.no-05, 200m west of Urlabari Ring Road. This commercial land faces towards the South and the North with its 35 / 33 ft. wide face size respectively. Located at Urlabari's main market this property offers you numerous investment prospects along with a high possibility of success.
The property is touched by 50 ft. Mahendra Highway in the front and 20ft pitch road at the back. This offers the best marketplace for your business associated with shopping malls, department stores, Showrooms, Hotels, and so on. Considering the security at marketplaces, the land is compounded in all boundaries.
 The property is located at the prime location of Urlabari. You can take the best advantage of this property by utilizing it at its optimum level. The land consists of two constructed buildings which is currently being used for iron business and currently, Rs.50,000/- rent per month is being collected.  Property is best suited for business. Also, you can have easy access to each service which adds convenience for residents. As Urlabari is a growing city, you can earn rental income through office spaces, business spaces, as well as residential flats.
                        You can get this amazing land at Rs.14 Lakhs per Dhur. For details of the property or a visit to the property, you can contact the landowner directly at 9816394960 / 9852021044 or you may Contact us at 023-580777 for more information .  
Property Link : Click here !!!
About Us:
Purbeli Real Estate is a registered real estate company located in Damak-05, Jhapa established to develop professional real estate services.  Since 2022 AD (2078) BS, Purbeli Real Estate has been providing quality services to sell/buy/rent your land/house/apartment. 
🏆 Why Choose Purbeli Real Estate?
✅ Easy Process: We understand that navigating the real estate market can be overwhelming. That's why we simplify the process for you, making it stress-free and straightforward.
✅ Fast Transactions: Time is valuable, and we respect that. Our swift and efficient service ensures that your real estate transactions are completed promptly.
✅ Trustworthy & Reliable: With years of experience in the industry, we've earned a reputation for being dependable and honest. You can count on us to deliver on our promises.
✅ Extensive Property Listings: Our wide range of properties caters to various preferences and budgets. From cozy apartments to spacious villas, we have something for everyone.
✅ Knowledgeable Team: Our team of experts has an in-depth understanding of the Nepali real estate market. We offer valuable insights to help you make informed decisions.
Call us on 023-580777 or 9842666298. You can visit our office at Damak-05, Jhapa (next to the Inland Revenue Office).
For more details, visit us at:
Facebook: पूर्वेली Real Estate

Twitter: पूर्वेली Real Estate
Website: Purbeli Real Estate