The Booming Urban Shopping Trends in Damak and Its Impact on the Nepal Real Estate Market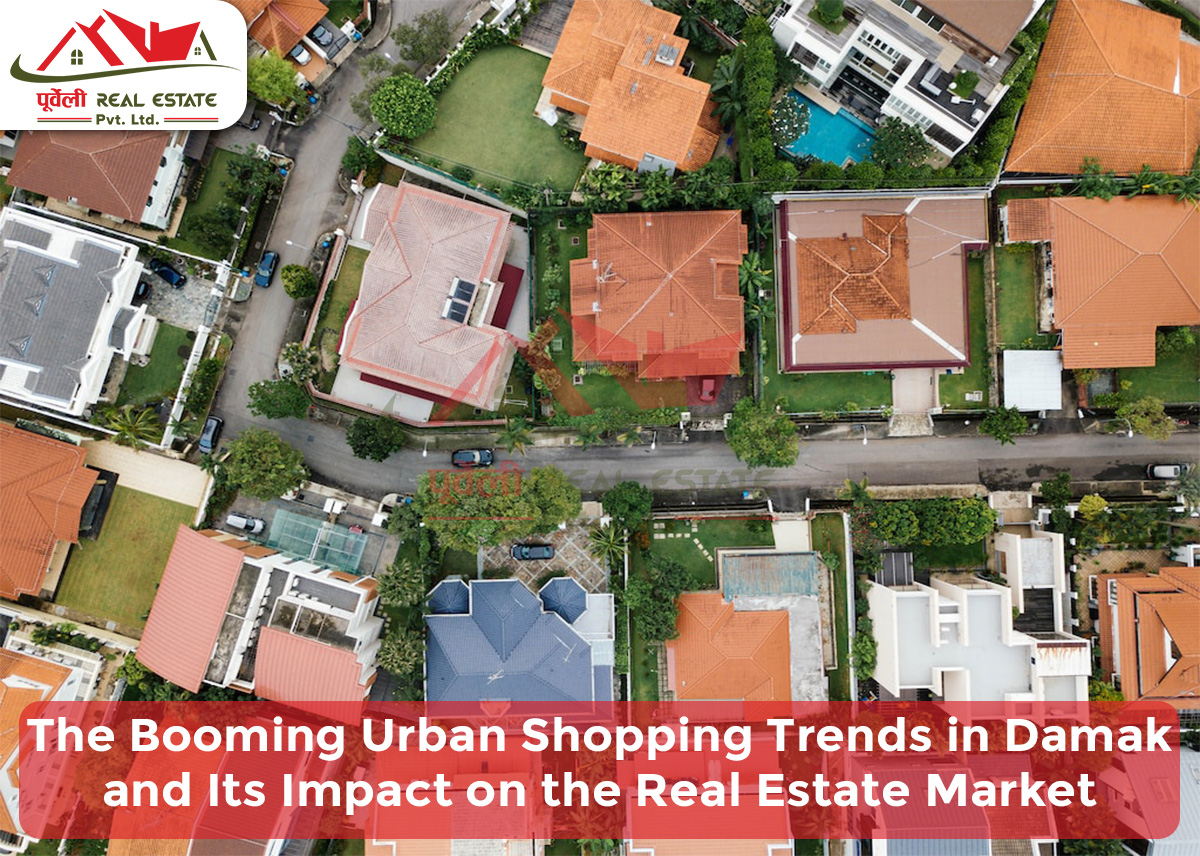 The Booming Urban Shopping Trends in Damak and Its Impact on the Nepal Real Estate Market
The interaction of Nepal's commercial sector and real estate market is changing how buildings are built and used. Property values are rising in neighborhoods near well-known shopping centers because of the desire for good locations for commercial companies. Real estate developers are adopting mixed-use complexes, which seamlessly combine commercial, residential, and recreational spaces, in response to this trend. These innovative projects meet the changing needs of urban residents looking for integrated living experiences.
In context of the emerging city Damak, the shopping destinations like Gorkha Department Stores, D-Max, Damak View Tower, yet to be constructed BhatBhateni Supermarket and so on have captured the attention of both investors as well as residents. In this blog, we'll explore how the urban shopping trends are restructuring the real estate market in Damak.
Traditional shops have evolved from being just locations to buy things into experience havens that combine entertainment, relaxation, and social interaction. Shopping destinations that encourage visitors to browse, eat, and relax are being carved out by expansive malls, luxury shops, and busy markets. A new period of development has begun because of this change in Damak, which has a positive impact on the real estate market.
Commercial Revolution in Real Estate
The real estate sector in Damak is seeing growth because of the increase in shopping. Urban planning is changing, and property values in Damak are being influenced by the attractiveness of living close to a booming commercial area. These vibrant complexes satisfy the desire for an integrated, holistic lifestyle as well as the shopping needs of customers which have attracted the eyes of many residents.
Infrastructural Development
As commercial areas grow, there is an increase in development activity which ultimately increases demand for housing, office spaces and entertainment alternatives. Booming shopping centers in Damak have developed into economic engines, bringing in customers, travelers, and enterprises. In turn, this raises home values and encourages a surge of investment.
Economic and Employment opportunities
The expanding retail industry in Nepal is more than simply a place to buy; it is a significant driver of job creation and economic expansion. Commercial buildings and shopping centers have grown to be significant employers, creating positions in sales, customer service, security, maintenance, and other fields. This increase in employment has a knock-on the various investment opportunity for investors and home buyers.
Both domestic and foreign investors are interested in capitalizing on Damak's developing retail scene because of the growth in shopping locations. There are now more options for rental income and long-term capital growth due to the demand for retail space in shopping centers and commercial complexes. More than just a retail revolution, the increase in shopping trend is collaborating with the real estate market to produce a lively urban landscape.  With the increasing trends of urban shopping in
Damak the city provides new model of real estate market by providing abundant investment opportunities , development of infrastructure , modern strategies for commercial sites and  rises up  real estate market  price .You may also see WHY CITY MAKING MOVE TO DAMAK CITY.
About us
At Purbeli Real Estate, we take pride in offering top-notch services in buying, selling, and renting properties across Nepal. Our team of experienced professionals is dedicated to providing you with easy, fast, and reliable real estate solutions. Whether you're a first-time buyer, an experienced investor, or seeking to sell your property, we've got you covered!
🏆 Why Choose Purbeli Real Estate?
✅ Easy Process: We understand that navigating the real estate market can be overwhelming. That's why we simplify the process for you, making it stress-free and straightforward.
✅ Fast Transactions: Time is valuable, and we respect that. Our swift and efficient service ensures that your real estate transactions are completed promptly.
✅ Trustworthy & Reliable: With years of experience in the industry, we've earned a reputation for being dependable and honest. You can count on us to deliver on our promises.
✅ Extensive Property Listings: Our wide range of properties caters to various preferences and budgets. From cozy apartments to spacious villas, we have something for everyone.
✅ Knowledgeable Team: Our team of experts has an in-depth understanding of the Nepali real estate market. We offer valuable insights to help you make informed decisions.
📞 Contact Us:
Have a question or need assistance? Our friendly team is ready to help! Get in touch with us through
Facebook: पूर्वेली Real Estate
Whatsapp: whatsapp
email: [email protected]
phone: 023-580777, +9779702011339
🌐 Website:
Visit our Website: Purbeli Real Estate to explore our latest property listings and learn more about our services.
At Purbeli Real Estate, we are passionate about turning your real estate dreams into reality. Join our growing community and experience the joy of finding the perfect property in Nepal!