Tourism Industry and Real Estate in Nepal: A Profitable Investment Pathway in Nepal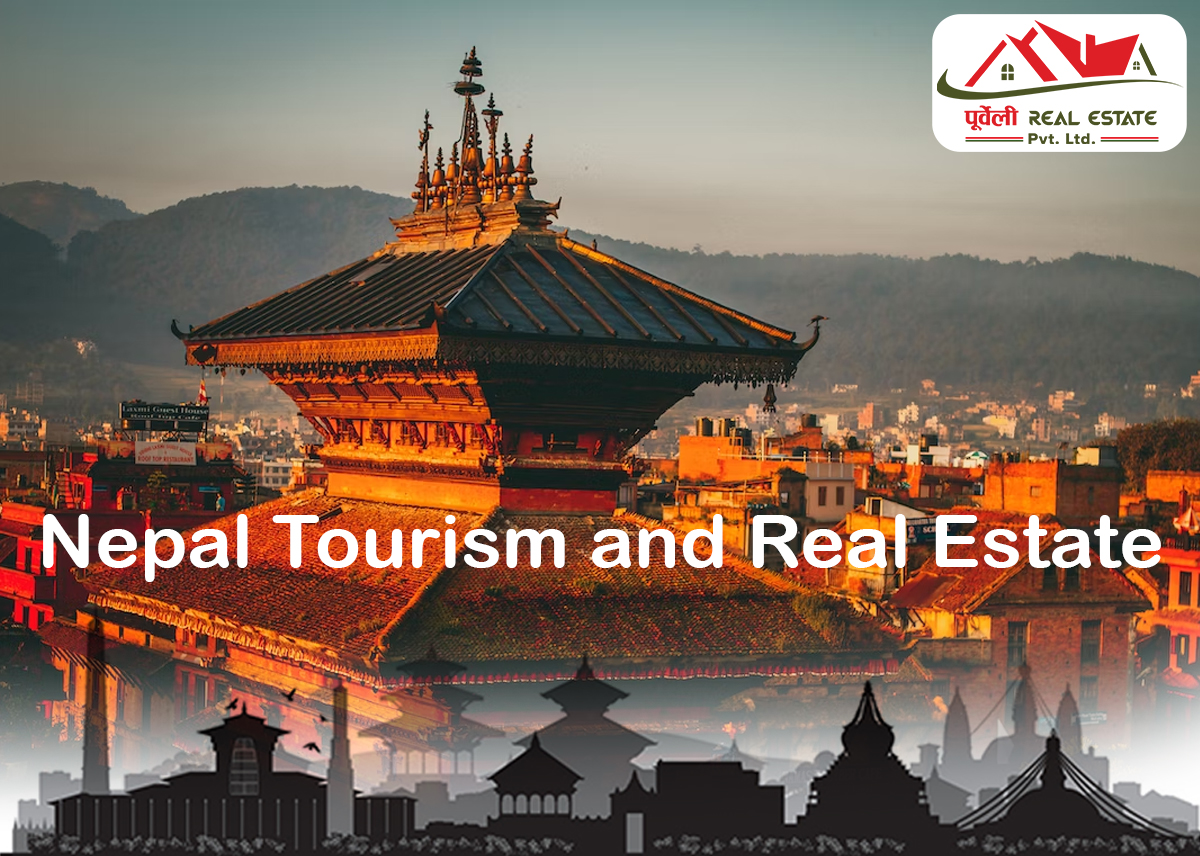 Tourism Industry and Real Estate in Nepal: A Profitable Investment Pathway in Nepal
The tourism industry and real estate are mutually related, creating higher prospects for investors. Despite challenges like natural disasters and political instability, the tourism sector in Nepal has been steadily growing over the past few years. With its breathtaking natural beauty, diverse cultures and traditions, and the majestic Himalayas, Nepal attracts visitors from all over the world. As the tourism industry flourishes, there is a corresponding rise in accommodation, commercial spaces, and leisure facilities. Let's explore how the tourism industry drives the growth of the real estate business in detail.
Accelerates Real Estate Expansion
The tourism sector acts as a catalyst for real estate expansion by attracting a significant number of travelers to specific destinations. Popular tourist hotspots experience high demand for lodging, catering to both internal and external tourists in large numbers. This demand drives the development of hotels, resorts, and vacation homes, which in turn boosts the real estate market.
Vacation Rentals and Short-Term Accommodation
Vacation rentals have gained immense popularity among travelers seeking unique and personalized experiences. Real estate investors can capitalize on this trend by purchasing properties in prime tourist destinations and converting them into vacation rentals. Especially during the busiest travel seasons, these short-term rental properties have the potential to produce enticing returns on investment.
Development of Hotels and Resorts
As the tourism sector expands, the need for additional hotels and resorts becomes evident to accommodate the growing number of travelers. This presents profitable investment prospects in real estate. Investors can collaborate with well-known hotel chains or real estate companies and launch their independent projects to take advantage of the demand for high-quality lodging choices. These assets offer long-term potential for consistent income and capital growth.
Commercial Spaces and Shopping Opportunities
Prosperous tourist locations often experience an increase in commercial activities such as shopping, dining, and entertainment. Investing in commercial real estate in places like malls, eateries, and entertainment centers can yield significant profits. These establishments benefit from the foot traffic generated by tourists, ensuring a regular flow of customers and tenants.
Additional Services and Infrastructure Development
The expansion of the tourist sector necessitates the provision of necessary services and infrastructure, including transportation, leisure services, and healthcare. Real estate investments in these sectors, such as real estate expansions, funfairs, and medical tourism facilities, have the potential to generate substantial profits.
In conclusion, the tourism industry and real estate in Nepal are intertwined, creating a profitable investment pathway. The growth of the tourism sector fuels the demand for accommodations, commercial spaces, and infrastructure development. Real estate investors can seize the opportunities presented by this symbiotic relationship, ensuring both short-term returns and long-term growth. With Nepal's natural beauty and cultural diversity, the tourism industry is poised to continue flourishing, making it an attractive prospect for those looking to invest in real estate.
About us
Explore stylish real estate liberties with Purbeli Real Estate. You can simply buy, sell, or rent a property with the aid of our comprehensive listings. Your perfect home, place of business, or investment property may be established in Nepal's booming real estate market so, be in touch with us. Make informed resolutions with Purbeli Real Estate, the leading real estate in Nepal.
Contact Purbeli Real Estate now at:
Facebook: पूर्वेली Real Estate
Twitter: पूर्वेली Real Estate
Website: Purbeli Real Estate
  For easy, quick, and reliable real estate services always flash back to Purbeli Real Estate. Where we provide a one-stop result for everything pertaining to real estate services.

FAQs (Frequently Asked Questions)
1. Is Nepal a safe destination for real estate investment?
Nepal has made significant progress in terms of safety and security for tourists and investors. However, it is always advisable to conduct thorough research and seek professional advice before making any investment decisions.
2. Are there any legal restrictions for foreigners investing in Nepalese real estate?
Foreign investors can legally invest in Nepalese real estate. However, there may be certain regulations and procedures to follow. Consulting with legal experts and authorities is essential to ensure compliance with the laws.
3. What are the popular tourist destinations in Nepal for real estate investment?
Popular tourist destinations in Nepal for real estate investment include Kathmandu, Pokhara, Chitwan, and Lumbini. These areas attract a significant number of tourists and offer various investment opportunities.
4. How can I find reliable partners or real estate companies in Nepal?
Purbeli real estate is one of the reliable real estate company in Nepal. We are located at Damak-5, Jhapa. You can contact us at 023-580777
5. What are the factors to consider before investing in Nepalese real estate?
Before investing in Nepalese real estate, factors to consider include location, market trends, legal requirements, infrastructure development, potential returns, and the overall economic and political stability of the country.