The Social Media Impact on Property Sales in Nepal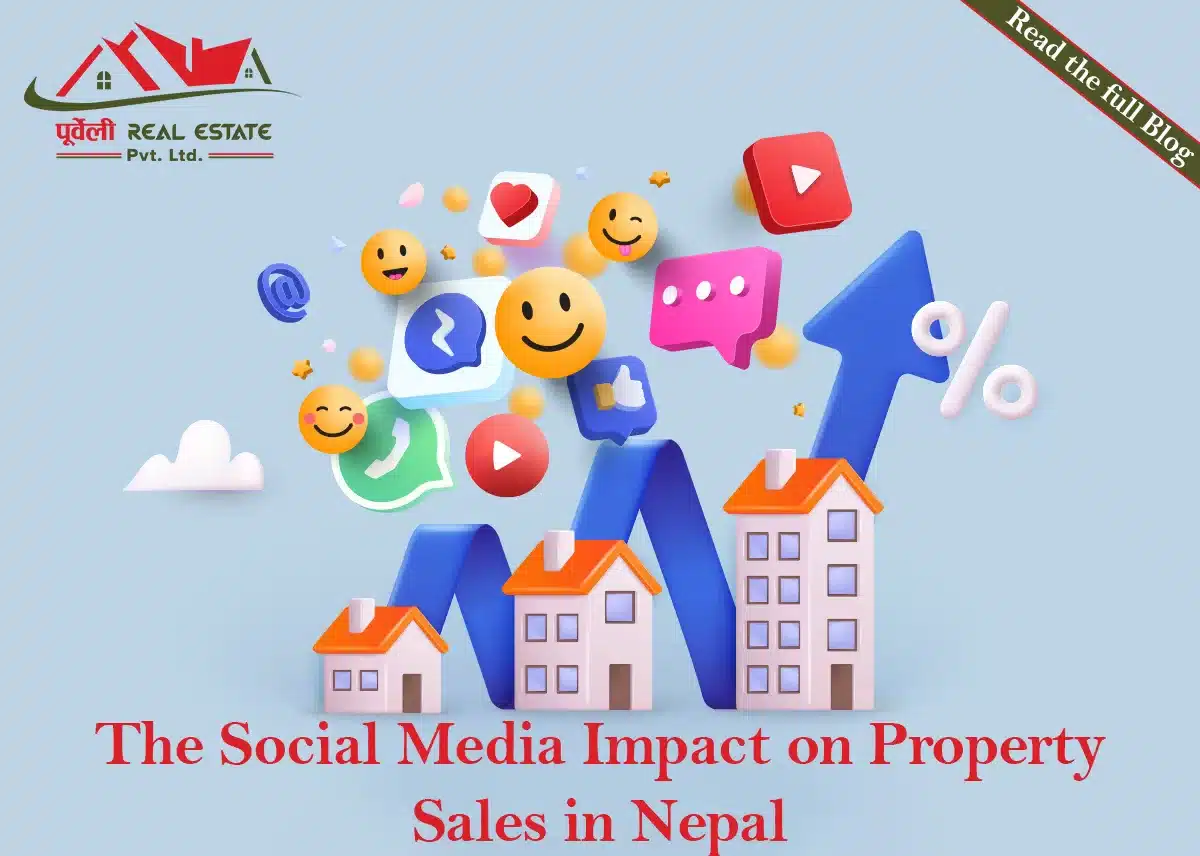 The Social Media Impact on Property Sales in Nepal
Like many other regions of the world, social media has emerged as an effective tool for real estate sales in Nepal. The nation's approach to marketing and selling real estate has been completely transformed using social media sites like Facebook, Instagram, LinkedIn, and even TikTok.  Let's take a closer look at how social media is influencing Nepalese real estate sales is provided below:
Enhanced Clarity
Real estate professionals and developers can enhance the visibility of their property listings at a reasonable cost by utilizing social media platforms. Sharing real estate listings on these platforms can quickly reach a large audience, as there are millions of Nepali users.
Perfect Presentation
Beautiful property listings can be found in Nepal's varied landscapes and picturesque locations. Whether they are stunning mountain retreats, urban apartments, or rural homes, properties can be effectively presented on platforms such as Instagram. Attractive images and videos have the power to draw in buyers who are searching for a piece of Nepal's unspoiled beauty.
Focused Advertising
The advertising features of social media enables targeted marketing. Nepalese real estate professionals could customize their advertisements to target demographics, including geography, age, income, and hobbies. This guarantees that people who are more likely to be interested in a property will see the listings.
Live streaming and virtual tours
Virtual tours and live streams can help overcome Nepal's particular geographical challenges, such as isolated and difficult-to-reach areas. These technological advancements make properties more accessible and convenient by enabling prospective buyers to tour them without having to pay a site visit.
Updates in Real Time
A real-time platform is social media. Sellers of real estate can give immediate updates about new listings, price adjustments, or open houses. This immediateness guarantees interested buyers are always informed about the latest opportunities, especially in Nepal where real estate markets are known to fluctuate quickly.
Content Created by Users
Customers who are happy with their real estate purchases or rentals frequently post positive experiences on social media. These user-generated reviews have the power to promote a property or real estate agent, influencing potential buyers and building confidence in the real estate industry.
Comparative Evaluation
Real estate professionals can monitor their competitors' activities through social media. Property sellers in Nepal can modify their own approaches to remain competitive by keeping an eye on and evaluating the tactics of other market participants.
Interaction and Participation
The varied population of Nepal speaks a wide range of languages and dialects. Social media gives real estate agents a means of communicating with clients in their language of choice by offering a multilingual platform. To establish trust and close deals, this degree of personalization and engagement is essential.
Conclusion   
Social media now plays a crucial role in Nepal's real estate market. Social media is a useful tool for property sales in the nation because of its distinctive topography, wide range of real estate options, and quickly changing market. Through the utilization of these platforms, real estate agents can efficiently establish connections with both domestic and foreign clients, demonstrate the stunning beauty of Nepal's topography, and offer prompt, up-to-date property listings. Absolutely, social media has a big impact on real estate sales in Nepal and will keep doing so for several years to come, contributing significantly to the expansion and development of this market.
If You also want to sell your property, then You can kindly contact us to list your property on your premium listings in high–traffic social media platforms. We offer you different promotional packages for promoting your property. " Purbeli Real Estate" for easy, fast, and reliable real estate services at your doorstep.
About Us:
Purbeli Real Estate is a registered real estate company located in Damak-05, Jhapa established to develop professional real estate services.  Since 2022 AD (2078) BS, Purbeli Real Estate has been providing quality services to sell/buy/rent your land/house/apartment. 
🏆 Why Choose Purbeli Real Estate?
✅ Easy Process: We understand that navigating the real estate market can be overwhelming. That's why we simplify the process for you, making it stress-free and straightforward.
✅ Fast Transactions: Time is valuable, and we respect that. Our swift and efficient service ensures that your real estate transactions are completed promptly.
✅ Trustworthy & Reliable: With years of experience in the industry, we've earned a reputation for being dependable and honest. You can count on us to deliver on our promises.
✅ Extensive Property Listings: Our wide range of properties caters to various preferences and budgets. From cozy apartments to spacious villas, we have something for everyone.
✅ Knowledgeable Team: Our team of experts has an in-depth understanding of the Nepali real estate market. We offer valuable insights to help you make informed decisions.
Call us on 023-580777 or 9842666298. You can visit our office at Damak-05, Jhapa (next to the Inland Revenue Office).
For more details, visit us at:
Facebook: पूर्वेली Real Estate

Twitter: पूर्वेली Real Estate
Website: Purbeli Real Estate