Residential House on sale at Purbeli Real Estate: A peaceful Haven in Pathri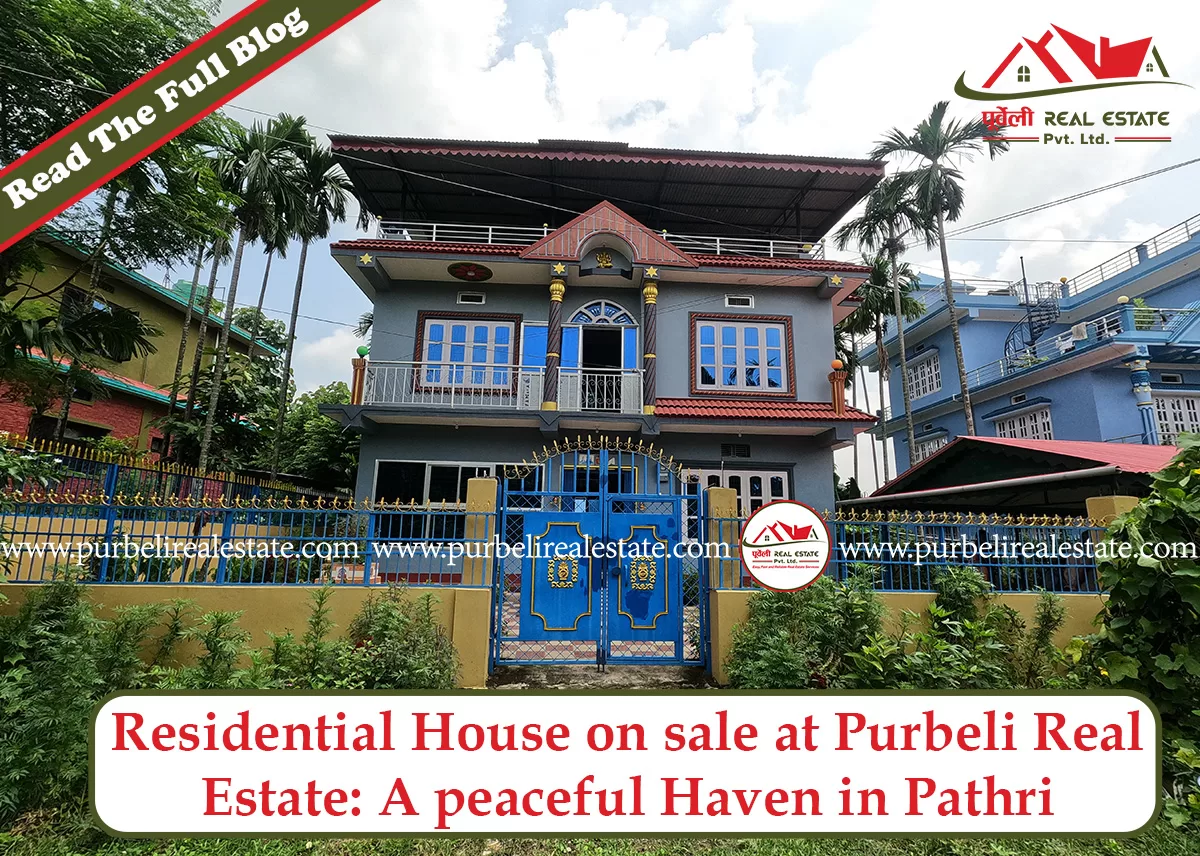 Residential House on sale at Purbeli Real Estate: A peaceful Haven in Pathri
            We are excited to represent you with this stunning house on Sale located in the peaceful natural environment of Pathri Sansare -09, Morang district. Located in the heart of beautiful natural surroundings, this 2.5-story house resides on a   3Kathha 2 Dhur plot of land. In this blog, we'll take you on an exciting digital tour of this remarkable house and highlight its magnificent features. Let's begin!
Property Description
Located in the center of Pathri-09, this property represents a prime location. The convenient connection of this property with a 30ft gravel road ensures easy and hassle-free access. The beautiful home provides a peaceful residence with excellent connectivity located just 300 meters to the west/south of Sansare Bazar.
The house spans a total area of 3 kattha 2 Dhur providing ample space for parking and enough room for the family to flourish and make lifetime memories. The spacious 57-foot home front size provides a wonderful outlook and plenty of independence.
This 2.5-story house faces west, ensuring that you enjoy all-day natural sunlight. The house itself is constructed on 1 kattha of land which provides plenty of space for gardening and outdoor activities.
As you step inside, you'll find 2 spacious bedrooms and 1 well-appointed bathroom. The spacious bedroom offers a peaceful haven for your family members or guests.
Moving up to the first floor, you'll find a lovely living area, a welcoming kitchen, and another well-decorated bathroom. With a smooth transition between the living and dining spaces, this level is perfect for hosting guests and family.
The second level of this building appears to be magnificent. It has a roomy bedroom that provides comfort and peace. In addition to that, this floor offers a multipurpose hall and a well-equipped bathroom. The temple for spiritual activities adds the cherry on top.
The house itself is built on 1 Kathha of land out of a total land of 3 Kattha 2 Dhur. The backyard of this house offers a well-maintained
Goat pen for goat rearing.
            The house offers you yearly earnings of up to Rs.30,000 from Betel Nut Garden.
            As the house is in the prime location of Sansare bazaar, the house has easy proximity to schools, colleges, and hospitals.
For only Rs. 1.70 Crore, you may own this lovely 2.5-story home with all its facilities in a great neighborhood. Your happiness is an investment, and now is the ideal time to buy the house of your dreams.
Imagine waking up to the calming sound of birds singing, enjoying your morning coffee on the terrace while taking in the peacefulness of a quiet neighborhood. When you purchase this wonderful 2.5-story home in Pathri-09, you may acquire all of this.
We at Purbeli Real Estate are honored to help you achieve what you want. Contact us right now to arrange an appointment so you can own your own piece of paradise and don't lose out on this fantastic offer.
Hurry immediately to protect your future and make a lifetime of memories in this charming house since it won't be available for long. We look forward to fulfilling your wishes!
About Us:
Purbeli Real Estate is a registered real estate company located in Damak-05, Jhapa established to develop professional real estate services.  Since 2022 AD (2078) BS, Purbeli Real Estate has been providing quality services to sell/buy/rent your land/house/apartment. 
🏆 Why Choose Purbeli Real Estate?
✅ Easy Process: We understand that navigating the real estate market can be overwhelming. That's why we simplify the process for you, making it stress-free and straightforward.
✅ Fast Transactions: Time is valuable, and we respect that. Our swift and efficient service ensures that your real estate transactions are completed promptly.
✅ Trustworthy & Reliable: With years of experience in the industry, we've earned a reputation for being dependable and honest. You can count on us to deliver on our promises.
✅ Extensive Property Listings: Our wide range of properties caters to various preferences and budgets. From cozy apartments to spacious villas, we have something for everyone.
✅ Knowledgeable Team: Our team of experts has an in-depth understanding of the Nepali real estate market. We offer valuable insights to help you make informed decisions.
Call us on 023-580777 or 9842666298. You can visit our office at Damak-05, Jhapa (next to the Inland Revenue Office).
Contact us right away to start making your dream of owning a piece of paradise a reality.
For more details, visit us at:
Facebook: पूर्वेली Real Estate

Twitter: पूर्वेली Real Estate
Website: Purbeli Real Estate