Purbeli Real Estate Offers: Residential House on Sale at Kankai -03, Surunga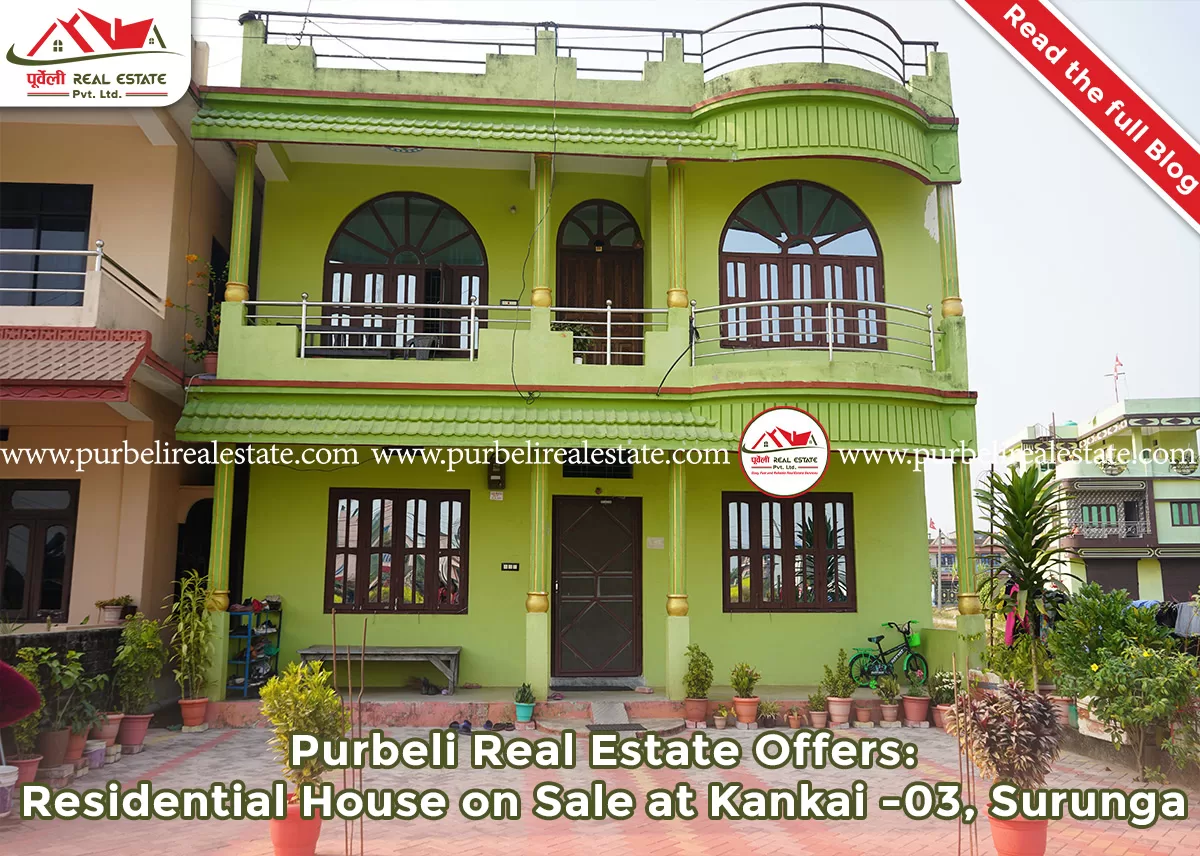 Purbeli Real Estate Offers: Residential House on Sale at Kankai -03, Surunga  
Welcome to Purbeli Real Estate " Trusted Name in Real Estate Industry " where we offer you fascinating real estate services. Today, we have come up with a new Residential House on Sale at a very remarkable price in Kankai -03, Surunga at just 100m North of Mahendra Highway.  Embedded with a peaceful residential environment, an incredible collection of contemporary facilities, roomy interiors, and an excellent location, this house is perfect for residence. Let's explore this home in detail which may soon become your shelter:
This two-story home, which is situated on a spacious 10 Dhur of land, is a great example of intelligent planning and skillful architecture. Its stunning 32-ft front has been enhanced with a well-kept 20-ft tiled driveway that makes traveling to and from the property easy and simple. The precious home sits about 100 meters north of the Mahendra Highway and has an East facing orientation. The house has very wide tiled parking spaces with a beautiful garden.
As you enter the house's ground floor you are warmly welcomed by the space and its roomy living room, where memories are designed to be made. This floor has three comfortable private bedrooms, making it the perfect place for family members or visitors to stay. You are encouraged to express your cooking skills in the well-equipped kitchen, and the bathroom adds efficiency to this floor.
As you move up to the first level, you'll find four beautifully decorated bedrooms that are well-appointed. Natural light filtering around each room provides a peaceful haven for relaxation or work efficiency. A second bathroom on this floor ensures convenience for the residents. Additionally, the balcony space on this floor provides you with an oasis of peace with a beautiful view of green scenery.
At a negotiable price of Rs. 1 crore 30 lakhs, this home provides a unique blend of affordability and quality. This home, which has space for a big family, is an investment that guarantees luxurious living as well as considerable future profits.
Purbeli Real Estate ensures that your contemporary lifestyle is effortlessly incorporated. The home is furnished with all the necessities, such as a telephone line for convenient communication, cable TV for entertainment, appropriate drainage systems, and a steady supply of drinking water. In addition, being close to hospitals and having access to the internet guarantees that you have good access to the necessities of contemporary living.
Please get in touch with us if you're interested in learning more about how to make this dream home yours. You may reach us at 023-580777 or 9842666298. Purbeli Real Estate's committed team would be pleased to respond to your questions and walk along with you through the entire process.
A haven of elegance and comfort is waiting for you in the center of Surunga, Jhapa. This two-story house on 10 dhur land is more than simply a structure; it's a blank canvas on which you may paint your aspirations and make priceless memories. With the perfect combination of contemporary facilities, outstanding location, and pleasing appearance this property is a testament to Purbeli Real Estate's dedication to offering houses that capture its clients' goals and objectives.
Contact us right away to start making your dream of owning a piece of paradise a reality.
For more details, visit us at:
Facebook: पूर्वेली Real Estate

Twitter: पूर्वेली Real Estate
Website: Purbeli Real Estate
About Us:
Purbeli Real Estate is a registered real estate company located in Damak-05, Jhapa established to develop professional real estate services.  Since 2022 AD (2078) BS, Purbeli Real Estate has been providing quality services to sell/buy/rent your land/house/apartment. 
🏆 Why Choose Purbeli Real Estate?
✅ Easy Process: We understand that navigating the real estate market can be overwhelming. That's why we simplify the process for you, making it stress-free and straightforward.
✅ Fast Transactions: Time is valuable, and we respect that. Our swift and efficient service ensures that your real estate transactions are completed promptly.
✅ Trustworthy & Reliable: With years of experience in the industry, we've earned a reputation for being dependable and honest. You can count on us to deliver on our promises.
✅ Extensive Property Listings: Our wide range of properties caters to various preferences and budgets. From cozy apartments to spacious villas, we have something for everyone.
✅ Knowledgeable Team: Our team of experts has an in-depth understanding of the Nepali real estate market. We offer valuable insights to help you make informed decisions.
Call us on 023-580777 or 9842666298. You can visit our office at Damak-05, Jhapa (next to the Inland Revenue Office).