Dealing with Change: Tackling Nepal's Changing Real Estate Trends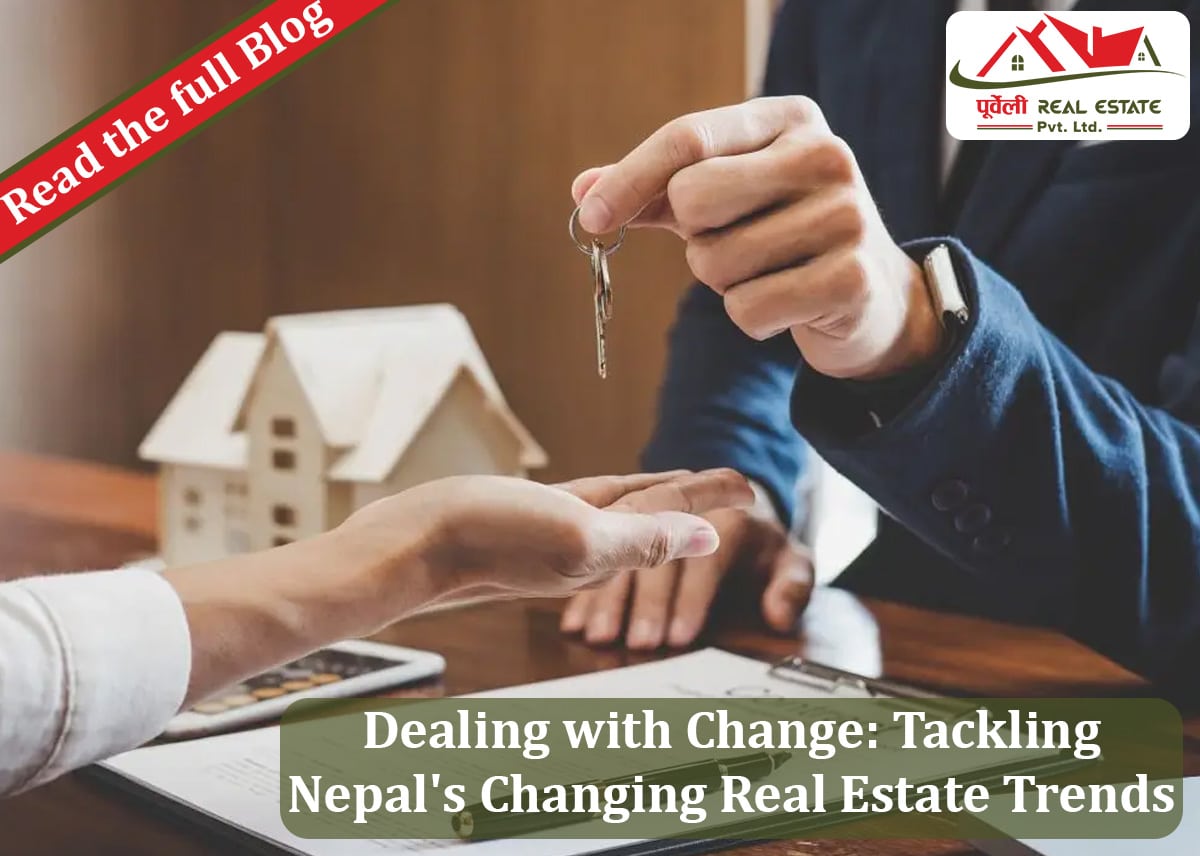 Dealing with Change: Tackling Nepal's Changing Real Estate Trends
            The real estate sector is well-known for its changing nature, which is generally influenced by economic conditions, technological advancements, and fluctuations in societal preferences. As Nepal grows and modernizes, the real estate landscape has been experiencing significant shifts. The changing trends in Nepal's real estate market have positively impacted developers, investors, homeowners, and the public. This blog will be exploring all about changing real estate traits.
Real Estate Trends in Nepal
       In recent years, Nepal has come up with numerous real estate trends that have re-created real estate structures. Those key trends include the following:
Sustainable Development
With the increase in environmental awareness, home buyers and investors demand eco-friendly buildings, greenery surrounding them, and energy-efficient designs.
Urbanization and Mixed-Use Projects:
            As urban areas grow, projects combining residential, commercial, and recreational areas are becoming more and more common since they are convenient and help to foster healthy neighborhoods.
Technological Incorporation
The use of technology in the real estate business is growing apparently. Virtual tours of properties, online transactions, and digital marketing have occupied great space in the real estate business. This technology interaction accelerates the procedures and enhances client experiences.
Affordable Housing Techniques
The rising urban population is looking for cheap housing choices, which is pushing developers to look at new ideas for offering high-quality homes at reasonable prices.
Co-working and Co-Living Spaces
Due to shifting work dynamics and lifestyle choices, the demands of the modern workforce, co-working spaces, and co-living communities are in greater demand.
The Importance of Accepting Change in the Nepali Real Estate Sector:
With the changing time, the choice and preferences of people change. Being updated with emerging trends drives to increase in sales and occupy rates by meeting the changing demand of the Nepalese real estate market.
 Real estate projects are more appealing to investors looking for long-term profitability and responsible development when they incorporate innovation and sustainable methods.
Addressing Urbanization Challenges
The problems brought on by Nepal's fast urbanization can be addressed by adopting the trends like multipurpose developments and affordable housing options.
Fostering Economic Growth
Discovering change promotes a culture of development and growth, which aids in the nation's overall economic growth. 
Real estate developers may design comfortable environments that support a high standard of living for inhabitants by adding sustainable and technology-driven solutions.
Strategies for Adapting Real Estate Trends in Nepal
Market Research and Analysis
Conduct in-depth market research to understand the unique requirements and expectations of the Nepalese people and ensure that projects are created with the preferences of the local community.
 To support Nepal's environmental objectives and attract eco-aware consumers, eco-friendly and energy-efficient strategies need to be introduced in real estate developments.
Implementation of technology
 To stay ahead in the competitive industry, adopt digital platforms and virtual solutions for marketing, property management, and client involvement.
Develop relationships with specialists, urban planners, and architects to develop creative and well-executed venues that accommodate the population's shifting lifestyle patterns.
Government Support and Policy Alignment
Engage with the government and support policies that encourage sustainable growth and reward creative real estate solutions. Government Support and Policy Alignment.
Conclusion
As Nepal's real estate market changes, accepting change and adapting to emerging trends are crucial for long-term success and growth. Real estate developers, investors, and homeowners may advance the country while succeeding in this changing market by remaining aware of client preferences, using sustainable practices, and utilizing technology. A commitment to constructing a better and more resilient future for Nepal's real estate sector is required to embrace change.
About Us:
Purbeli Real Estate is a registered real estate company located in Damak-05, Jhapa established to develop professional real estate services.  Since 2022 AD (2078) BS, Purbeli Real Estate has been providing quality services to sell/buy/rent your land/house/apartment. To know more about us connect with us at: 
Facebook: पूर्वेली Real Estate
Twitter: पूर्वेली Real Estate
Website: Purbeli Real Estate
Call us on 023-580777 or 9842666298. You can visit our office at Damak-05, Jhapa (next to the Inland Revenue Office).