Real Estate Technology in Nepal: Shaping the Future of Living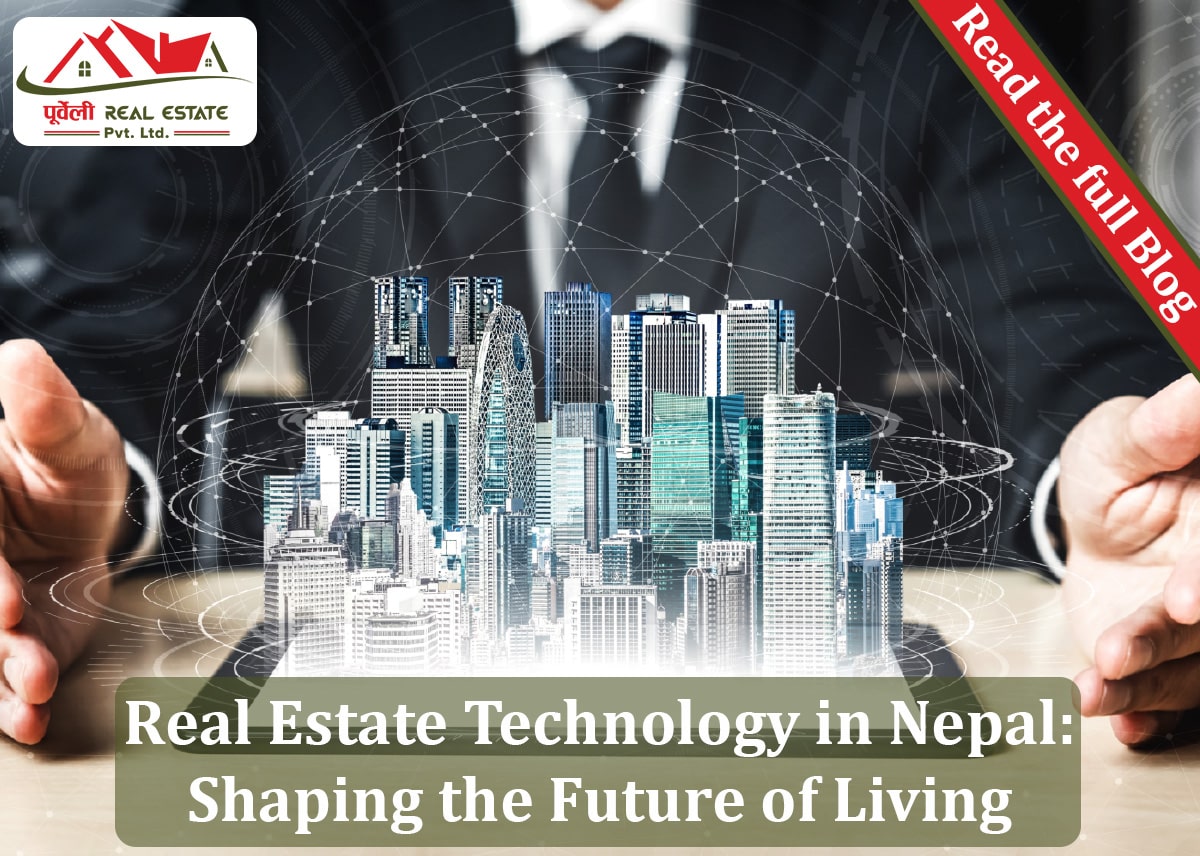 Real Estate Technology in Nepal: Shaping the Future of Living  
            We are well known that we are living in the digital world. Though Nepal is a small, underdeveloped country we are fast in adopting new trends in terms of technology and its advancement. Currently, Nepal is experiencing rapid population growth and urbanization. Technology has emerged as a key catalyst in reshaping the future of housing and urban development. From discovering smart solutions to sustainable practices and virtualization of property, real estate technology is set to transform the way Nepalese people interact with their living spaces. In this blog, we will explore how real estate technology is shaping the future of living in Nepal.
Smart Homes: Establishing Connected Lifestyle
Along with the advancement of technology, Smart Homes are Increasingly prevalent in Nepal. Presently, purchasers are looking for homes with smart features that improve comfort, security, and energy economy. People can remotely manage their house's lighting, heating, and security systems with the help of IoT-enabled gadgets and other smart home technology. These developments not only provide a contemporary way of life, but they also help conserve energy, lowering overall utility bills and having a less negative impact on the environment.
Virtual Tours of Properties: A New Way to View Properties
Due to geographical Variance in Nepal, property viewing is difficult for potential buyers who live apart. This gap has been filled by virtual reality (VR) and augmented reality (AR), which offer an immersive and interactive property viewing experience. Buyers may take virtual tours of properties using VR headsets, or even on their laptops or cellphones, allowing them to imagine the layout, architecture, and atmosphere of a property without really being there. Time and resources are saved, and both domestic and foreign purchasers may easily browse homes.
Online Real Estate Platforms: Simplifying Real Estate Transactions
           In Nepal, the introduction of Internet real estate marketplaces has completely changed how homes are purchased and sold. By bringing together buyers, sellers, and real estate brokers, these platforms operate as online markets, facilitating more convenient and effective real estate transactions. Prospective buyers may browse a wide variety of homes, examine high-quality photos, and gather essential information about each listing through these portals. Digital platforms also make the settlement and documentation processes more efficient, which decreases paperwork and improves transaction transparency.
Sustainable Architecture and Green Practices
As environmental awareness grows, the real estate industry in Nepal is adapting by introducing sustainable architecture and green practices. Developers are incorporating eco-friendly building materials, energy-efficient technologies, and renewable energy solutions, such as solar panels, to create environmentally responsible properties. Sustainable practices not only contribute to reducing the carbon footprint but also offer long-term cost savings for homeowners, making them an attractive investment in the long run.
Co-Living Spaces: Addressing Changing Lifestyles
In Nepal's cities, co-living arrangements are becoming more popular, particularly with young professionals and college students. In addition to establishing a feeling of community, networking, and cost-sharing options, co-living situations provide a unique way to live. Real estate technology is facilitating the growth of co-living startups and apps that connect like-minded individuals seeking shared accommodations, making it easier to find compatible roommates and suitable living spaces.
Conclusion  
Real estate technology is bringing about a fundamental shift in the way Nepalese people experience and interact with their living spaces. From the widespread adoption of smart homes to the growth of virtual property tours, technology is enhancing convenience, accessibility, and sustainability in the country's real estate sector. As online platforms simplify property transactions and sustainable practices become a priority for developers, Nepal is prepared to embrace a future of living that is both innovative and environmentally responsible. As technology continues to advance, the real estate landscape in Nepal will undoubtedly evolve, offering its citizens an enhanced quality of life and transforming the way they perceive homeownership and urban living.
About Us:
Purbeli Real Estate is a registered real estate company located in Damak-05, Jhapa established to develop professional real estate services.  Since 2022 AD (2078) BS, Purbeli Real Estate has been providing quality services to sell/buy/rent your land/house/apartment. To know more about us connect with us at: 
Facebook: पूर्वेली Real Estate
Twitter: पूर्वेली Real Estate
Website: Purbeli Real Estate
Call us on 023-580777 or 9842666298. You can visit our office at Damak-05, Jhapa (next to the Inland Revenue Office).