Beyond Four Walls: Real Estate Projects with Social Impact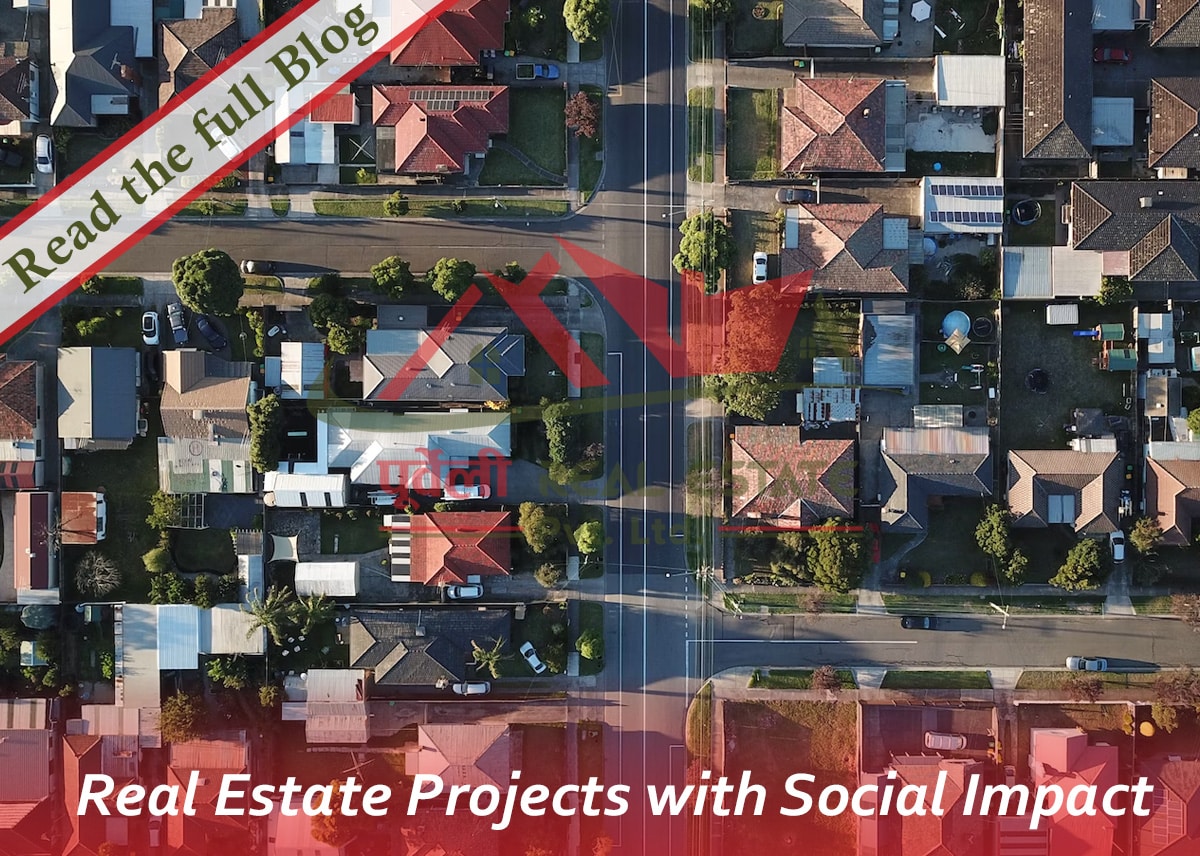 Beyond Four Walls: Real Estate Projects with Social Impact
   Introduction:
                        Real estate has historically been linked to successful businesses and luxurious living quarters that are frequently regarded as symbols of wealth and prestige. However, a new generation of socially conscious creators is altering the story. Beyond the boundaries of a building, the innovators are designing real estate projects that put more than simply financial benefit first. These initiatives are improving lives, altering communities, and laying the foundation for a better, more sustainable future with an emphasis on social impact. In this blog, we will discover how the definition of real estate has changed with respect to social impact.
Affordable Housing
The shortage of affordable housing is one of the most important issues encountered in many societies, mostly in middle-class society.
After realizing the need to solve the problem, real estate developers are now being socially responsible to launch projects for affordable housing. These projects are launched to provide safe, comfortable, and affordable homes to low-income families, older citizens, and marginalized populations. These developers are bridging the gap and making housing a reality for those who need it the most by providing reasonable prices and advantageous financing alternatives.
Durable Eco-Villages
As environmental issues are growing nowadays, eco-village development is becoming more and more popular. Beyond simple sustainability, these programs adopt a broad plan for surviving in harmony with nature. The towns have drastically lessened their carbon footprint by employing eco-friendly building materials, renewable energy, and water-saving technology. Additionally, they frequently include educational facilities, green areas, and communal farming, which promotes a feeling of community and self-sufficiency.
Social Spaces in Mixed-Use Developments
The contemporary real estate industry is trending towards mix-use projects that includes residential, commercial, and recreational areas. Socially beneficial projects include dedicated social spaces encourages community engagement and interaction. Public parks, community centers, libraries, and cultural venues are smoothly integrated, fostering community among the residents and a feeling of shared identity.
Accessible for people with Disabilities
Current real estate initiatives are conscious about the importance of accessibility of structures for all members of society. These programs create a hospitable environment for those people who are impaired and remove obstacles. These initiatives encourage equitable opportunities for everyone and aid in the development of a more inclusive society, from wheelchair-accessible walkways and elevators to sensory-friendly facilities.
Redevelopment of underdeveloped areas
Crime, poverty, and unemployment are just a few of the societal issues that have been abandoned and neglected. By restructuring them with a new perspective, socially responsible real estate initiatives give these neighborhoods new fresh life. By restoring outdated structures, improving public areas, and organizing community programs, these efforts promote economic development, foster community spirit, and improve the quality of life for locals.
Education-Related Developments
Some real estate developments put education at the center of their design because they recognize the role that education plays in bringing about societal change. To give people access to top-notch education and skill development, these developments include schools, libraries, and vocational training facilities. By doing this, they empower people and give them the resources they need to end the cycle of poverty and build better futures.
Conclusion
            Beyond the bounds of a building's four walls, there are real estate initiatives that are improving local areas and the globe. These developments prioritize tackling urgent social challenges and improving lives over commercial profits and luxury facilities. Socially responsible real estate developments are improving society through affordable housing programs, sustainable eco-villages, open-access infrastructure, and education-focused neighborhoods.
It is essential for developers and investors to understand the potential of these efforts as the demand for socially responsible living places rises. We can build a more just and sustainable society in which real estate acts as a catalyst for progress by encouraging and funding initiatives that place a priority on social impact.
About Us:
Purbeli Real Estate is a registered real estate company located in Damak-05, Jhapa established to develop professional real estate services.  Since 2022 AD (2078) BS, Purbeli Real Estate has been providing quality services to sell/buy/rent your land/house/apartment. To know more about us connect with us at: 
Facebook: पूर्वेली Real Estate
Twitter: पूर्वेली Real Estate
Website: Purbeli Real Estate
Call us on 023-580777 or 9842666298. You can visit our office at Damak-05, Jhapa (next to the Inland Revenue Office).