Real Estate on the Nepalese Economy: Roles of Real Estate Business on the Economy of Nepal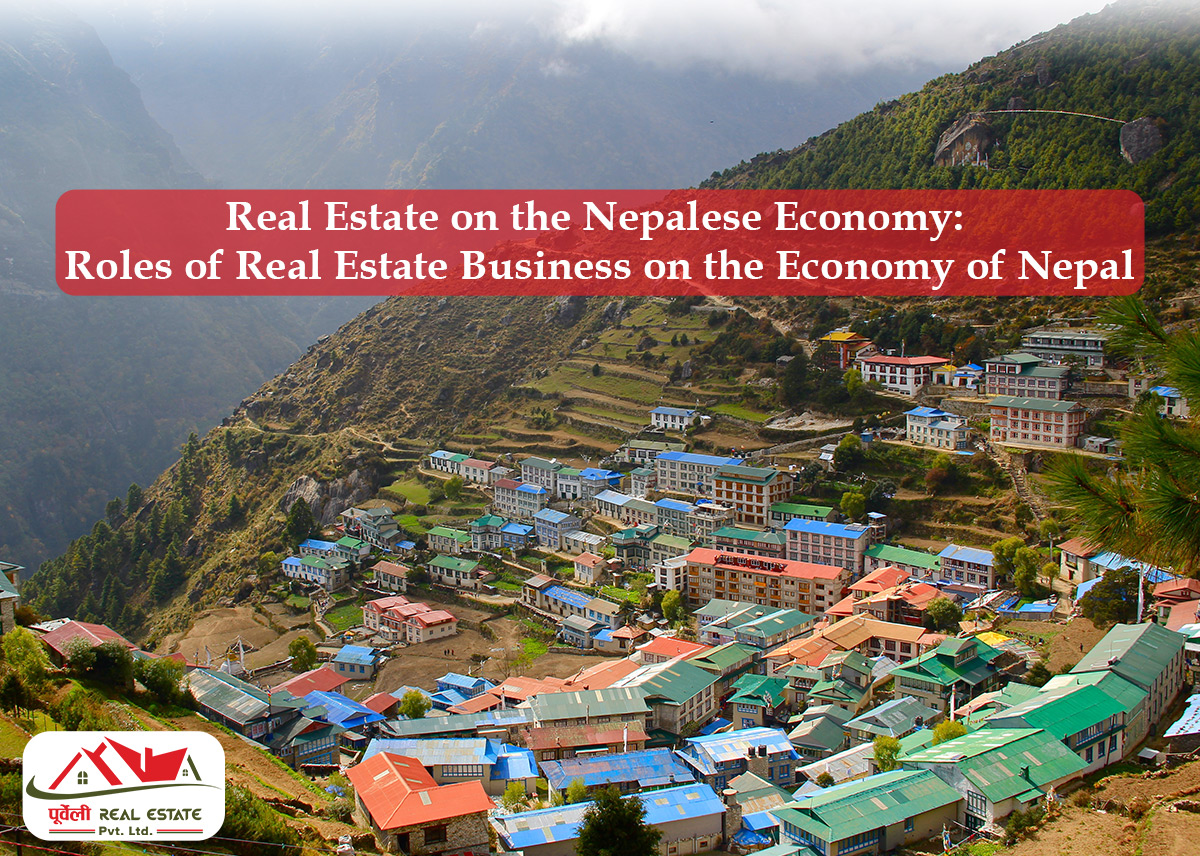 Real Estate on the Nepalese Economy: Roles of Real Estate Business on the Economy of Nepal
The real estate industry makes a significant contribution to the national economy. Additionally, it has greatly increased the number of work opportunities in the nation. Due to the rise in the number of housing industries, the nation is home to well-developed land and homes with the necessary infrastructure.
The Nepalese economy heavily depends on the real estate industry. The following are some significant ways that Nepal's economy is influenced by the real estate sector:
Employment Generation:

The real estate sector in Nepal creates a substantial number of job opportunities. It employs a wide range of professionals, including architects, engineers, construction workers, property managers, real estate agents, and administrative staff. The sector's growth directly contributes to reducing unemployment and poverty by providing employment to a significant portion of the population.
Investment and Economic Growth:

The real estate industry draws both local and international capital, which boosts the economy. Investment in real estate initiatives, such as the construction of homes and businesses, infrastructure improvements, and properties connected to the tourism industry, boosts economic activity, and produces income streams.
Gross domestic product (GDP) contribution:

The real estate industry significantly contributes to Nepal's GDP. In addition to indirect contributions from related industries like manufacturing, retail, and hospitality that profit from real estate development, it also includes direct contributions from construction and real estate transactions.
Revenue Generation:

Through taxes, fees, and other charges related to real estate transactions, building licenses, and property ownership, the Nepalese real estate market contributes significantly to the government's coffers. This money goes toward funding public services and infrastructure as well as the general budget.
Housing and Infrastructure Development:

The real estate sector plays a vital role in providing housing and infrastructure for the growing population. It addresses the demand for residential properties, commercial spaces, industrial buildings, and infrastructure projects, contributing to urban development and improved living standards.
Wealth Creation and Investment Returns:

Real estate investments provide possibilities for individuals, companies, and organizations to create wealth and earn returns on their investments. Capital growth, rental income, and prospective profits from property expansion and selling are all advantages for investors. Savings and investments are boosted as a result.
Real Estate Sector's Economic Multiplier Impact:

The real estate industry has a substantial economic multiplier impact. It generates demand for several businesses, such as building supplies, furnishings, household appliances, and professional services. The expansion of the real estate industry boosts economic activity in other areas, creating jobs and income prospects.
Tourism Development:

By creating hotels, resorts, and other tourist-related infrastructure, the real estate industry helps Nepal's tourism industry thrive. This promotes the tourism sector, draws tourists from outside, and brings in money from both domestic and foreign visitors.
Infrastructure and Urban Development:

Real estate developments sometimes require the construction of infrastructure, such as roads, bridges, utilities, and public facilities. These advancements raise living standards, increase connectedness, and promote economic activity in both urban and rural locations.
Financial Sector Growth:

The real estate sector's expansion contributes to the growth of the financial sector in Nepal. Banks and financial institutions provide loans and mortgages for property purchases and construction, fostering the development of the financial industry and expanding access to credit.
Overall, the real estate industry in Nepal has a major influence on wealth creation, economic development, income production, and employment. It is essential in forming the urban environment of the nation, assisting many businesses, and enhancing the socioeconomic standing of the population.
Purbeli Real Estate registered in the year 2022 AD strives to make the real estate sector more managed, professional, and accessible for everyone in the country. "Find Nepal's top real estate options. With the help of our extensive listings, you may easily buy, sell, or rent homes. In Nepal's dynamic real estate market, you may find your ideal house, place of business, or investment property. Investigate several possibilities, get in touch with dependable agents, and make wise choices. Begin your real estate journey right away! with Purbeli Real Estate the leading real estate company in Nepal.
Contact Purbeli Real Estate now at:
Facebook: पूर्वेली Real Estate
Twitter: पूर्वेली Real Estate
Website: Purbeli Real Estate
Where we provide a one-stop solution for everything pertaining to real estate services. For easy, reliable, and fastest real estate services always remember Purbeli Real Estate.