Embracing Modern Times: The Advantages of Premium House Trends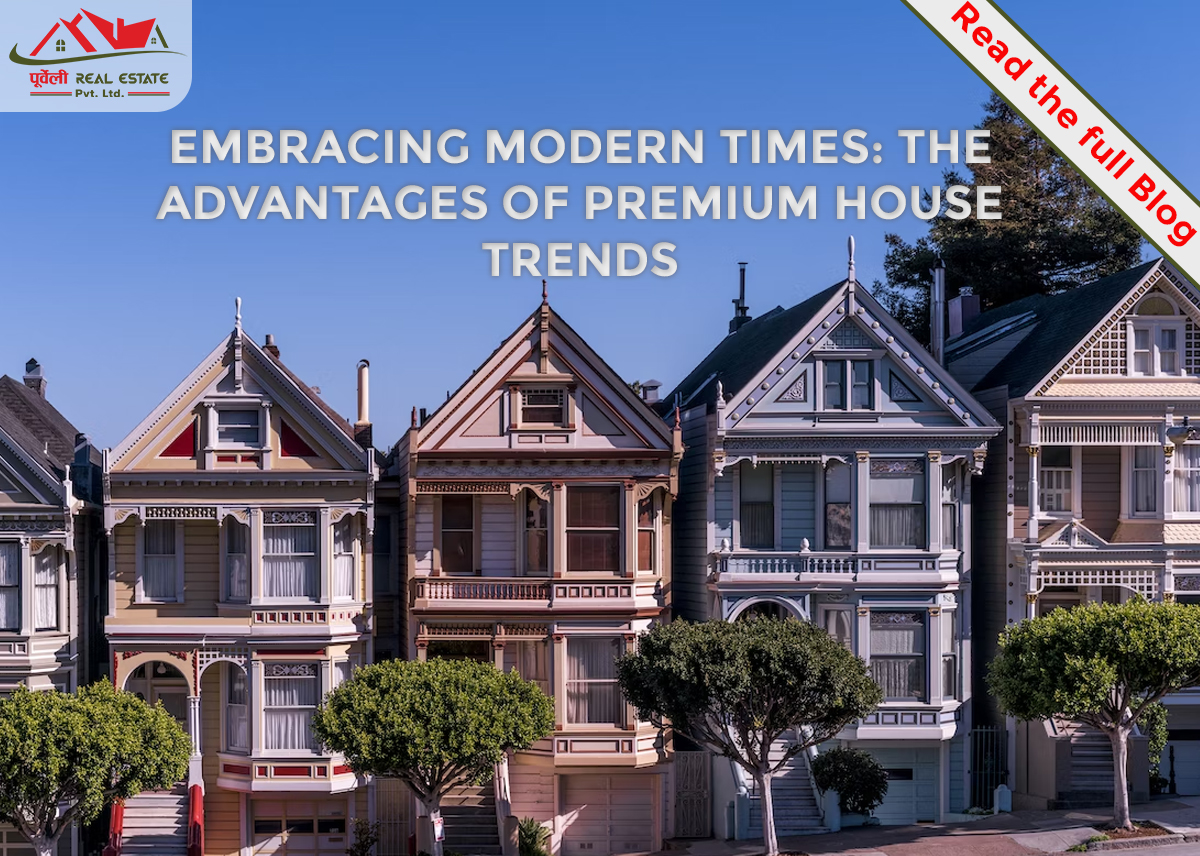 Embracing Modern Times: The Advantages of Premium House Trends
            In the ever-evolving world of real estate, homeowners and investors alike are searching for the newest trends that offer grace and functionality in the constantly changing world of real estate. The way we live, work, and enjoy our living spaces has been redefined by contemporary luxury home trends. These trends have plenty to offer, from cutting-edge technology to environmentally friendly design. In this blog, we will examine the benefits of embracing these modern home trends.
Smart Home Technology
One of the most significant advancements in premium house trends is the incorporation of smart home technology. Homeowners may now use voice assistants or smartphones to remotely manage several components of their houses. Smart homes provide extraordinary ease and energy efficiency, from regulating the temperature and lighting to controlling security systems and appliances. Technology not only improves daily life but also adds an extra degree of protection, putting homes at peace.
Efficiency in Energy Use and Sustainability
As environmental awareness increases, premium housing trends have embraced sustainability and energy efficiency. Green building methods and materials are becoming more and more common in contemporary buildings. Energy costs and environmental effects are considerably decreased by features like solar panels, energy-efficient windows, and enhanced thermal insulation.
Open-Plan Living
The day of differentiated living areas is over. Modern luxury homes frequently have open-concept designs that provide a sense of expansiveness and connectivity. More natural light and greater social interactions are made possible by these designs, which provide a smooth flow between areas. Living in an open-concept space improves the atmosphere of the house overall, making it ideal for entertaining visitors and promoting unity in the family.
Multipurpose Rooms
The demand for flexible living spaces to fit shifting lifestyles is acknowledged by premium housing trends. Depending on the situation, multipurpose rooms might be used as offices, gyms, playrooms, or guest bedrooms. This flexibility allows homeowners to enlarge the utility of their homes to satisfy their varying needs without having to do extensive repairs. As remote work and flexible hours are common having separate areas for work and leisure is a huge advantage.
Superior Finishes and Customization
Luxury is about both utility and beauty. High-end furnishings and numerous customization choices may be found in contemporary luxury homes. Homeowners may customize their spaces to match their own interests and preferences, from luxurious bathroom fixtures and cutting-edge kitchen appliances to custom-built storage options. Personalization not only improves the quality of life overall but also increases the property's worth.
Built-In Outdoor Living Spaces
As people's enjoyment of nature and outdoor activities grows integrated outdoor living areas are becoming more popular in luxury housing trends. The boundaries between inside and outdoor life are blurred by balconies, rooftop terraces, and planted gardens. With this integration, homes may take advantage of the outdoors and fresh air without losing the convenience and luxury of inside conveniences.
Conclusion
Contemporary luxury housing styles have completely changed how we see and use our living spaces. These trends provide a wide range of benefits, from the comfort of smart home technology to the sustainability of eco-friendly architecture. Living in an open-concept space encourages social interaction, while multipurpose spaces develop changing lifestyles. High-end materials and flexibility for modification possibilities convey luxury and uniqueness, and integrated outdoor living areas re-establish our connection to the natural world.
As these premium house trends continue to shape the real estate industry, homeowners stand to benefit from enhanced comfort, efficiency, and long-term value. By accepting these advancements, we create the road for a more prosperous and environmentally friendly way of living in today's world. So, whether you're an investor or a possible buyer, following these patterns may be a wise decision in the long term.
About Us:
Purbeli Real Estate is a registered real estate company located in Damak-05, Jhapa established to develop professional real estate services.  Since 2022 AD (2078) BS, Purbeli Real Estate has been providing quality services to sell/buy/rent your land/house/apartment. To know more about us connect with us at: 
Facebook: पूर्वेली Real Estate
Twitter: पूर्वेली Real Estate
Website: Purbeli Real Estate
Call us on 023-580777 or 9842666298. You can visit our office at Damak-05, Jhapa (next to the Inland Revenue Office).