Mini-Commercial House for Sale in Urlabari-5: Happy Home at Your Doorstep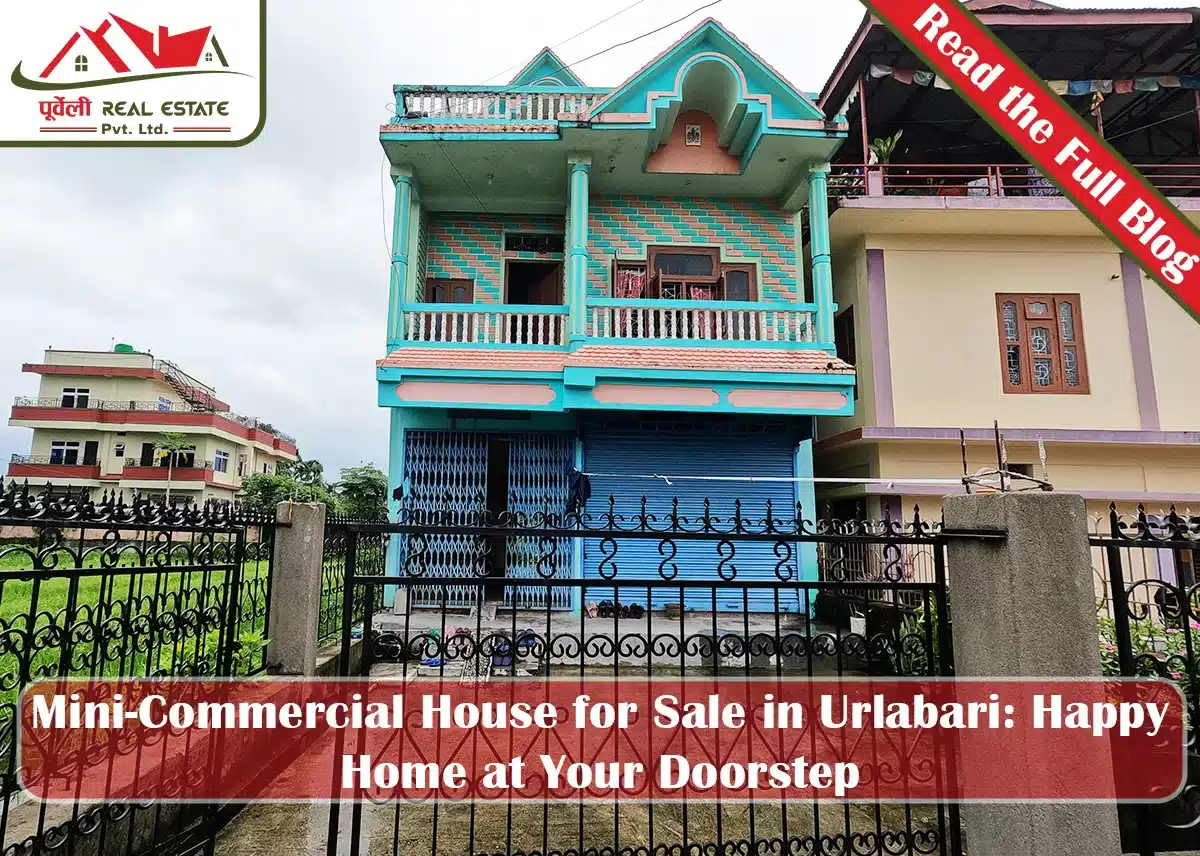 Mini-Commercial House for Sale in Urlabari: Happy Home at Your Doorstep
Purbeli Real Estate the leading real estate in Nepal has come up with an interesting 2.5-story residential plus semi-commercial house for sale in a prime location of Urlabari at Urlabari -05, near Araniko Hospital.  The property was carefully constructed, making it suitable for both residential and business uses. Here we explore in detail about this manifesting property.
Property Description
The 2.5-story house sits on a big plot of 12.25 dhur of land .   This property is well-positioned to optimize natural light and ventilation throughout the day since it faces south and has a 20-foot-wide house front. Linked with a 28 ft pitch road at only 200 meters northeast of the Mahendra Highway the home ensures quick access and adds commercial value.  Whether you're thinking about buying it for yourself or as an investment the ideal location provides the best of both worlds.
Physical Layout
The layout of the house was smartly planned to meet a variety of requirements. The ground level offers a pleasant area with a roomy living room and two luxurious bedrooms. A comfortable bathroom is also included on this floor, along with a multipurpose shutter that can be used as a workspace, a home office, or a storage place.
As you go up to the first floor, you'll locate a welcoming living space with three spacious bedrooms. An additional restroom on this level provides convenience for all residents and visitors.
The second story has a well-designed kitchen that can accommodate cooking activities of any size. For extra convenience, this floor also has a second bathroom. This floor is finished with a multipurpose hall with plenty of room for parties, meetings, and leisure activities.
Cost and Valuation
This property contains tremendous potential for returns on investment due to its advantageous location, smart layout, and possibilities for both residential and commercial usage. This 2.5-storey house is Priced at a negotiable price of Rs.96 Lakhs. Additionally, the property can be exchanged with the land worth Rs. 25 Lakhs to Rs.30 Lakhs adding some amount with  the land.
Conclusion
Purbeli Real Estate takes pleasure in offering a home that checks off all the right boxes, from setting and design to cost and potential.  Don't pass on the opportunity to acquire one of the most desirable properties in Urlabari . To learn more about the opportunities this property offers, get in touch with Purbeli Real Estate right away.
About Us:
Purbeli Real Estate is a registered real estate company located in Damak-05, Jhapa established to develop professional real estate services.  Since 2022 AD (2078) BS, Purbeli Real Estate has been providing quality services to sell/buy/rent your land/house/apartment. 
🏆 Why Choose Purbeli Real Estate?
✅ Easy Process: We understand that navigating the real estate market can be overwhelming. That's why we simplify the process for you, making it stress-free and straightforward.
✅ Fast Transactions: Time is valuable, and we respect that. Our swift and efficient service ensures that your real estate transactions are completed promptly.
✅ Trustworthy & Reliable: With years of experience in the industry, we've earned a reputation for being dependable and honest. You can count on us to deliver on our promises.
✅ Extensive Property Listings: Our wide range of properties caters to various preferences and budgets. From cozy apartments to spacious villas, we have something for everyone.
✅ Knowledgeable Team: Our team of experts has an in-depth understanding of the Nepali real estate market. We offer valuable insights to help you make informed decisions.
Call us on 023-580777 or 9842666298. You can visit our office at Damak-05, Jhapa (next to the Inland Revenue Office).
Contact us right away to start making your dream of owning a piece of paradise a reality.
For more details, visit us at:
Facebook: पूर्वेली Real Estate

Twitter: पूर्वेली Real Estate
Website: Purbeli Real Estate