Grab the Chance: Purbeli Real Estate Offers 18 Dhur Land for Sale in Urlabari!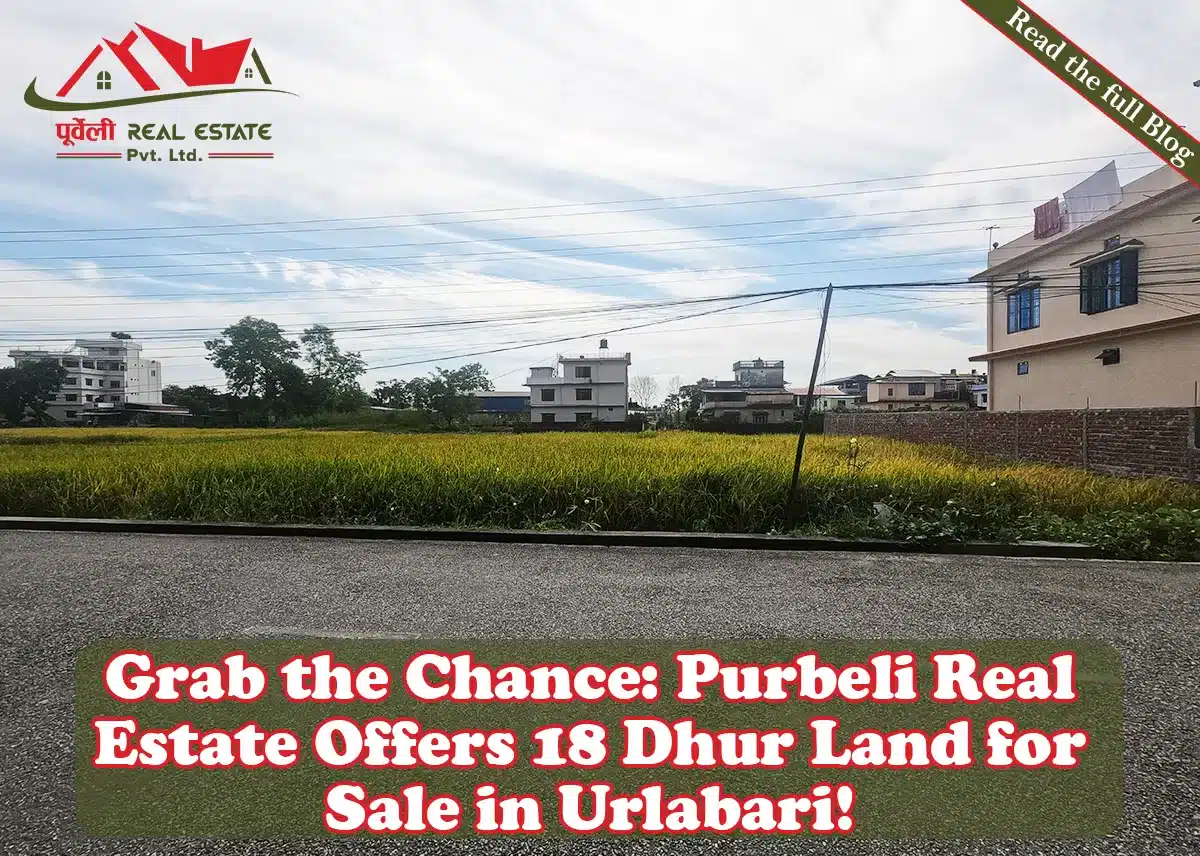 Grab the Chance: Purbeli Real Estate Offers 18 Dhur Land for Sale in Urlabari!
Urlabari is a thriving city with so much potential for growth and development, and Purbeli Real Estate extends an invitation for you to take this amazing opportunity to own a piece of heaven. We are excited to offer for sale a unique property with amazing 18 dhur land located in Urlabari -04 Aadarsha Tole, behind Futsal. This excellent piece of land provides the ideal environment for your ideal house as well as business. Let's examine this attractive property in more detail:
Property Overview
Location: Urlabari – 4, Aadarsha Tole, behind   Futsal
Land Size: 18 Dhur
Facing: North
Face Size: 31 ft
Road Access: 20 ft pitch road linked
Distance from Mahendra Highway: 150m
Price: Rs. 75 Lakhs
Reasons to Invest in Urlabari ?
Urlabari has emerged as a popular destination for real estate investment due to its advantageous location and expanding infrastructure. Situated in Aadarsha Tole, the property offers an oasis of peace that is easily accessible to amenities and the Mahendra Highway. Due to the optimal sunlight exposure provided by its north-facing orientation, this location is perfect for residential or commercial development.
Important characteristics:
Strategic Location:
The property is easily accessible to major transportation routes, with easy accessibility being just 150 meters from Mahendra Highway.
Size and Potential:
The possibilities are endless on this sizable 18 dhur plot of land. This property can be used to create a large family home, a business, or a combination of the two. Your imagination is the only limit.
Road Access:
The property's 20-foot pitch road adds to its value by providing a convenient and easy point of entry.
Reasonably priced at Rs. 75 lakhs, this excellent plot of land offers a reasonably priced opportunity to invest in a quickly developing region.
Conclusion
Take advantage of this chance to purchase a property that offers a great location, great growth potential, and affordability. Purbeli Real Estate is here to help you with the process of making Urlabari your own. Urlabari is waiting for your vision. Contact us right now to avoid missing out on this fantastic opportunity!
About Us:
Purbeli Real Estate is a registered real estate company located in Damak-05, Jhapa established to develop professional real estate services.  Since 2022 AD (2078) BS, Purbeli Real Estate has been providing quality services to sell/buy/rent your land/house/apartment. 
🏆 Why Choose Purbeli Real Estate?
✅ Easy Process: We understand that navigating the real estate market can be overwhelming. That's why we simplify the process for you, making it stress-free and straightforward.
✅ Fast Transactions: Time is valuable, and we respect that. Our swift and efficient service ensures that your real estate transactions are completed promptly.
✅ Trustworthy & Reliable: With years of experience in the industry, we've earned a reputation for being dependable and honest. You can count on us to deliver on our promises.
✅ Extensive Property Listings: Our wide range of properties caters to various preferences and budgets. From cozy apartments to spacious villas, we have something for everyone.
✅ Knowledgeable Team: Our team of experts has an in-depth understanding of the Nepali real estate market. We offer valuable insights to help you make informed decisions.
Call us on 023-580777 or 9842666298. You can visit our office at Damak-05, Jhapa (next to the Inland Revenue Office).
For more details, visit us at:
Facebook: पूर्वेली Real Estate

Twitter: पूर्वेली Real Estate
Website: Purbeli Real Estate