Housing Finance Options for First-Time Buyers in Nepal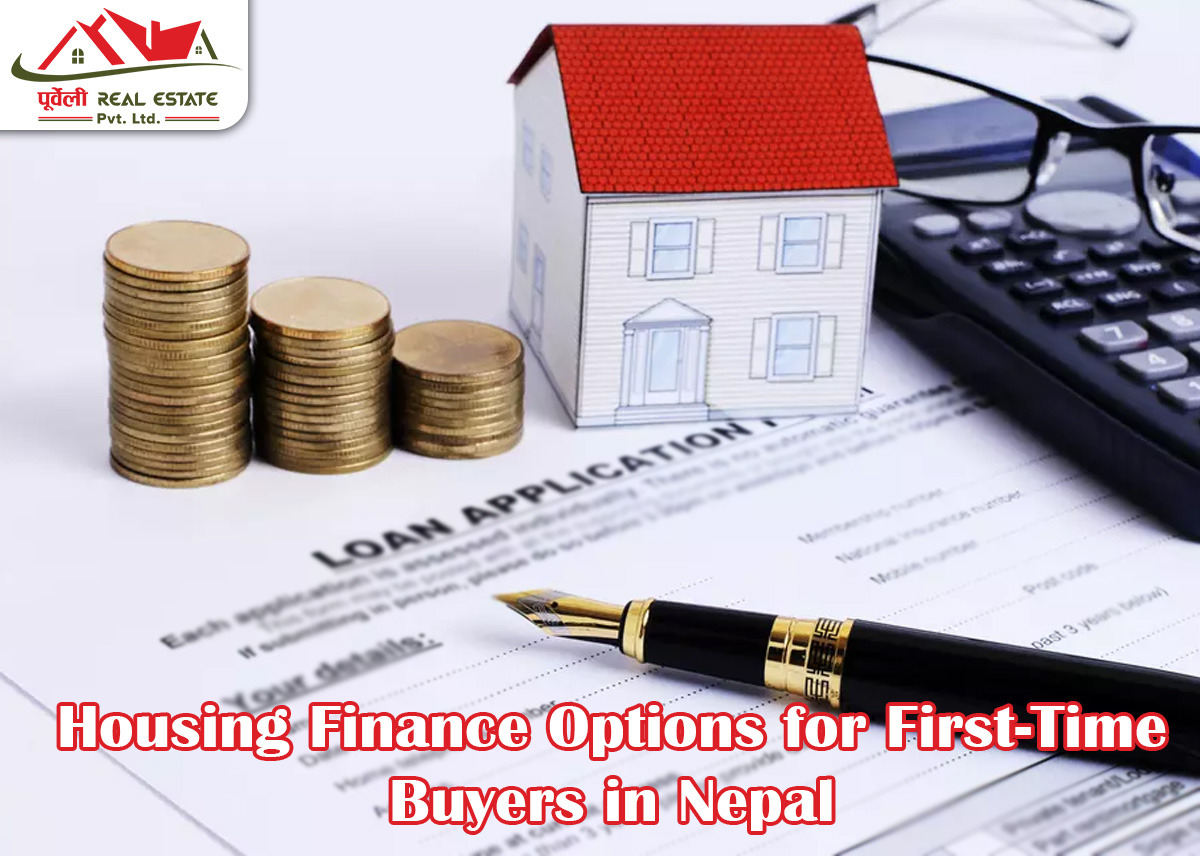 Housing Finance Options for First-Time Buyers in Nepal
Buying or building a house is an essential achievement in one's life, guaranteeing stability, security, and accomplishment. Everyone wants to have an ideal luxurious home to live in. In the present scenario, the house price has risen as the demand for housing is increasing at Pace. The process of buying a dream house in Nepal for the first time may appear stressful for buyers.  The budget that people prepared may not be sufficient to address the present price of houses. Then there comes housing finance as a solution for the buyers to own their dream home. In this blog, we will examine the house financing alternatives available in Nepal.
 Home Loans
            In Nepal, obtaining home loans from reputable banks and financial organizations is one of the most popular options for first-time homeowners. These loans are usually used to finance a substantial portion of the property's cost and are paid back over a predetermined time, which is generally long-term. Depending on their capacity for risk and the state of the market, potential homeowners can select either fixed or fluctuating interest rates. Homeowners must fulfill certain requirements to be eligible for a house loan, such as having a steady income, a clean credit history, and a manageable payment ratio.
 Advantages
Flexibility while selecting a home.
There are several loan terms and interest rate choices.
Tax advantages that could apply to interest payments.
Interest rate subsidy and refinancing program of Nepal Rastra Bank
The Nepal Rastra Bank (NRB) implemented a refinancing and interest rate subsidy program to encourage first-time homebuyers to purchase affordable property. This program allows banks and other financial institutions to modify their debt at a reduced interest rate, which encourages them to offer home loans to first-time buyers at a cheaper cost. With this program, the financial burden on first-time homebuyers is greatly lessened, which encourages them to make real estate investments.
Advantages
reduced monthly payments due to lower interest rates.
greater affordability for debtors.
Developers' Financing and Installment Payment Schedules
In Nepal, some developers of real estate directly provide first-time purchasers with financing alternatives. These installment payment options enable purchasers to pay for their homes over a long amount of time in reasonable installments. While this could eliminate the need for a conventional bank loan, potential buyers should proceed with care and perform extensive due research on the developer's reputation and track record.
Advantages
simplifying the payment procedure.
Absence of potential requirements for bank loans.
Government Programs and Subsidies:
The Nepalese government has implemented several programs and subsidies to assist with affordable housing. These initiatives support families and people with low and moderate incomes in obtaining homeownership.
Advantages
Financial assistance and rewards for suitable applicants.
Lower the financial obstacles for potential homebuyers.
Co-operative Housing Societies:
Co-operative housing societies are associations of people who share their resources to buy and own real estate. To buy land, build housing complexes, and share ownership of the properties, members combine their money. This choice offers a cost-effective approach to buying a property while taking advantage of the group's combined power.
Advantages
financial burden shared by all members.
living in a communal community with amenities.
Conclusion:
The variety of housing finance alternatives accessible in Nepal makes buying a property as a first-time buyer an enjoyable endeavor. Potential homeowners have a wide range of options, from conventional bank loans and cooperative housing societies to government aid and developer finance. To choose the best home financing solution for their situation, potential buyers must perform in-depth research, assess their financial situation, and consult experts. For first-time buyers in Nepal, the goal of buying a property may become a reality with careful planning and wise decisions.
Purbeli Real Estate is at your doorstep!  For any doubt pertaining to real estate services feel free to join and ask us :
About Us:
Purbeli Real Estate is a registered real estate company located in Damak-05, Jhapa established to develop professional real estate services.  Since 2022 AD (2078) BS, Purbeli Real Estate has been providing quality services to sell/buy/rent your land/house/apartment. To know more about us connect with us at: 
Facebook: पूर्वेली Real Estate
Twitter: पूर्वेली Real Estate
Website: Purbeli Real Estate
Call us on 023-580777 or 9842666298. You can visit our office at Damak-05, Jhapa (next to the Inland Revenue Office).