"Housing " a Determinant of Real Estate Market ( with latest census data )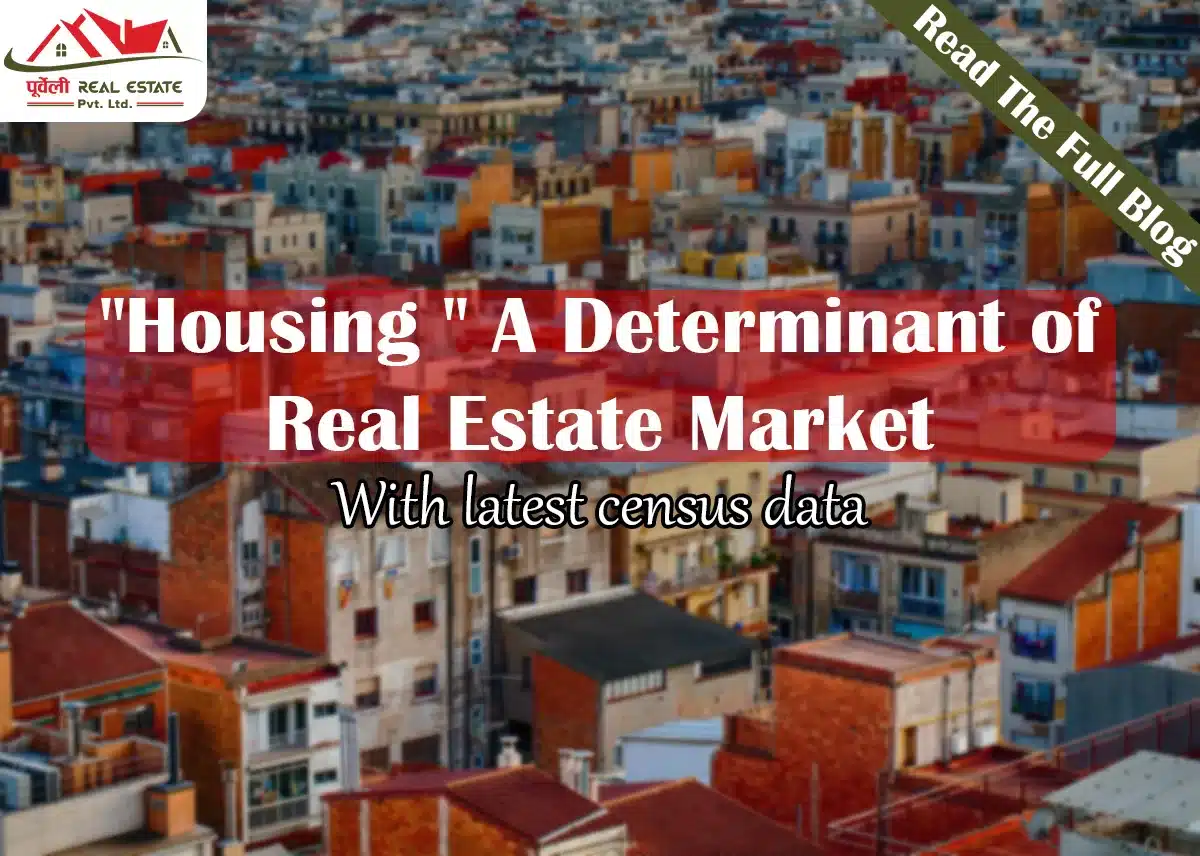 "Housing " a Determinant of Real Estate Market
              The real estate market is driven by the demand for housing by households.   Houses available for sale or rent set the levels of supply available for households. The ratio of housing demand and its supply determines the valuation of real estate property.   Household well-being, housing choices, investment, and economic well-being determine the state of the real estate market. In this blog post, we will explore the key points about housing in the real estate market.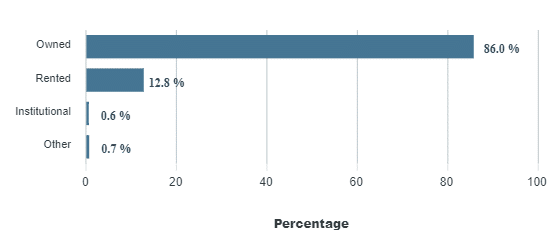 The Real Estate Market deals with buying, selling, and renting properties. Many households desire to own their own homes. According to the National Population and Housing Census 2021, out of total households, 86% of households own their own homes,12.8% are rented, 0.6% are held by institutions and 0.7% by others. The higher ownership of housing by households on their own and renting clarifies that real estate investment can be a greater option for households to reside and generate a rental income providing potentiality for financial gains and value appreciation.
It is important to know about the composition of houses and trends in housing to have maximum financial gains. Properties that meet the needs and wants of households have greater potential to be sold and high valuation. Primary components of the house include the foundation, outer walls, roof, and flooring. The outlook and interior designs arrive at the secondary part. Let's have some data about prevailing house components in the present context of Nepal.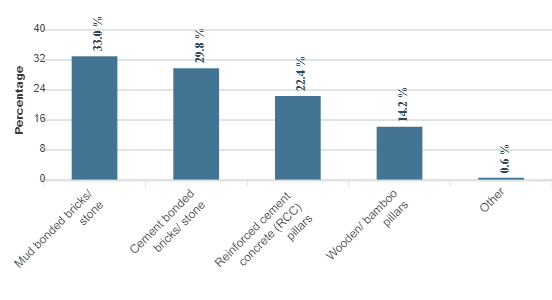 The life of the house is determined by the strength of the foundation. The National Population and Housing Census 2021 says that 33% of houses have foundations made of Mud bonded bricks and stones, 29.8% of houses are made with cement-bonded bricks and stones, 22.4% are made of reinforced cement concrete (RCC) pillars, 14.2% with wooden/bamboo pillars and 0.6% by the others.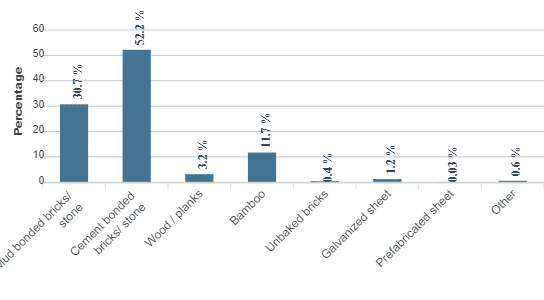 The outer walls of a house are responsible for the quality of the home we are living in or purchasing. As per data from the National Population and Housing Census, 2021 30.7% of houses use mud-bonded bricks or stones as materials for outer walls, 52.2% use cement-bonded bricks or stones, 3.2% use woods/planks, 11.7% use bamboos, 0.45 uses unbaked bricks,1.2% uses galvanized sheets, 0.03% uses prefabricated sheets and 0.6% uses others.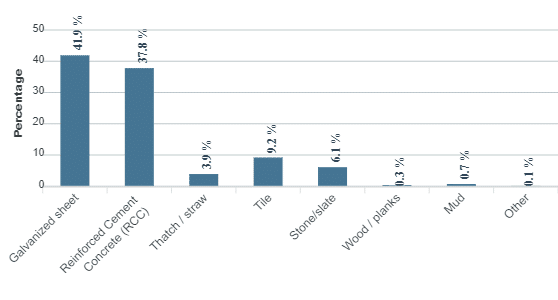 According to the National Population and Housing Census 2021 41.9% of houses has Galvanized sheet as materials for the roof, 37.8%has Reinforced Cement Concrete (RCC), 3.9% uses thatch or straw, 6.1% has stone /slate, 0.3% has woods/planks, 0.7% has mud, 0.1% has others. The data shows that most of the houses in Nepal have a roof of Galvanized sheet, which shows the average level of economic well-being of Nepalese households.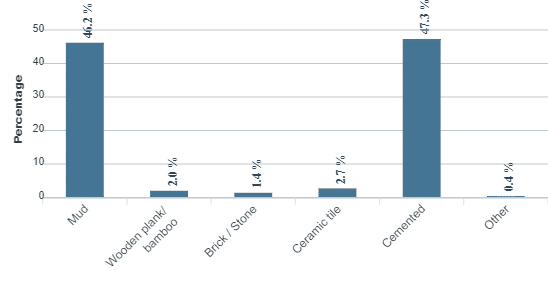 Most of the houses in Nepal either have mud floors or cemented floors. As per National Population and Housing Census 2021, 46.2% of households have mud floors whereas 47.3% of houses have cemented floors.  2.7% of houses have ceramic tiles, 2% have wooden plank /bamboo, 1.4% have brick/stone, and 0.7% have others.
The structures of the house do not only complete the term housing. The daily needs of services and facilities also came along with the housing to ensure the quality of living. The most important needs in life include drinking water, lighting, sanitation, and food. When you're planning for plotting or housing or buying a house or land, it is mandatory to know about the source of drinking water, the main source of lighting, the type of sanitation, and the fuel available for cooking in the area. Let's know in detail about the main sources of these facilities available in Nepal.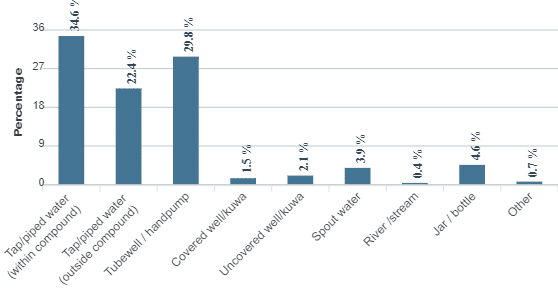 According to the National Population and Housing Census 2021, 34.6% of households have Top/piped water within a compound, 29.8% have Tube wells/handpumps, 22.4% have Top/piped water outside the compound, 4.6 % have Jar/Bottle, 3.9% have spout water, 2.1% have uncovered well/Kuwa, 1.5% have covered well / Kuwa, 0.4% have river/stream and 0.7% have other resources as a main source of drinking water.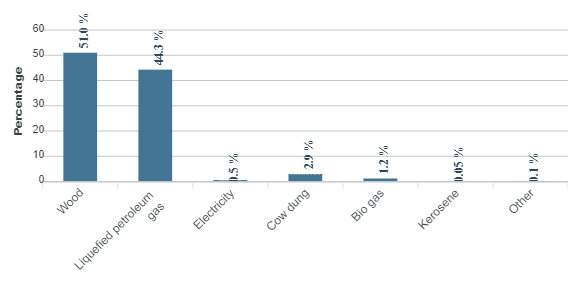 According to the National Population and Housing Census 2021, 51% use wood, 44.3% use Liquefied Petroleum gas (LPG) gas, 2.9% use cow dung, 1.2% use biogas, 0.5% use electricity, 0.05% use kerosene and 0.1% use other as a fuel for cooking.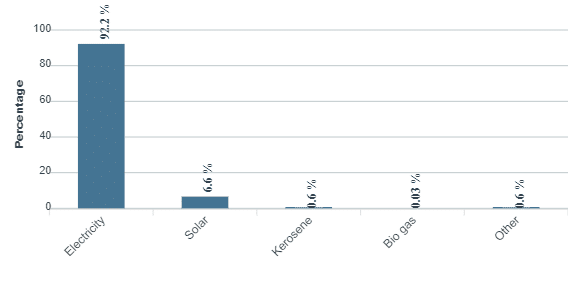 The data from the National Population and Housing Census 2021 says that 92.2% use electricity, 6.6% use solar, 0.6% use kerosene, 0.03% use biogas, and 0.6% use other as a main source of lighting in Nepal.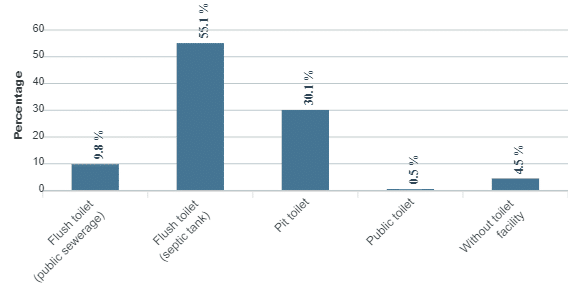 Nepal has been regarded as an open toilet-free zone, according to the National Population and Housing Census 2021, 55.1% use flush toilets (septic tank), 30.1% use pit toilets, 9.8% use flush toilet public sewerage, 4.5% have no toilet facility and 0.5 % use public toilet.
Housing not only reflects the demand and supply of shelter but elaborates the economic and social trends that shape the way we live and invest.
About Us:
Purbeli Real Estate is a registered real estate company located in Damak-05, Jhapa established to develop professional real estate services.  Since 2022 AD (2078) BS, Purbeli Real Estate has been providing quality services to sell/buy/rent your land/house/apartment. 
🏆 Why Choose Purbeli Real Estate?
✅ Easy Process: We understand that navigating the real estate market can be overwhelming. That's why we simplify the process for you, making it stress-free and straightforward.
✅ Fast Transactions: Time is valuable, and we respect that. Our swift and efficient service ensures that your real estate transactions are completed promptly.
✅ Trustworthy & Reliable: With years of experience in the industry, we've earned a reputation for being dependable and honest. You can count on us to deliver on our promises.
✅ Extensive Property Listings: Our wide range of properties caters to various preferences and budgets. From cozy apartments to spacious villas, we have something for everyone.
✅ Knowledgeable Team: Our team of experts has an in-depth understanding of the Nepali real estate market. We offer valuable insights to help you make informed decisions.
Call us on 023-580777 or 9842666298. You can visit our office at Damak-05, Jhapa (next to the Inland Revenue Office).
Contact us right away to start making your dream of owning a piece of paradise a reality.
For more details, visit us at:
Facebook: पूर्वेली Real Estate

Twitter: पूर्वेली Real Estate
Website: Purbeli Real Estate