A Perfect Balance of Luxury and Harmony: Modern Semi Bangalow House on Sale in Purbeli Real Estate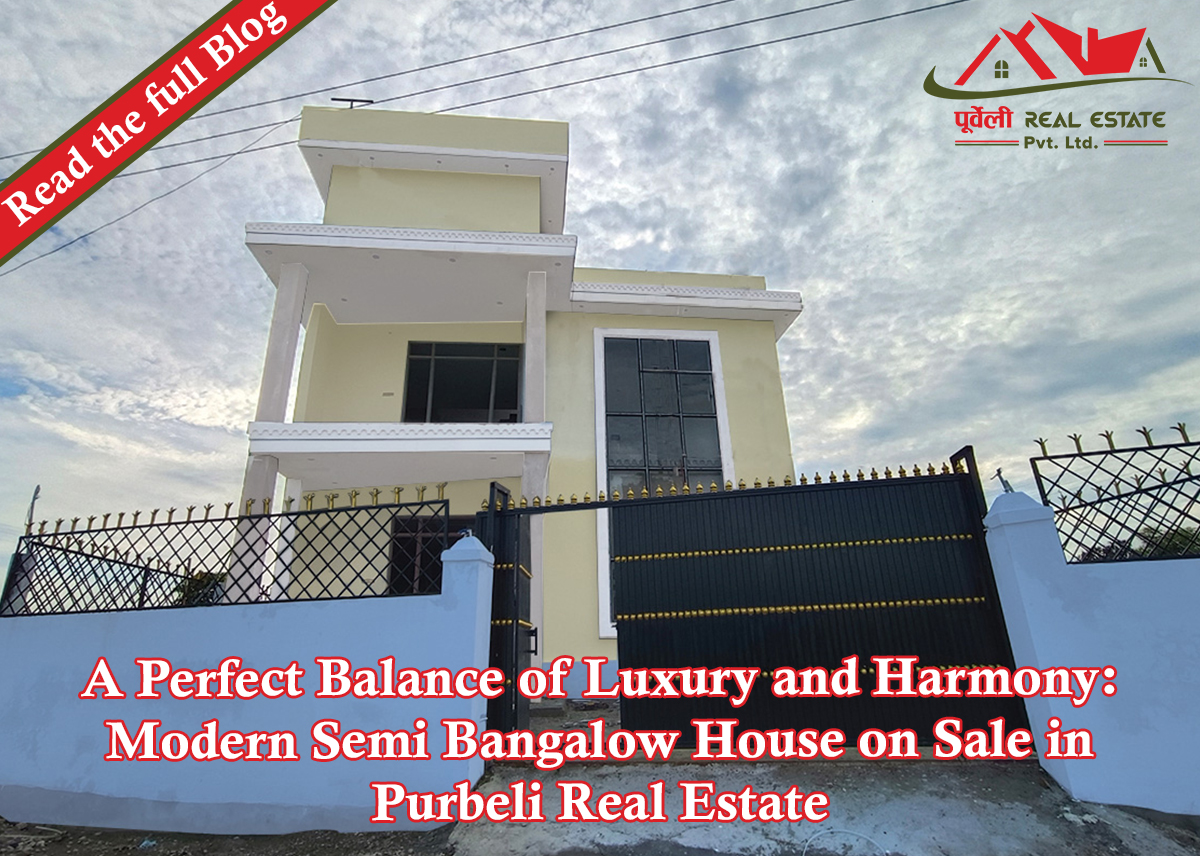 House on Sale in Purbeli Real Estate
Welcome to Purbeli Real Estate, the place where your goal of owning a contemporary semi-bungalow in the peaceful town of Laxmipur has become true. A comfortable, elegant, and peaceful existence is ensured by this 2.5-story house's expert design and strong construction. Enjoy the stunning east-facing property in Kankai Municipality-08, which is about 700 meters north of the Mahendra Highway. Let's examine this gem more closely!
Laxmipur, located in the lap of nature and far from the bustle of the city, offers a peaceful and attractive environment. A 20-foot-tiled road efficiently connects the property, making it possible to reach key services and transportation centers with ease. With seamless internet and quiet surroundings, you can get the best of both worlds at this amazing location.
When choosing your ideal house, safety should be your priority. The foundation of this contemporary semi-bungalow home is strong and durable.  The structure's solid foundation and earthquake-resistant architecture which are constructed to withstand shocks up to 8 Richter scale ensure your peace of mind during earthquake occurrences.
The house has been thoughtfully designed to provide you with maximum convenience and elegance. The lightweight construction guarantees energy efficiency while simultaneously enhancing appearance. The east-facing orientation enables you to wake up to the mild morning sun's beams, filling your living areas with natural light all day.
 With a total area of 11.25 dhur, this stylish semi-bungalow gives enough room for you and your loved ones to enjoy every second.
 A welcoming living area awaits you on the ground level, with a space for a minibar setup making it the ideal setting for relaxing and creating interpersonal connections. The well-equipped bathroom offers convenience and style, while the bedroom assures privacy and comfort. With its modern facilities and conveniences, the contemporary modular kitchen is a delicious paradise ideal for bringing out your inner chef.
Upon reaching the first floor, you will find another welcoming living space, perfect for hosting visitors or spending quality time with your family. There are three roomy bedrooms available, each created to provide unique havens for every member of the family, one with a concept of a playroom for kids. The balcony provides an oasis to rest while taking in the wonders of nature, and the shared bathroom is beautifully designed with modern furnishings.
The second story has three extra bedrooms and a luxurious bathroom. The wide area, which offers countless options, is the main attraction. This open area encourages you to express your ideas, whether you picture it as a family room, a home office, or a peaceful reading corner.
Currently under construction, this outstanding property is offered for a remarkable price of Rs. 1.25 crore. The cost would increase to Rs. 1.55 crore when the work is finished. Don't pass up this fantastic chance to get a great deal on your dream house at this advantageous rate.
property link: #PRE274
Conclusion
            Purbeli Real Estate warmly invites you to experience the height of peace and elegance with this contemporary semi-bungalow in the center of Laxmipur. With its strong construction, well-considered design, and ideal location this house guarantees a life of luxury, comfort, and natural peace. For more information Contact us at: 023-580777 / 9842666298.
About Us:
Purbeli Real Estate is a registered real estate company located in Damak-05, Jhapa established to develop professional real estate services.  Since 2022 AD (2078) BS, Purbeli Real Estate has been providing quality services to sell/buy/rent your land/house/apartment. To know more about us connect with us at: 
Facebook: पूर्वेली Real Estate
Twitter: पूर्वेली Real Estate
Website: Purbeli Real Estate
Call us on 023-580777 or 9842666298. You can visit our office at Damak-05, Jhapa (next to the Inland Revenue Office).