House for Sale at Birtamode Bus Park: Embrace the Perfect Blend of Commercial and Residential property.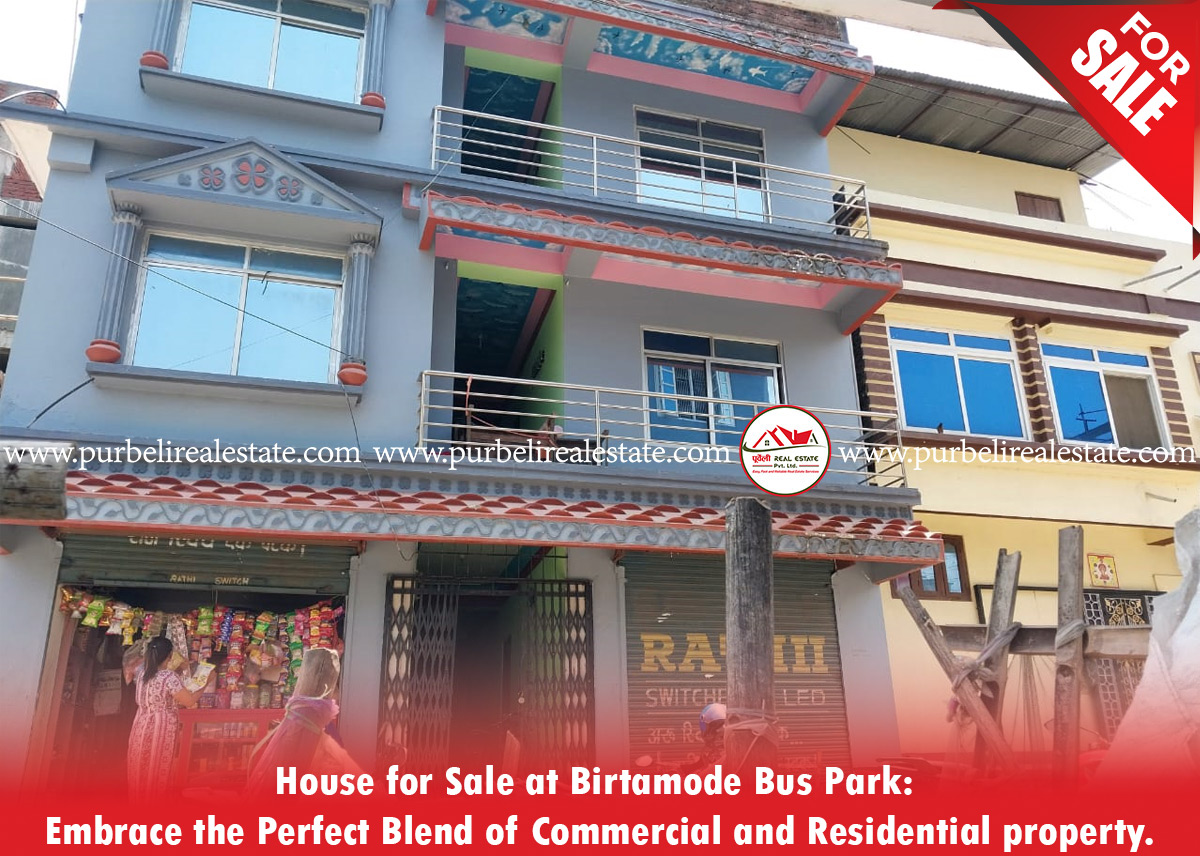 House for Sale at Birtamode
Introduction
Purbeli Real Estate, the leading real estate in Nepal, is passionate about your dream as you are. With the aim of fulfilling your desire to own the perfect house in the Birtamode area, we are excited to represent you with this outstanding 3-story house at the heart of Birtamode, Birtamode Bus Park.
This house is perfectly designed for those wanting a commercial residential house. Meaning you can run your business at your residence or want to earn some income by renting it. Let's have some more information about this amazing house.
This house is located at the prime location of Birtamode at Birtamode -05, Buspark just 300m North of Mahendra Highway. The location provides convenient living, reaching all daily needs and requirements as it lies in one of the best locations in Birtamode City.
This 3-story house sits on a land area of 7.5 dhur. Facing towards the West, the house shares a 28.5ft face size. The house is linked with a 16ft pitched road which provides easy access to transport services.
The house is thoughtfully designed to meet the requirement of modern living along with commercial purposes. As the property lies in a busy area of Birtamode i.e., the Bus Park, it is worth designing the way it is.
The ground floor comprises 2 shutters which allow you to start up your own business or rent it for extra money. Along with that, it serves you with 2 bedrooms and 1 bathroom.
Moving up to the first floor you will find 5 attached bathrooms. This floor provides balcony space for fresh air and refreshment.
On the second floor, you will discover 5 attached bathrooms along with balcony space.
As the property is at the heart of Birtamode it has no complaints regarding the lack of amenities required for convenient living. The house ensures the quality of living by offering the amenities including:
Drinking Water
Garbage Management
Peaceful Environment
Pitched Road
Parking
In general, people think that houses in Birtamode are very expensive. But today we are representing you with the house at Birtamode Bus Park at your desired price.  The house is offered for sale at a remarkable price of 1.20 crores.
Purbeli Real Estate warmly welcomes you to our office at Damak-05, Jhapa for a clear understanding. For more information call us at 023-580777/9842666298.
This is a golden opportunity to invest in a property with many prospects. You can use this property commercially as well as for residential purposes. This location is perfect for hotels and lodges as it lies in a buzzing area of Birtamode. As well as the property assures convenient living. You can have both possibilities at once. Also, you can rent it. So don't miss the opportunity for the greatest haven.
So, what are you waiting for? "Discover the best real estate opportunities in Nepal. Buy, sell, or rent properties effortlessly with our comprehensive listings. Find your dream home, office space, or investment property in Nepal's thriving real estate market. Explore a wide range of options, connect with trusted agents, and make informed decisions. Start your property journey today!"
Contact Purbeli Real Estate now at
                  Facebook: पूर्वेली Real Estate
Twitter: पूर्वेली Real Estate
                   Website: Purbeli Real Estate
Where we provide a one-stop solution for everything pertaining to real estate services. For easy, reliable, and fastest real estate services always remember Purbeli Real Estate.