Brand New Residential House for Sale in Birtamode : House of your choice by Purbeli Real Estate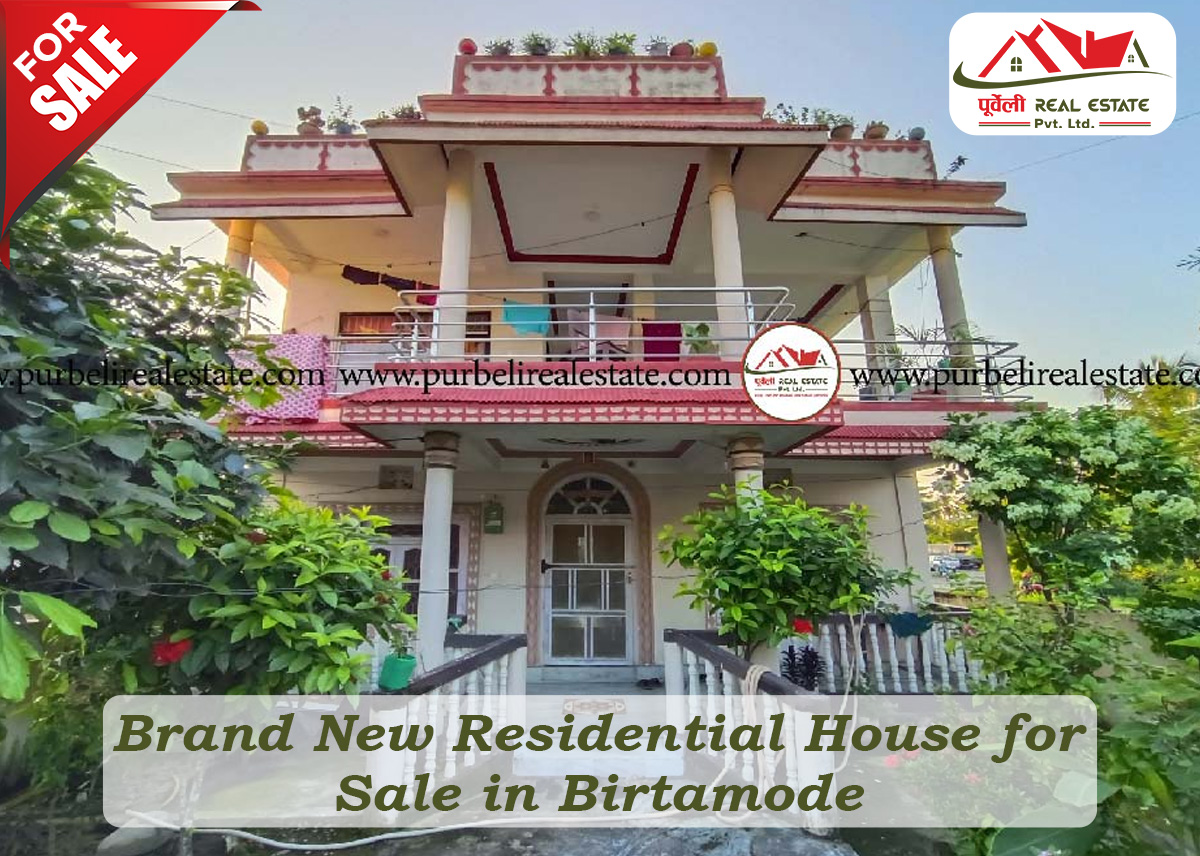 House for Sale in Birtamode : House of your choice by Purbeli
You probably won't believe that peaceful residential houses can be available in such a buzzing city like Birtamode . The moderately designed residential house is offered for sale in Birtamode by Purbeli Real Estate the best real estate in Nepal. One-Stop solution for everything pertaining to real estate. A beautiful 3-storey residential house is waiting for you in Ram Chowk the heart of the busy city Birtamode.
Let's know about the property:
This property is located in the prime location of Birtamode i.e. Birtamode-02, Ram Chowk. This is the perfect location for one who is searching for a peaceful residential environment in Birtamode . This house is located just 300m South of Mahendra Highway.
This amazing 3-storey residential house in Birtamode -02,sits on a broad land of 18.25 dhur providing ample space for parking. You will find a very beautiful garden inside its compound that adds prettiness to the house.
Facing towards the East with a 32ft face size this house enjoys sunlight throughout the day. The house is linked with the 40ft pitch road that provides easy access to transport services.
3-storey eye-catching house in Ram chowk comprises flawlessly designed floors.
When you first step into the house you will find a spacious sitting room. The sitting room provides a wide space for family gatherings. Additionally, this floor facilitates you with:
2Bedroom
2Bathroom
1 kitchen
Moving toward the first floor, you will discover 4 bedrooms for your family and guests. And a massive balcony space for a beautiful view of the natural environment.
The Second floor serves you with a kitchen and a hall for family gatherings and functions. You can use the hall as per your requirements.
The physical layout of the house is not enough to ensure your quality Living. Taking these factors into consideration, the house offers a range of amenities including:
Drinking Water
Garbage Management
Peaceful Environment
Pitched Road
Parking
This beautiful residential house is offered for sale at an optimal price Rs. 1.70 Crores. It is rare to find such a beautiful house in a peaceful location in Birtamode at this reasonable price.
For more details of the house call us at 023-580777 or 9842666298. To have a look at the property, visit our office at Damak-05, Jhapa (Next to the Inland Revenue Office). Our office remains open from 10 am to 5 pm (Sun – Fri) .
Purbeli Real Estate strives to make real estate services more managed, professional, and reliable. We are passionate about your dream as you are. Don't miss the opportunity to own such an amazing house in Birtamode .
. We will provide you with the property of your choice .
To know more about us connect with us at :  facebook page:  पूर्वेली Real Estate ,  Website : Purbeli Real Estate:real estate in nepal.  Instagram: purbelirealestatenepal
Call us at 023-580777 or 9842666298 . You can visit our office at Damak-05,Jhapa (next to Inland Revenue Office ) .  
For More Inf0: PRE155