Residential House of your requirements in Pathri : Finest property on sale in Morang By Purbeli Real Estate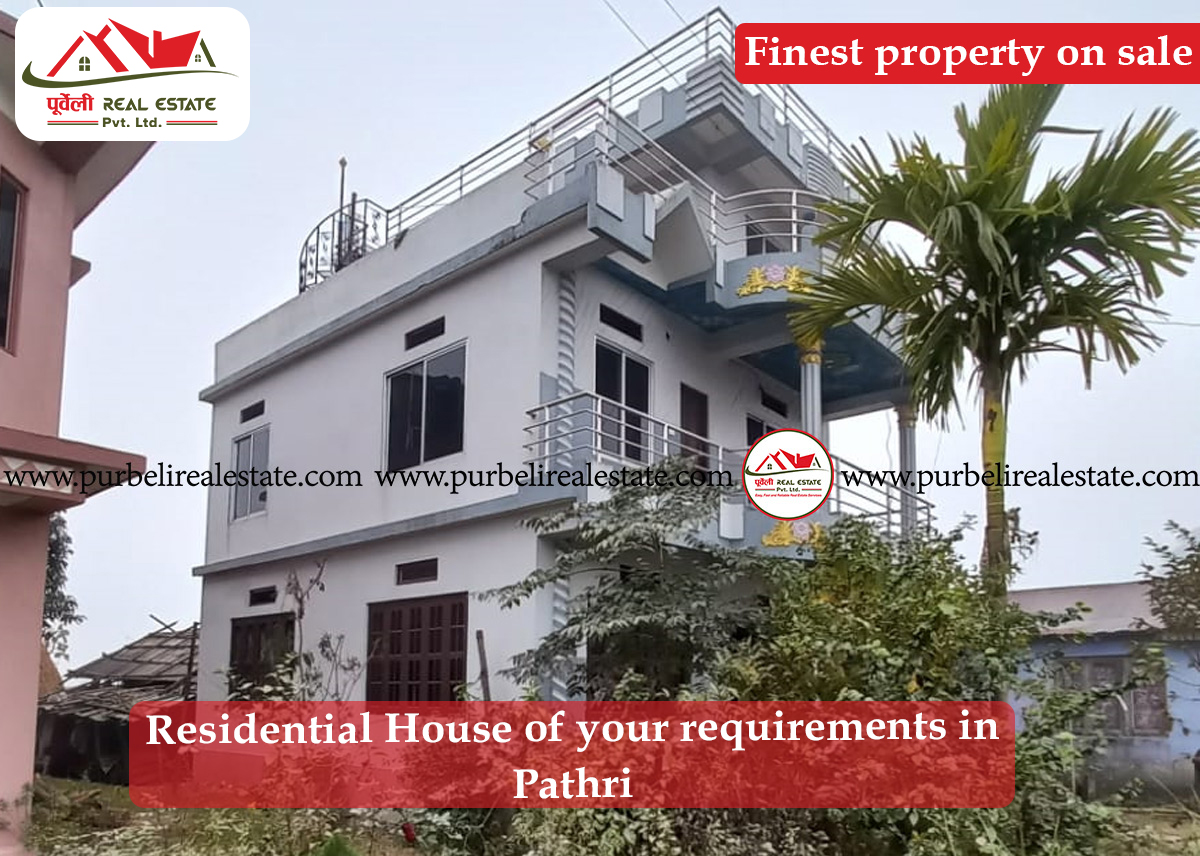 House on sale in Pathri Nepal.
Being a Middle-class family person, it's hard for me to find a beautiful home for my family at a remarkable price. It is important for me to consider the recommendations of my family members to buy a house. The choice of my parents doesn't match with the choice of my children in terms of design and location. I am stuck with all these dilemmas to buy a house to satisfy the demand of both with perfect design and location as per my considerable budget. Does it sound familiar with your present situation?
If yes, then Purbeli Real Estate provides you with the best option of owning a peaceful residential house that would satisfy you and your family members. Let's have information about this awesome residence.
Property Description:
This magnificent 2.5 storey house facing towards north resides on a total land area of 10 dhur providing you enough space for gardening and parking of vehicles as per your necessity. With its 23ft face sized the house has easy access to transport services with 28ft pitched road. 
This property is located at the prime location of Devigunj,  Pathri just 1.5km South from Mahendra Highway that provides you easy access to all required services . This house adds convenience for your parents living in peaceful area and your children wish of living in urban.
The ground floor comprises of 1 living room providing enough space for your family gatherings and functions.  This floor serves you with 2 bedrooms that are designed to assure comfortability during your nap & sleep. Also, you will find a bathroom on this floor for your convenience.
Moving up to the first floor, you will discover well designed living room enough for relaxation with your friends, families, and guests. Along with 1 bathroom on this floor you can enjoy serving of 2 bedrooms capable enough to provide good sleep for you & your family members.  
The kitchen is available on the top floor with the aim of serving all family members together with a large dining space. The most noticeable fact in this house is you can enjoy the expansive views with the balconies available on each floor.
This house is offered for sale at a remarkable price of just Rs.80 lakhs. This house is the best option to resolve the disagreements among the family members as it is in the best location and moderately designed which is loved by people of all generations. It is rare to find such an amazing home at this considerable price with all the required amenities.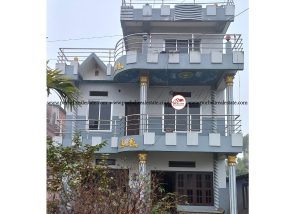 Property Amenities
This property is a great option for people looking for convenience, contemporary facilities, and a well-rounded lifestyle because of its amenities, which contribute to a comfortable and hassle-free living experience. The remarkable facilities included in this unique house for sale ensure convenient and pleasing living.
Telephone: Telephone services enable here keeps you in touch with friends, family, and business associates
Bathroom: The home has hygienic bathrooms that provide privacy and necessary conveniences for personal hygiene on each floor.
Cable TV: cable TV access keeps you engaged and connected to the outside world.
Drainage: Adequate drainage systems are set up, guaranteeing effective waste disposal as well as preventing waterlogging during rainy seasons.
Water: Having access to clean, safe drinking water is essential, and this property offers a reliable source of safe drinking water for your daily consumption and requirements.
Conclusion:
Isn't it the optimum choice of yours as the best affordable gift to your family that you could provide in your entire life. This is the golden chance to have such a wonderful residential house in Pathri. So, don't hesitate to consult with Purbeli Real Estate the best real Estate in Nepal for further information and deal. Call us at 023-580777 or 9842666298 or you can visit our office at Damak-05, Jhapa (next to Inland Revenue Office) to have a visit to this property. The best real estate deal in Nepal is always offered by Purbeli Real estate. For more information visit us at: https://www.purbelirealestate.com/.
For more information about Property click here:#PRE243
Watch us on Youtube.