Bungalow Style house on Sale in Damak at Purbeli Real Estate: A one -stop solution for everything pertaining to Real Estate in Nepal.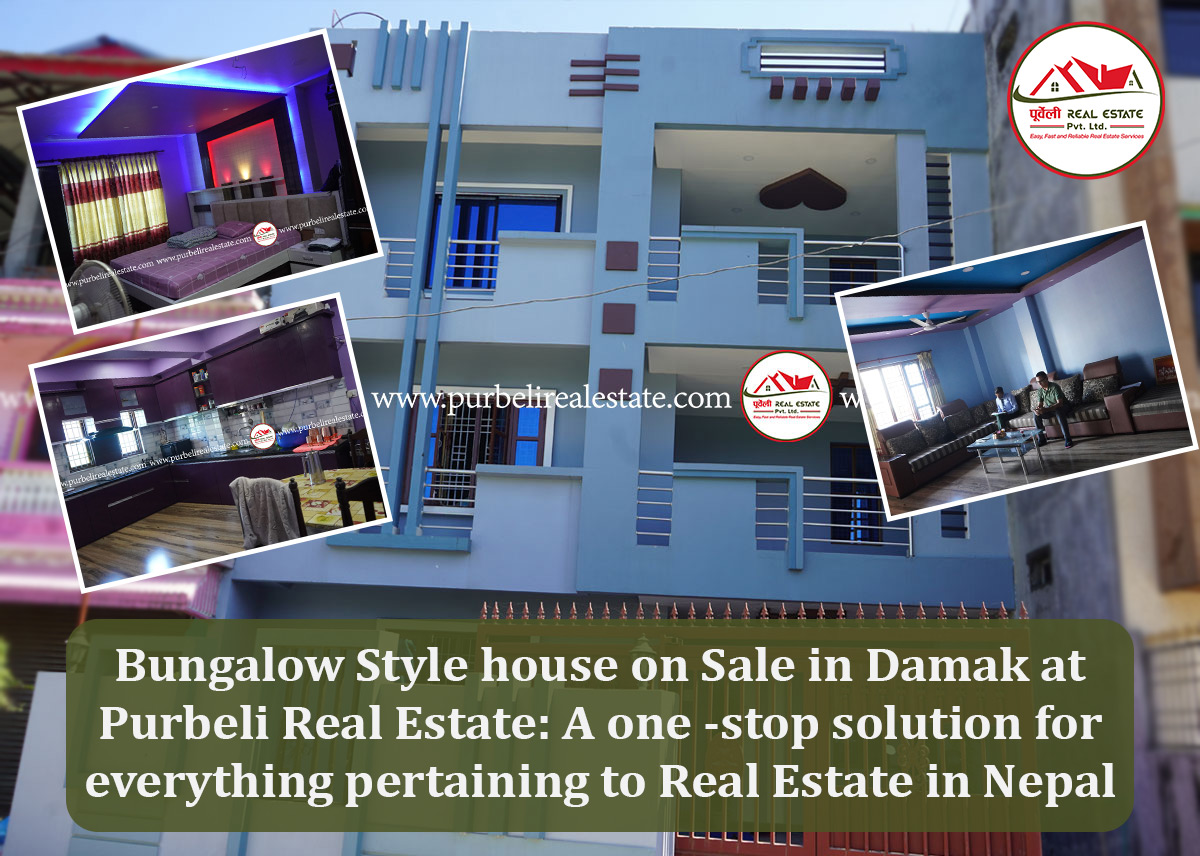 House on Sale in Damak Nepal
Introduction:
Are you tired of searching for your ideal house in Damak-5? No Longer hassle! A spectacular 2.5-storey residential home near Hariom Colony gate with comfort, elegance, and convenience is proudly offered for sale by Purbeli Real Estate. This magnificent home has a great location, lots of room, and many attractive amenities. Don't dissolve up the chance to call this home your own and lead a life of peace of mind and comfort.
Property Information:
This lovely home is located on a 12-dhur plot and faces west-east, providing plenty of natural light and a cooling wind throughout the day. With a face size of 31–31 feet, the property's outstanding proportions provide you and your loved ones with a roomy living space. A 30-foot sloped road in the east and a 16-foot gravel road in the west make it easy to get to the house, offering quick transit and a simple travel.
Location:
Convenience is important, and this home provides it. You'll have quick access to important transportation networks because the property is only 50 meters south of the Dipini Highway, guaranteeing hassle-free travel. You may live in an at ease pleasant environment because of the quiet neighborhood.
Floor Plan:
The house is intelligently designed across 2.5 storey offering a well-thought-out layout that maximizes space utilization and enhances functionality.
Let's take a closer look at the floor plan:
Ground Floor:
Upon entering, you'll be welcomed by a warm living area that offers the ideal setting for entertainment and relaxation. The bottom floor also has a pooja room for spiritual reflection, a bedroom, a bathroom, and a fully furnished kitchen where you may show off your kitchen's expertise.
First Floor:
Ascend to the first floor, where you'll find three spacious bedrooms, each accompanied by an attached bathroom. These thoughtfully designed bedrooms provide privacy and comfort, ensuring a peaceful retreat after a long day.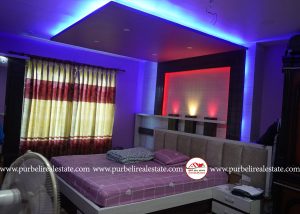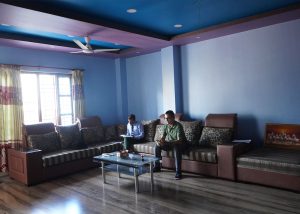 Second Floor:
The second-floor hosts one bathroom, a multipurpose hall, and a convenient storeroom. The hall offers flexibility in its use, whether as a space for family gatherings or as a home office. The storeroom provides ample space to store your belongings, keeping your living area neat and organized.
Price and Contact Information:
This excellent residential property is offered at a reasonable price of Rs. 2.75 crore. For further details or to schedule a visit, please reach out to Purbeli Real Estate at 023-580777 or contact us directly on 9842666298 or visit our office at Damak-05, Jhapa Nepal (Next to Inland Revenue Office) We're here to assist you every step of the way.
Additional Amenities:
To enhance your living experience, the property also offers a range of amenities. These include telephone connectivity, cable TV access, proper drainage facilities, a reliable water supply, and internet connectivity. Furthermore, the house is conveniently located near hospitals, ensuring quick access to medical services when needed.
In conclusion, Purbeli Real Estate's listed 2.5-story residential house in Damak-5 is the ideal option if you've been looking for a perfect residence in that locality. For individuals or families looking for luxury and elegance, this property is a great investment because of its roomy layout, convenient location, and wide range of facilities.
Don't wait any longer; make your aspirations come true by getting in touch with Purbeli Real Estate right away to learn more about this outstanding property. Your desired house has arrived! At Purbeli Real Estate, we take pride in connecting you with exceptional properties that match your dreams and aspirations and unique requirements. Don't miss the opportunity to make this house your dream home. Contact us today and let us guide you through the journey of finding your perfect residence.
For More Information Click Here :#PRE174