Bungalow Style house on Sale in Damak at Purbeli Real Estate: Real Estate in Nepal.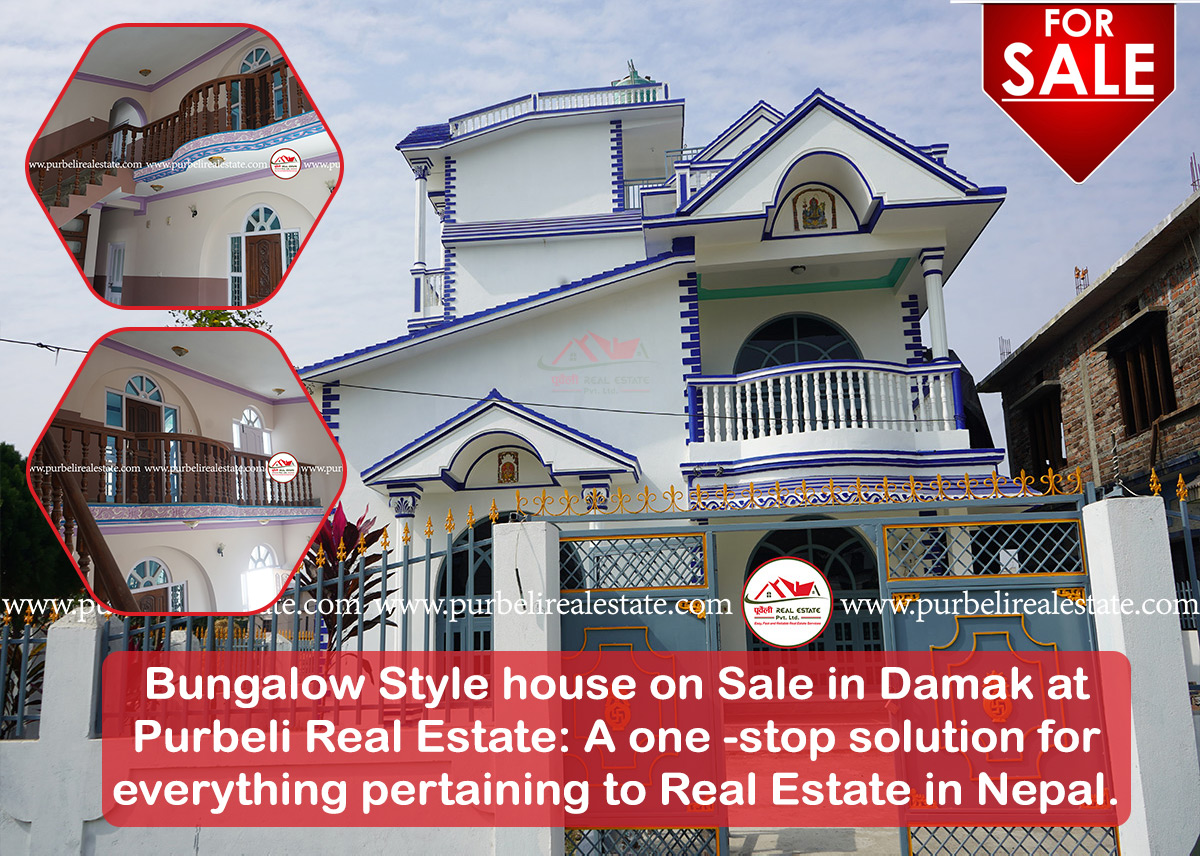 Introduction
House on Sale in Damak-5 Nepal:
With the aim of fulfilling your desire of owning a Bungalow in a peaceful location like Damak. We are presenting you a stunning 3 storey Bungalow style house in Damak -05, to the west of Sarvodaya School in Jhapa Nepal that comprises peaceful environment, modern amenities, and convenient living. Let's step towards further description of this outstanding house.
Property Description
This Stunning Bungalow Styled house located at prime location of Damak-05, near to Sarvodaya School offers you a Royal living experience. This east-south facing home has a face size of 45–80 feet and spans over the 21 dhur of land, offering plenty of space for parking and natural light all day. Being accessible through 20-10ft graveled roads, this property adds convenience at your doorstep.
The ground floor welcomes you with a spacious living hall, perfect for hosting gatherings or relaxing with family, friends & guests. Additionally, it features three attached bedrooms and a well – appointed bathroom, ensuring utmost comfort and privacy.
Moving up to the first floor, you'll discover four luxurious bedrooms, each equipped with its own attached bathroom. The level also has a balcony, which is great for taking in peaceful views and breathing in fresh air.
Another bedroom and a well-designed kitchen are located on the second story, accommodating your culinary demands. Additionally, a balcony is included, enabling you to enjoy expansive views and design with a comfortable outdoor area.
This amazing home, which costs Rs. 3.60 crores, offers a rare chance to engage in luxurious life. Don't skip the opportunity to call this gorgeous home your own and boost the quality of your existence.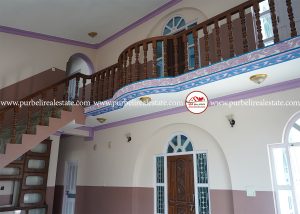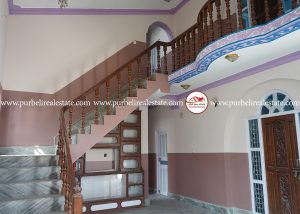 Property Amenities:
This property is a great option for people looking for convenience, contemporary facilities, and a well-rounded lifestyle because of its amenities, which contribute to a comfortable and hassle-free living experience. The remarkable facilities included in this unique house for sale ensure convenient and pleasing living.
Telephone: Take advantage of the ease of having a phone connection close at hand, enabling you to remain in touch with friends, family, and business associates
Air-conditioned rooms: During the sweltering summer, air-conditioned rooms keep you cool and comfortable while offering an appreciated break from the heat.
Bathroom: The home has hygienic bathrooms that provide privacy and necessary conveniences for personal hygiene.
Cable TV: With a large selection of channels and shows to fit your interests, cable TV access keeps you engaged and connected to the outside world.
Drainage: Adequate drainage systems are set up, guaranteeing effective waste disposal as well as preventing waterlogging during rainy seasons.
Water: Having access to clean, safe drinking water is essential, and this property offers a reliable source of potable water for your daily and the
requirements.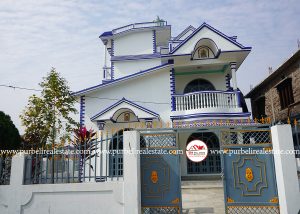 Hospital: Being close to a hospital gives people peace of mind since they know that medical care and emergency services are easily reachable.
Internet: Maintain an online connection with high-speed internet connections so you may surf the web, do business from a distance, or communicate with loved ones.
Parking: The building has plenty of spots for parking, giving both residents and visitors a safe and practical place to leave their cars.
Price & Contact :
Priced at Rs. 3.60 crore, this magnificent three-story mansion offers a fantastic opportunity for anyone looking for a luxury residence in Damak-05. Call Purbeli Real Estate at 023-580777 or 9842666298 if you would like more information. Also, you can visit our office Damak-05, Jhapa Nepal (Next to Inland Revenue Office) to arrange a visit to this property.
Conclusion:
Purbeli Real Estate offers you an opportunity to seek out the pinnacle of luxurious life in this magnificent mansion in Damak-5, Jhapa. With its expansive layout and outstanding facilities, this exceptional home provides a luxury and pleasant living experience. Don't pass up the chance to turn this house into your ideal residence. Get in touch with Purbeli Real Estate right away to start living comfortably, stylishly, and peacefully.
For more information click here: #Pre253