Embrace Your Dream Home in Damak: Buy Extraordinary 2.5 Storey House in Damak-05, Behind Sarvodaya School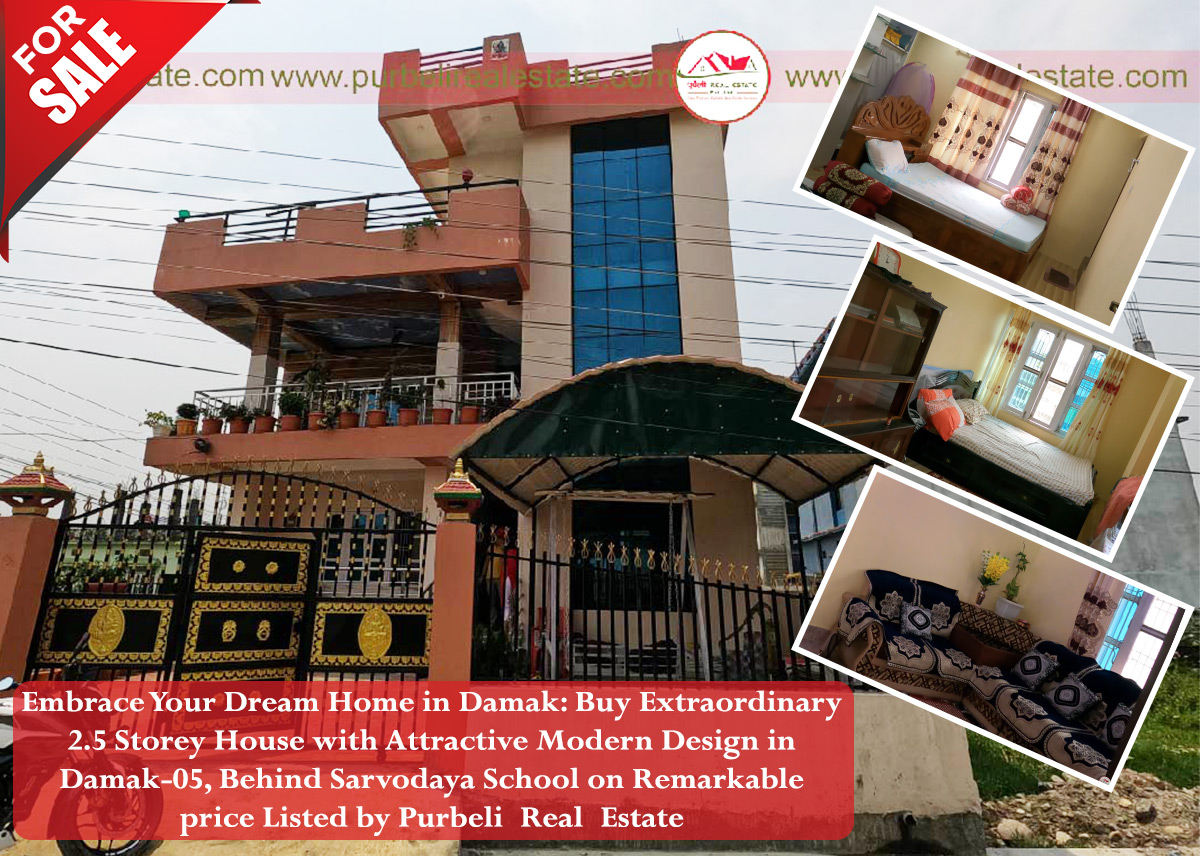 Introduction:
Welcome to Purbeli Real Estate, where we strive to make your dream of finding the perfect home a reality. Today, we are delighted to present you with an outstanding 2.5 storey house located behind Sarvodaya School in Damak-05, Jhapa. This flawlessly designed property offers a peaceful environment, modern amenities, and a prime location. Join us as we explore the details of this exceptional home that could be your next haven. Let us take you on a virtual tour of this remarkable property.
Property Overview:
This spacious house sits on a 15-dhur plot, which boasts an expansive layout with a face size of 48-68 ft. Its desirable east-south facing orientation ensures ample natural light throughout the day. With a 24-24 ft pitched-graveled road linked to the property, accessibility is convenient and annoyance-free. Located behind Sarvodaya School, the house benefits from an undisturbed and family-friendly neighborhood. The house, constructed in 2078 (B.S.), is an affirmation to quality expertise and thoughtful design.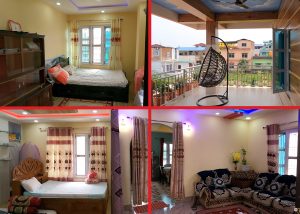 Configuration:
The house spans 2.5 storeys, providing ample space for comfortable living with family, and quality time with friends & guests at home. Let's take a closer look at the thoughtfully designed layout of this magnificent property:
 The ground floor features a functional layout that includes:
  1 Bathroom
  1 Kitchen
  Living Room
2 Bedrooms

 First Floor:
  The first floor offers a comfortable living space with the following features:
2 Attached Bedrooms
 Living Room
1 Kitchen

Second Floor:
The second floor provides additional living space with:
Property Amenities:
Purbeli Real Estate understands the importance of modern amenities in enhancing your lifestyle. This property offers a range of amenities to meet your needs and requirements including:
Telephone: Stay connected with your loved ones through the telephone connection.
Bathroom: Well-maintained bathrooms are available on each floor for your convenience
Cable TV: Enjoy a wide range of entertainment options with cable TV connectivity.
Drainage: The property features a well-designed drainage system, facilitating effective waste disposal.
Drinking Water: In addition to clean drinking water, the house provides a reliable water supply for daily use
Hospital:  The house is conveniently located near a hospital, ensuring quick access to healthcare facilities.
Internet: Stay connected with high-speed internet connectivity.
Parking: The house offers ample parking space for residents and visitors
Peaceful Environment: Peaceful environment for residents.
Education: The prime location of a house offers educational facilities near   home.
Price and Contact Information:
This stunning 2.5 storey house is priced at Rs. 2.50 crore, presenting an excellent opportunity for those seeking a premium home in Damak-05. To learn more about this property or to schedule a visit, please contact Purbeli Real Estate at 023-580777 or 9842666298. Our dedicated team is ready to assist you every step of the way.
Conclusion:
At Purbeli Real Estate, we take pride in connecting you with exceptional properties that match your dreams and aspirations and unique requirements. This 2.5 storey house behind Sarvodaya School in Damak-05, Jhapa, is a prime example of our commitment to quality and client satisfaction. With its expansive layout, modern amenities, and convenient location, it offers a truly peaceful and comfortable living experience and ideal setting for creating cherished memories with your loved ones. Don't miss the opportunity to make this house your dream home. Contact us today and let us guide you through the journey of finding your perfect residence.
For detailed information CLICK here:#PRE268
Watch us on