A Guide to Select the Right Real Estate Agent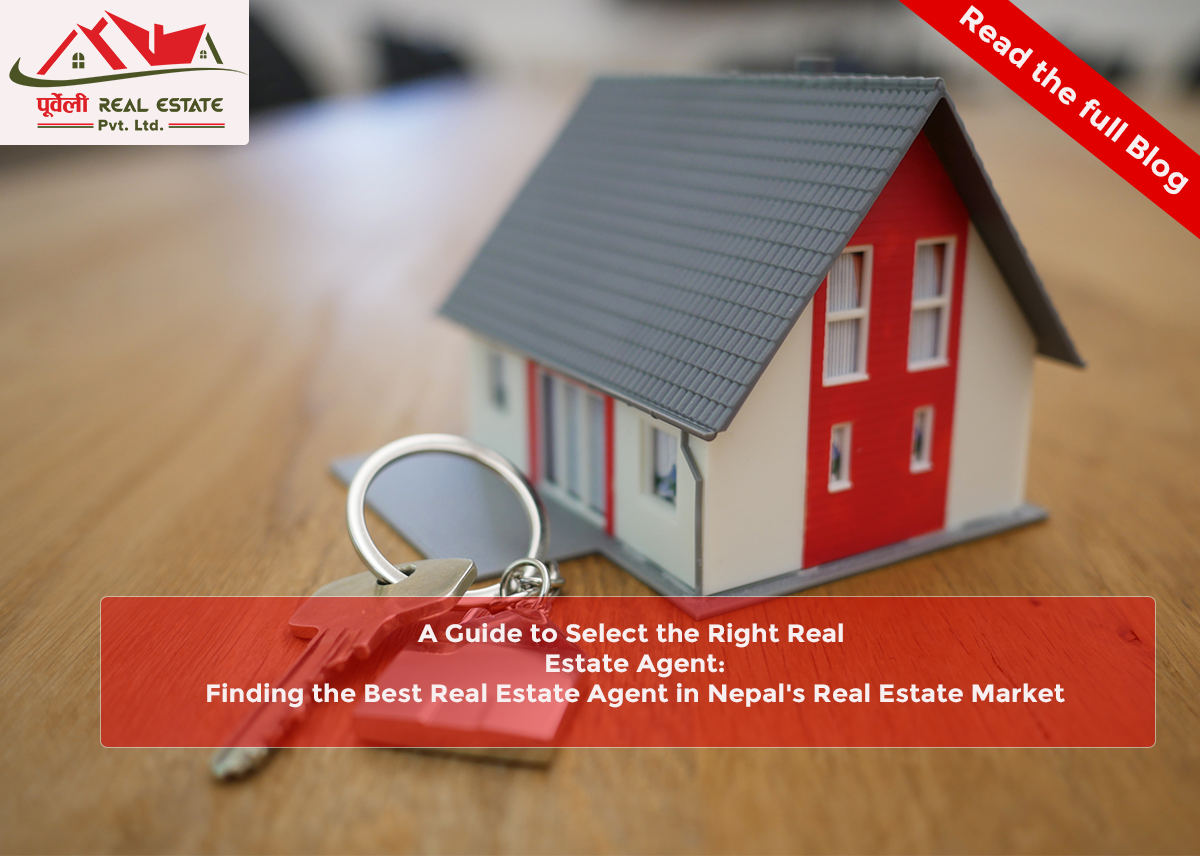 A Guide to Select the Right Real Estate Agent:
 Finding the Best Real Estate Agent in Nepal's Real Estate Market   
 In Nepal's competitive real estate market, selecting the best real estate agent is a crucial choice that may greatly influence your property transactions. Whether you're buying, selling, or renting a knowledgeable and reliable agent makes the process easier and more effective. Real Estate agents so-called " Dalal" have ruined the real estate market very badly in Nepal. There are lots of cases pending in court due to their fraud. More or less, you are also responsible for providing them with a chance to cheat on you and your real estate transactions. So, in this blog, we've tried to provide an in-depth guide on how to choose the ideal Nepali real estate agent.
Specify Your Needs and Objectives
Clarify your unique wants and objectives before starting your agent search. Are you trying to purchase a house, sell some commercial property, or rent an apartment? Finding a real estate agent with experience in your target region can be easier if you are clear on your goals.
Analysis and Recommendations
Social media and online platforms can offer insightful information about an agent's standing and capacity to satisfy customers' needs. Additionally, make the most of your research and ask friends, family, or coworkers for suggestions if they have worked with Nepali real estate agents.
An expert real estate agent offers an abundant amount of information and experience. For successful transactions in the market sector and region you want, look for agents with a track record of success. Experience frequently translates into strong negotiating techniques, accurate property valuations, and extensive awareness of market trends.
Knowledge of the local market
With numerous trends in various areas, Nepal's real estate market is broad and varied. Select a real estate agent who has expertise in the dynamics of the neighborhood market, property valuations, and trends there. Based on the state of the market at the time, you can make informed decisions from their knowledge.
Throughout the real estate transaction, effective communication is important. Look for a real estate agent that actively listens to your needs, answers your questions right away, and keeps you updated throughout the entire process. Transparent and concise communication promotes trust and guarantees a positive experience.
Internet presence and marketing expertise
The ability to advertise oneself effectively online is essential for agents in the current digital era. Check the agent's online presence on social media, their website, and the caliber of their property listings. Their dedication to remaining current and expanding their audience is shown by their strong internet presence.
References & Testimonials from Clients
Request client testimonials or client references from the agent. Speaking with those who have dealt with the agent can provide important details about their professionalism, dependability, and degree of client satisfaction.
And last, believe in your intuition. Choose a real estate agent that you are at ease with, who shares your goals and communication preferences. A successful partnership might result from developing a solid connection with your agent.
Conclusion
To achieve your real estate goals, choosing the best real estate agent in Nepal is essential. You may make an informed selection that creates the foundation for a successful real estate journey by conducting comprehensive research, developing a clear understanding of your needs, and carefully evaluating an agent's competence, experience, and local market expertise. To ensure a smooth and satisfying transaction, keep in mind that a skilled and trustworthy agent is more than simply a facilitator. Purbeli Real Estate with one year of expertise in the real estate business is here to help you through each step of the complexity of Nepal's real estate market. For reliable, managed, and professional real estate services Feel free to join us at : 
About us
At Purbeli Real Estate, we take pride in offering top-notch services in buying, selling, and renting properties across Nepal. Our team of experienced professionals is dedicated to providing you with easy, fast, and reliable real estate solutions. Whether you're a first-time buyer, an experienced investor, or seeking to sell your property, we've got you covered!
🏆 Why Choose Purbeli Real Estate?
✅ Easy Process: We understand that navigating the real estate market can be overwhelming. That's why we simplify the process for you, making it stress-free and straightforward.
✅ Fast Transactions: Time is valuable, and we respect that. Our swift and efficient service ensures that your real estate transactions are completed promptly.
✅ Trustworthy & Reliable: With years of experience in the industry, we've earned a reputation for being dependable and honest. You can count on us to deliver on our promises.
✅ Extensive Property Listings: Our wide range of properties caters to various preferences and budgets. From cozy apartments to spacious villas, we have something for everyone.
✅ Knowledgeable Team: Our team of experts has an in-depth understanding of the Nepali real estate market. We offer valuable insights to help you make informed decisions.
📞 Contact Us:
Have a question or need assistance? Our friendly team is ready to help! Get in touch with us through
Facebook: पूर्वेली Real Estate
Whatsapp: whatsapp
email: [email protected]
phone: 023-580777, +9779702011339
🌐 Website:
Visit our Website: Purbeli Real Estate to explore our latest property listings and learn more about our services.
At Purbeli Real Estate, we are passionate about turning your real estate dreams into reality. Join our growing community and experience the joy of finding the perfect property in Nepal!