Foreign Direct Investment in Nepali Real Estate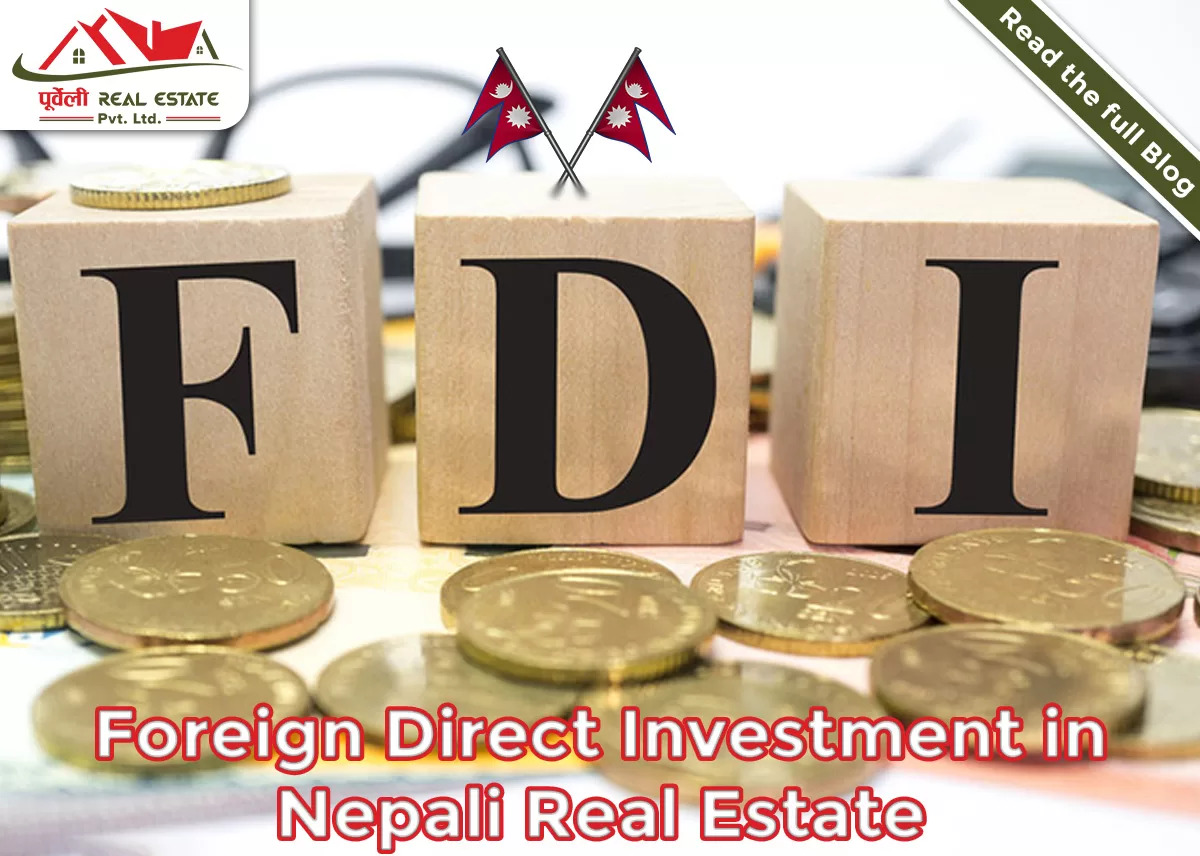 Foreign Direct Investment in Nepali Real Estate
In recent years, Nepal has witnessed a significant increase in foreign direct investment (FDI) in various sectors of its economy. One sector that has gained notable attention is the real estate industry. This article delves into the dynamics, opportunities, challenges, and impact of foreign direct investment in Nepali real estate.
Introduction
Nepal, nestled in the lap of the Himalayas, has recently opened its doors to foreign investors, seeking to tap into the potential of its burgeoning real estate market. The liberalization of policies and the government's efforts to attract FDI have paved the way for international investors to explore opportunities in the country's real estate sector.Nepal has received foreign investment from 55 different countries as of mid-July 2021. In terms of total FDI stock, India ranks top position with Rs.75.8 billion
followed by China (Rs.33.0 billion), Ireland (Rs.16.5 billion), Singapore (Rs.15.5billion) and Saint Kitts and Nevis (Rs.14.5 billion).
Understanding Foreign Direct Investment (FDI)
Foreign Direct Investment, commonly referred to as FDI, involves investments made by individuals, corporations, or entities from one country into the business interests of another country. In the context of Nepali real estate, FDI entails non-resident investors participating in property development, construction, and related ventures.
The survey shows stock of FDI in Nepal increased by 14.8 percent to Rs.227.9 billion at the end of 2020/21. Paid-up capital is the major component in FDI stock as it
accounts for 53.9 percent of total FDI stock whereas the reserves and loans in total FDI stock accounts for 31.6 percent and 14.5 percent respectively
The electricity, gas, steam and air conditioning sector, particularly hydropower sector, in Nepal has been a preferred sector for FDI in recent years. The latest survey shows
that 30.8 percent of FDI stock and 40.0 percent of total paid-up capital is in this sector. Moreover, hydropower sector has also attracted other sources of external financing
such as foreign loans in addition to FDI; the electricity, gas, steam and air conditioning sector accounts for 50.1 percent outstanding foreign loan at the end of 2020/21.
The Real Estate Landscape in Nepal
Nepal's real estate sector has been experiencing rapid growth due to urbanization, population expansion, and increased commercial activities. The demand for housing, commercial spaces, and infrastructure has created a robust environment for potential foreign investors.
Factors Driving FDI in Nepali Real Estate
Several factors contribute to the appeal of Nepal's real estate for foreign investors. The country's strategic location between India and China, its breathtaking natural beauty, and untapped real estate potential make it an attractive destination. Additionally, the relatively lower land and construction costs compared to neighboring countries are enticing for investors.
Regulatory Framework and Government Initiatives
To encourage FDI in the real estate sector, the Nepali government has introduced favorable policies and initiatives. The Land Act allows non-resident individuals and companies to own land for specific purposes. The One Window Policy streamlines the approval process, making it more efficient for investors to navigate regulatory procedures.
Benefits of FDI in the Real Estate Sector
Foreign direct investment brings numerous benefits to Nepal's real estate sector. It injects capital, expertise, and advanced technologies, which can lead to the development of high-quality projects. FDI also generates employment opportunities and stimulates economic growth.
Challenges and Risks
Despite the opportunities, foreign investors face challenges in the Nepali real estate market. These include bureaucratic hurdles, legal complexities, and cultural differences. Additionally, political instability and lack of transparency can pose risks to investors.
Impact on the Local Real Estate Market
The infusion of foreign capital has the potential to transform the local real estate market. It can result in the creation of modern infrastructure, improved urban planning, and enhanced living standards. However, there's a need to strike a balance between modernization and preserving local heritage.
Case Studies of Successful FDI Projects
Several successful FDI projects have already made their mark in Nepali real estate. Examples include the development of commercial complexes, hotels, and residential apartments. These projects demonstrate the potential for foreign investors to thrive in the market.
Future Outlook and Trends
The future of FDI in Nepali real estate looks promising. As the government continues to refine policies and promote ease of doing business, more international investors are likely to be attracted to the sector. Sustainable and eco-friendly developments are expected to gain traction.
Conclusion
Foreign direct investment in Nepali real estate is a transformative force that can reshape the urban landscape and contribute to economic prosperity. As Nepal embraces global partnerships, the synergy between foreign expertise and local potential holds the key to a vibrant and thriving real estate sector.
About Us:
Purbeli Real Estate is a registered real estate company located in Damak-05, Jhapa established to develop professional real estate services.  Since 2022 AD (2078) BS, Purbeli Real Estate has been providing quality services to sell/buy/rent your land/house/apartment. 
🏆 Why Choose Purbeli Real Estate?
✅ Easy Process: We understand that navigating the real estate market can be overwhelming. That's why we simplify the process for you, making it stress-free and straightforward.
✅ Fast Transactions: Time is valuable, and we respect that. Our swift and efficient service ensures that your real estate transactions are completed promptly.
✅ Trustworthy & Reliable: With years of experience in the industry, we've earned a reputation for being dependable and honest. You can count on us to deliver on our promises.
✅ Extensive Property Listings: Our wide range of properties caters to various preferences and budgets. From cozy apartments to spacious villas, we have something for everyone.
✅ Knowledgeable Team: Our team of experts has an in-depth understanding of the Nepali real estate market. We offer valuable insights to help you make informed decisions.
Call us on 023-580777 or 9842666298. You can visit our office at Damak-05, Jhapa (next to the Inland Revenue Office).
For more details, visit us at:
Facebook: पूर्वेली Real Estate

Twitter: पूर्वेली Real Estate
Website: Purbeli Real Estate