Building for Safety: Designing Infrastructure to withstand Earthquakes in Nepal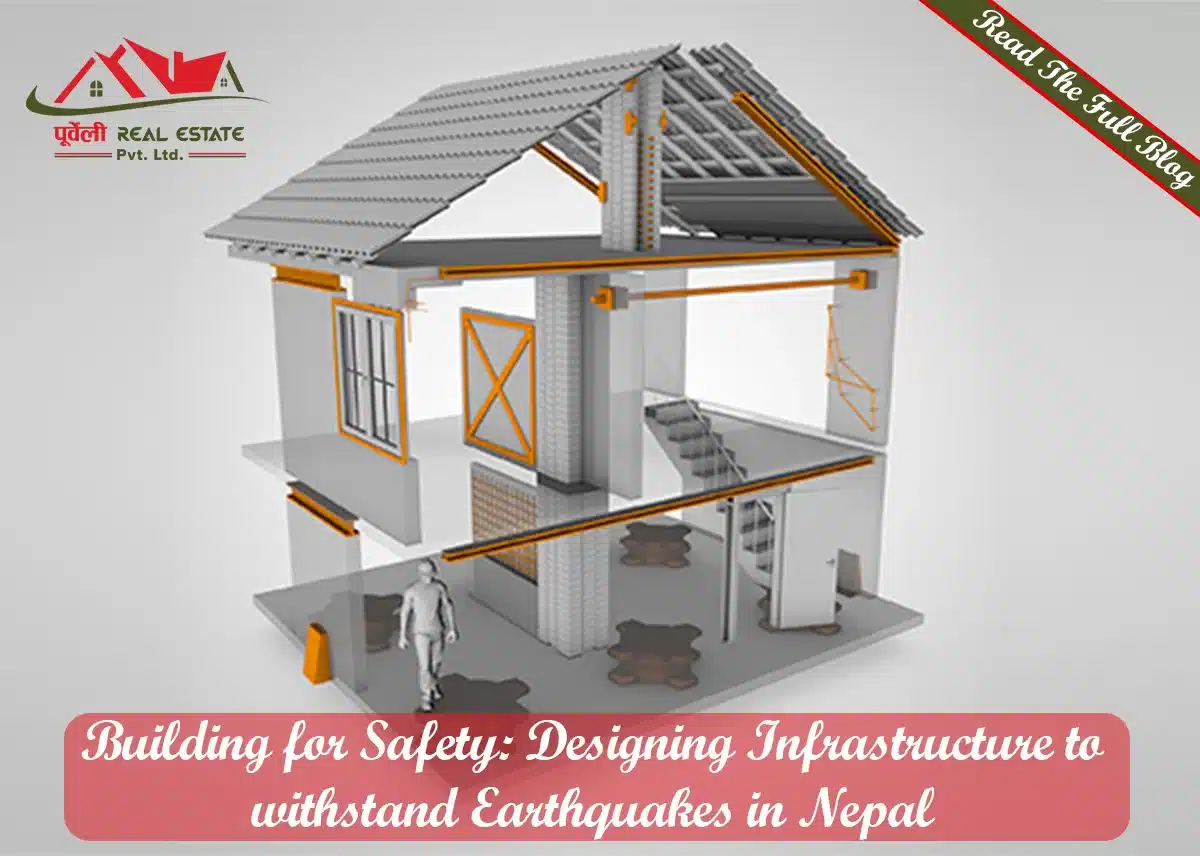 Building for Safety: Designing Infrastructure to withstand Earthquakes in Nepal
Nepal is a nation of breathtaking beauty and extraordinary cultural legacy, located in the lap of the Himalayas. But the thrilling powers of nature are nothing new to this beautiful nation. Buildings in Nepal must be designed to withstand earthquakes; this is a requirement, not an option. We'll discuss the difficulties and essential techniques in building structures that can withstand the vibrations of this earthquake-prone area in this blog.
Recognizing the Earthquake Risk in Nepal
The devastating earthquake that occurred in 2015 (2072 BS ) with a magnitude of 7.8 rector scale killed 8964 people and injured 21952  more destroying thousands of infrastructures. The regular aftershocks destroyed lots of buildings and important architecture in different parts of Nepal.
A devastating 6.4 magnitude earthquake recently occurred with its epicenter at Barekot Rural Municipality of Jajarkot in Jajarkot and Rukum West has caused a huge loss of lives and property. As per information collected till  date at least 157 were confirmed killed while 375 have sustained injuries in the earthquake.
The terrible earthquakes occurring frequently with their epicenters in different parts of Nepal are an alarming indication of how vulnerable the nation is.
  The Functions of Construction Codes
To reduce the risks connected with earthquakes, Nepal has implemented strict building rules in response to this seismic activity. With their basic requirements for construction and structural integrity, these codes serve as the cornerstone for earthquake-resistant design.
To guarantee their designs comply with the most recent safety requirements, Nepalese architects, engineers, and builders need to have a thorough understanding of these rules and keep up to date on any updates.
Geographically specific Factors
Because of the varied topography and geology of Nepal, particular site characteristics must be considered when designing earthquake-resistant buildings. The best strategy depends on several factors, including the type of soil, the level of local earthquake activity, and the proximity to active breakdowns.
Foundation Designs
The first line of protection against seismic forces is a building's foundation. In Nepal, this frequently involves building foundations that can support the hard ground in addition to the shaking earth. To securely support structures, deep foundations or base isolation devices might be required.
Material Choice
One of the most important factors is the quality of the building materials. Commonly used is reinforced concrete with steel rebars; however, earthquake performance requirements must be met when choosing locally sourced materials. To make sure the materials are suitable for the job, strict quality control procedures are part of this.
Structures that Resist Seismic Activity
An important part of designing for earthquake resistance is selecting the right structural systems. Shear walls, braced frames, and moment-resisting frames are frequently used in Nepalese construction designs to distribute seismic forces and minimize bending effects. A building's stability in the event of an earthquake is guaranteed by these mechanisms.
Damping Mechanisms and Density
The building's reaction to ground motion can be greatly diminished by damping systems, such as base isolators or tuned mass dampers. In terms of safety, this could be innovative. Moreover, elasticity design enables buildings to flex and absorb tectonic energy, preventing a sudden and deadly collapse.
Remodeling Current Structures
There are many old buildings in Nepal that were constructed before the current earthquake building codes. It is a difficult but essential task to renovate these buildings to bring them up to code. Their resistance to earthquakes can be increased by employing strategies like the addition of braces and shear walls.
Collaborative Preparedness
Designing with earthquake resistance isn't just for building. Being ready as a community is equally important. To reduce deaths and injuries during seismic events, it is crucial to have designated escape routes, secure gathering places, and conduct earthquake safety drills.
 Cooperation In Action
It is crucial for builders, engineers, architects, and local government officials to work together. It guarantees that the design principles resistant to earthquakes are applied efficiently and that the knowledge gained from previous earthquakes is applied to better projects in the future.
 Conclusion
In Nepal, designing earthquake-resistant buildings is a complex task that includes education and readiness in addition to construction. Because of the nation's seismic susceptibility, safety must always come first, and natural forces must be deeply respected. It is our responsibility as engineers' architects, and real estate to design buildings that safeguard people's lives, maintain cultural traditions, and make Nepal's dynamic communities earthquake-resistant. We can provide Nepal and its people with a safer, more secure future by following these guidelines and working with professionals.
About Us:
Purbeli Real Estate is a registered real estate company located in Damak-05, Jhapa established to develop professional real estate services.  Since 2022 AD (2078) BS, Purbeli Real Estate has been providing quality services to sell/buy/rent your land/house/apartment. 
🏆 Why Choose Purbeli Real Estate?
✅ Easy Process: We understand that navigating the real estate market can be overwhelming. That's why we simplify the process for you, making it stress-free and straightforward.
✅ Fast Transactions: Time is valuable, and we respect that. Our swift and efficient service ensures that your real estate transactions are completed promptly.
✅ Trustworthy & Reliable: With years of experience in the industry, we've earned a reputation for being dependable and honest. You can count on us to deliver on our promises.
✅ Extensive Property Listings: Our wide range of properties caters to various preferences and budgets. From cozy apartments to spacious villas, we have something for everyone.
✅ Knowledgeable Team: Our team of experts has an in-depth understanding of the Nepali real estate market. We offer valuable insights to help you make informed decisions.
Call us on 023-580777 or 9842666298. You can visit our office at Damak-05, Jhapa (next to the Inland Revenue Office).
For more details, visit us at:
Facebook: पूर्वेली Real Estate

Twitter: पूर्वेली Real Estate
Website: Purbeli Real Estate