Discover Your Dream Land: Two Amazing Plots for Sale in Damak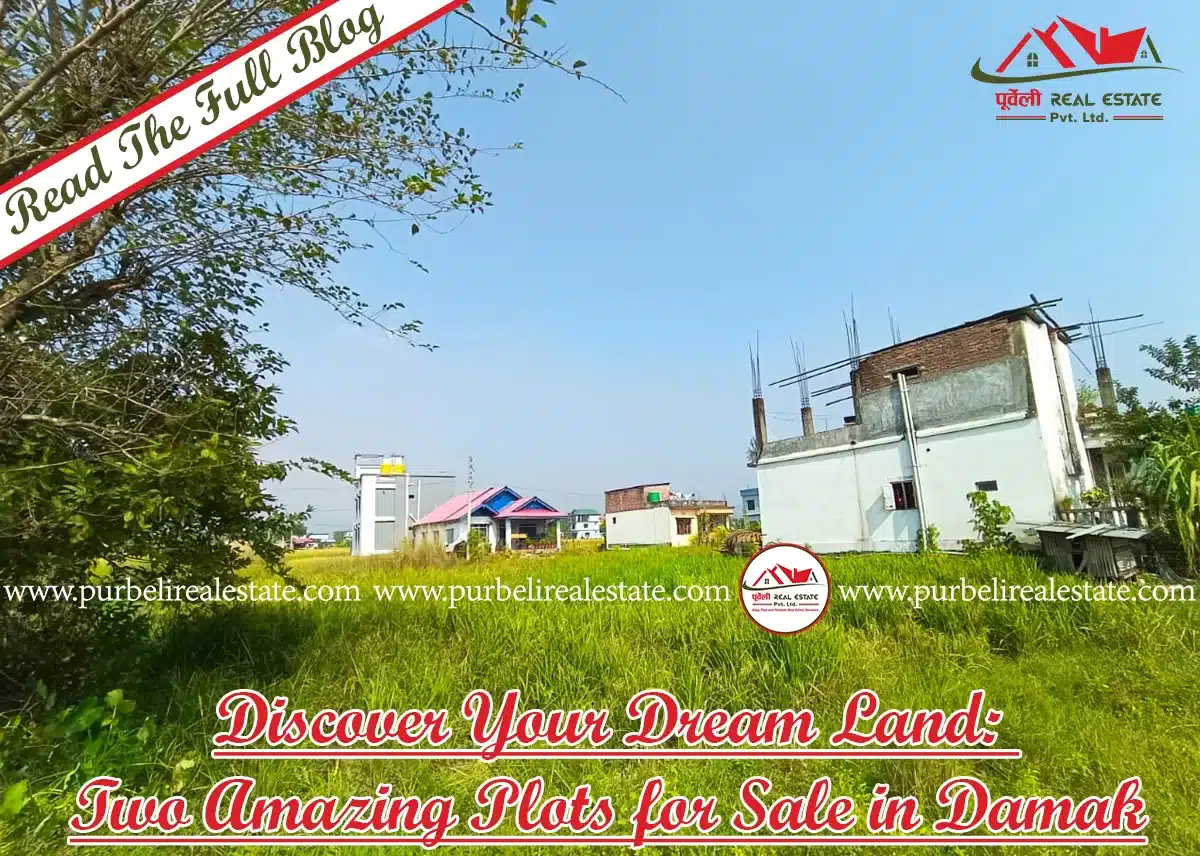 Discover Your Dream Land: Two Amazing Plots for Sale in Damak
Exciting news for anyone dreaming of their own piece of land in Damak. Two awesome plots near Pathivara Eye Hospital are up for grabs. Let's chat about them in simple terms, so you don't miss out on this fantastic opportunity!
Plot 1: A Great Spot Near Pathivara Eye Hospital
Imagine living just a short walk from the Pathivara Eye Hospital. Plot 1 is a big 9.5 dhur piece of land, facing south and with a 32 feet front. Easy access through a 16 ft Gravelled road makes it even better. And guess what? It's only Rs 24 lakh 80 thousand! Affordable and cool, right?
Plot 2: Another Sweet Option Nearby
Right next door is Plot 2 – a bit smaller at 9.25 dhur but equally cool. It's also south-faced, with a 32 feet front and accessible through a 16 ft Gravelled road. And the price? Just Rs 24 lakh 15 thousand. A bit less space but still a great deal!
Why Consider Damak?
Damak's Getting Popular!
People are buzzing about Damak because it's a happening place. Plus, these lands are super close to the Pathivara Eye Hospital – that's a bonus!
Cool Stuff about These Lands
Perfect Location
Both plots are like next-door neighbors to the Pathivara Eye Hospital. That's not just handy for health but could mean exciting stuff happening around in the future.
Sunny Side Up
These lands face south, so you get lots of sunshine. Perfect for a cozy home or a beautiful garden.
Not Too Big, Not Too Small
Plot 1 is bigger, and Plot 2 is a bit smaller. You pick what suits you. And there's a nice 16 ft Gravelled road making sure you can come and go hassle-free.
Affordable Price Tags
Plot 1 is Rs 24 lakh 80 thousand, and Plot 2 is Rs 24 lakh 15 thousand. Pretty good deals, right? Affordable and ready for a new owner!
Things to Think About
Road Check
The road to these plots is Gravelled and 16 ft wide. It's good for access, but it's always smart to think about road conditions.
Highway Nearby
Being 500 meters from Beldangi Highway is a plus. It makes these lands easy to reach and might even bump up their value.
Closing Thoughts: Grab Your Piece of Damak's Bright Future
So, these lands are not just spots on sale; they're your ticket to a bright future in Damak. Whether you're thinking of investing or making a sweet home, these plots have got you covered. Explore Damak, check out these lands, and let the adventure begin!
About Us:
Purbeli Real Estate is a registered real estate company located in Damak-05, Jhapa established to develop professional real estate services.  Since 2022 AD (2078) BS, Purbeli Real Estate has been providing quality services to sell/buy/rent your land/house/apartment. 
🏆 Why Choose Purbeli Real Estate?
✅ Easy Process: We understand that navigating the real estate market can be overwhelming. That's why we simplify the process for you, making it stress-free and straightforward.
✅ Fast Transactions: Time is valuable, and we respect that. Our swift and efficient service ensures that your real estate transactions are completed promptly.
✅ Trustworthy & Reliable: With years of experience in the industry, we've earned a reputation for being dependable and honest. You can count on us to deliver on our promises.
✅ Extensive Property Listings: Our wide range of properties caters to various preferences and budgets. From cozy apartments to spacious villas, we have something for everyone.
✅ Knowledgeable Team: Our team of experts has an in-depth understanding of the Nepali real estate market. We offer valuable insights to help you make informed decisions.
Call us on 023-580777 or 9842666298. You can visit our office at Damak-05, Jhapa (next to the Inland Revenue Office).
For more details, visit us at:
Facebook: पूर्वेली Real Estate

Twitter: पूर्वेली Real Estate
Website: Purbeli Real Estate