Guidelines to Construct Strong House in Nepal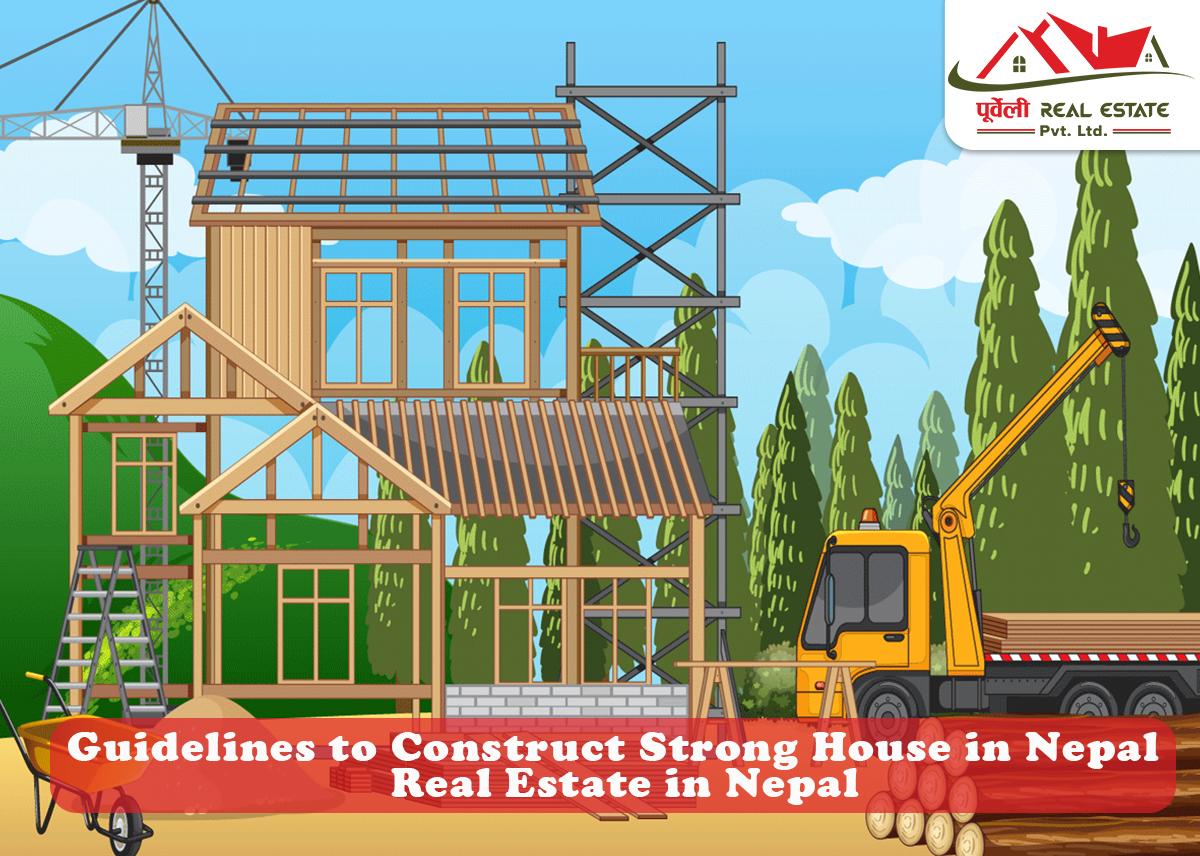 Guidelines to Construct Strong House in Nepal | Real estate in Nepal
Creating a new architecture is not a simple task. It takes careful preparation as well as a lot of effort. It takes quite a commitment, from visiting numerous offices to finishing all the legal procedures to exploring every hardware and electrical store. Nevertheless, all your effort is rewarded when you finally see your new house built with your hard-earned money.
 To maintain structural integrity and flexibility, it's crucial to consider a few factors while building a sturdy house in Nepal. We have tried to sum them up in this blog:
Documentation and Land Ownership:
Verify that you are the rightful and clear owner of the land before you begin the construction process. To prevent any upcoming issues or legal difficulties, confirm land ownership certificates, deeds, and other essential papers. To ensure that all the required paperwork is in place, seek the advice of legal professionals.
Building permissions and laws:
In Nepal, it is necessary to get the necessary building permissions and to abide by the relevant building laws and regulations. Learn the construction criteria, zoning restrictions, and instructions from your local building authority. To prevent any holdups or penalties throughout the construction process, make sure your building designs are following the laws.
Architectural Design and Planning:
 After you get permission, hire a skilled and renowned architect to develop a well-considered architectural design that satisfies your requirements and preferences. Work closely with the architect to make sure the design suits your preferences, financial constraints, and long-term needs. When designing, keep things like the number of levels, room layout, ventilation, natural light, and aesthetics in mind. The fundamental design elements of your house, such as room size, living area, staircase placement, guest bedrooms, hall, kitchen, bathrooms, car garage/parking, and garden/landscaping, should be under your supervision.
Calculate the funds at hand and then create a reasonable budget for the building of your home. Include the cost of the land, building supplies, labor, licenses, expert fees, and contingencies. If your fund is not capable enough for funding then, investigate possibilities like home construction loans, and make sure you have a firm budget in place to meet the costs throughout the building process.
Engaging Builders and Contractors:
Choosing reputable and capable builders and contractors is essential for a building project's success. Before choosing a contractor, do extensive research, verify the references, and go over previous work. Verify their experience and credentials in residential buildings. Be clear about your expectations, timing, and budget to prevent misconceptions. Some local governments have a qualified contractor on file who is licensed to build structures.
Material Choice and Quality:
Pay attention to the material choices for construction to ensure durability, sustainability, and quality. Select materials that are appropriate for the local environment and climate. Cooperate with vendors who offer authentic, verified supplies. To ensure long-term contentment with your home, it is crucial to strike a balance between cost-effectiveness and quality.
    .Utility Connections:
 While the project is being built, make sure to account for all essential utility connections, including those for the water supply, sewage systems, and power. Discuss the needs, costs, and timetable for connection with the relevant utility providers. Make careful to properly accommodate these utilities in your home's design and construction.
Timeline for construction and supervision:
Establishing a reasonable construction timeframe with your builders and contractors is important for proper supervision. Regularly monitor the development of the project to make sure that the schedule, quality, and conformity to the architectural designs are maintained. For rapid resolution of any concerns, frequent site inspections and discussions with the building crew are essential.
Eco-friendly and sustainable design elements
Consider adding environmentally friendly and sustainable elements to the design of your home. Energy-efficient appliances, adequate insulation, rainwater harvesting systems, solar electricity generation, and natural ventilation are a few examples. Your carbon footprint is decreased when you build an ecologically friendly home, and it also results in long-term financial benefits.
Considerations After Construction:
After the construction is finished, there are still important things to think about. Such as gardening, interior decorating, furniture placement, and any other features or amenities you would want. Additionally, make sure to set up home insurance and the paperwork required for property ownership.
Conclusion:
            Building a home in Nepal is a huge task that needs careful planning and attention. By being aware of the procedures involved in purchasing property, acquiring the required licenses, working with experts, managing your finances, and choosing high-quality materials.
About Us:
Explore stylish real estate liberties with Purbeli Real Estate. You can simply buy, sell, or rent a property with the aid of our comprehensive listings. Your perfect home, place of business, or investment property may be established in Nepal's booming real estate market so, be in touch with us. Make informed resolutions with Purbeli Real Estate, the leading real estate in Nepal.
Contact Purbeli Real Estate now at:
Facebook: पूर्वेली Real Estate
Twitter: पूर्वेली Real Estate
Website: Purbeli Real Estate
  For easy, quick, and reliable real estate services always flash back to Purbeli Real Estate. Where we provide a one-stop result for everything pertaining to real estate services.