Things to be Considered while Buying a House in Nepal.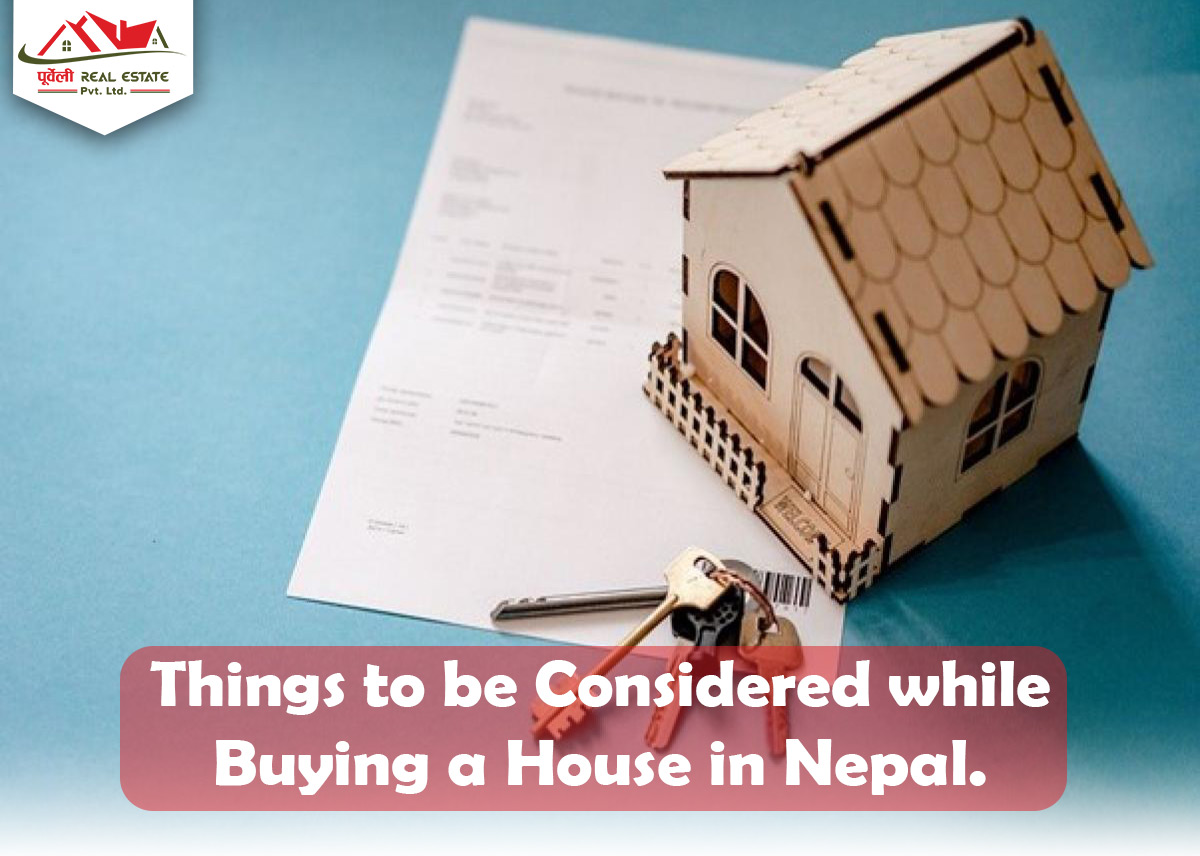 Things to be Considered while Buying a House in Nepal.
Buying a house is one of the great investments in your entire life. It's a one-time investment. So, it is important to have enough research about the house before buying. And assure you it's perfect for you.
Here are some key points to keep in mind when buying a house:
• Location
Consider the location of the house in terms of accessibility to essential amenities such as school, hospital, markets, transportation, and your workplace. Also, you need to evaluate the neighborhood's safety, infrastructure, and overall development.
• Budget
Determine your budget. Before making a purchase, it's crucial to have a clear understanding of your financial capabilities. Consider the house's cost and additional expenses such as legal fees, taxes, and maintenance costs.
• Property Type
First, decide the type of property that suits your needs. Whether it's an apartment, a standalone house, or a commercial property. Each type of property has its advantages and considerations so, choose based on your requirements.
• Legal Documentation
Legality is the main concern. Verify the legal ownership of the property by reviewing the land ownership documents and updated land revenue records. Ensure that the property has a clear title and is free from any legal disputes.
• Construction Quality
Evaluate the quality of construction materials, the reputation of the builder or developer, and the structural integrity of the property.
• Infrastructure and Utilities
Check the availability and condition of essential utilities such as water supply, electricity, sewerage systems, and internet connectivity. Also, examine the overall infrastructure of the area, including roads, drainage, and public services.
• Security
Safety is an important concern, so ensure the property provides a safe environment for you and your family.
• Future Development Plans
Research any future development plans for the area where the property is located. This can include new Infrastructure projects and commercial development. It's important to consider how these plans may impact property value and quality of life.
• Financing Options
Explore various financing options available to you such as home loans or mortgages. Compare interest rates, loan terms, and eligibility criteria from different financial institutions to find the best option for your needs.
• Seek Professional Help
Consider consulting with a real estate agent, lawyer, or property expert to guide you through the buying process. They can provide valuable advice, handle legal documentation, and ensure a smooth transaction.
These are the major considerations you should take while buying a house. You can evaluate yourself on your own, it depends on you.
"Discover the best real estate opportunities in Nepal. Buy, sell, or rent properties effortlessly with our comprehensive listings. Find your dream home, office space, or investment property in Nepal's thriving real estate market. Explore a wide range of options, connect with trusted agents, and make informed decisions. Start your property journey today!"- " Purbeli Real Estate"
You can visit our listings to find the best homes for sale on ( Purbeli Real Estate). Also, you can contact us on 023-580777 or 9842666298. Visit our office at Damak -05 Jhapa (next to Inland Revenue Office )for a better experience.  Facebook : पूर्वेली Real Estate   , Instagram:पूर्वेली Real Estate , Twitter:Purbeli Real Estate ,