Commercial house for sale on Damak-08, Pulchowk, Setumari Highway. Real Estate Firm in Nepal- Purbeli Real Estate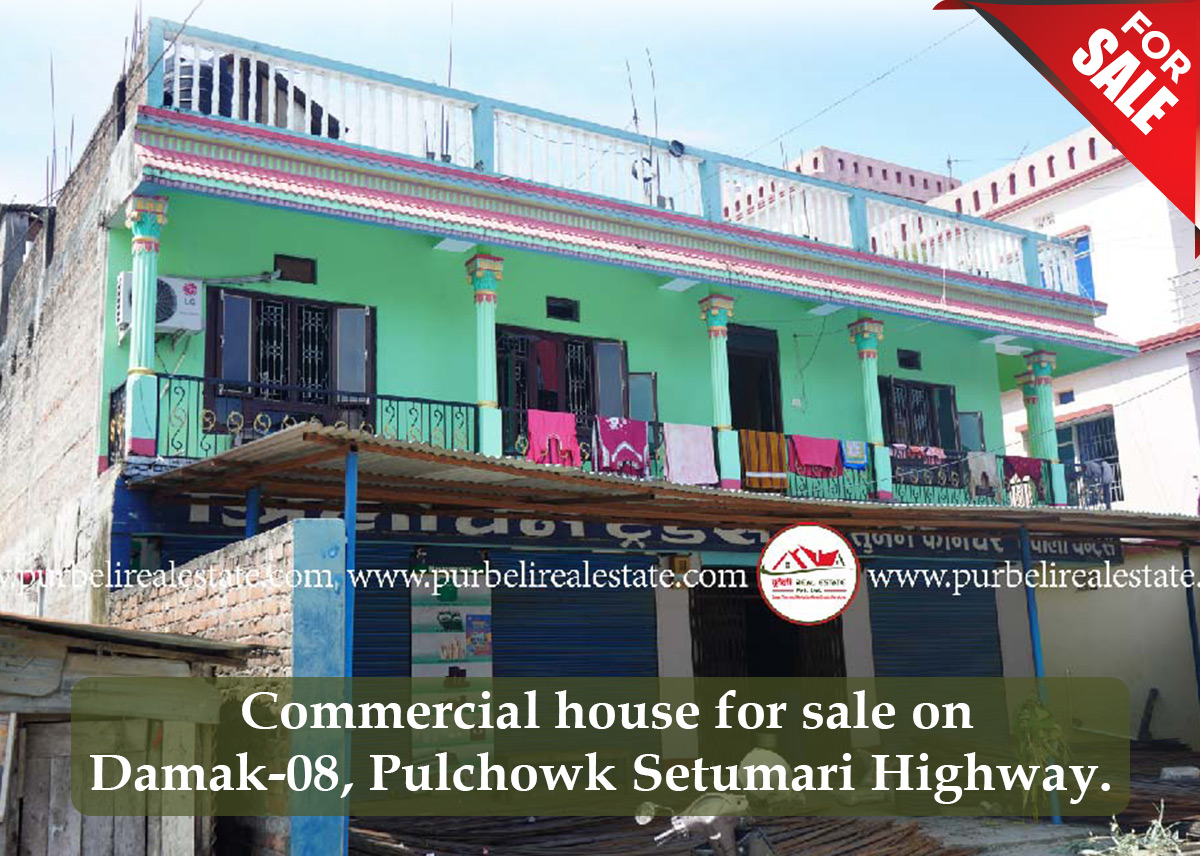 Commercial house for sale on Damak-08, Pulchowk, Setumari Highway.
Introduction:
 We are glad to extend a warm greeting to you at Purbeli Real Estate and to offer you the
once-in-a-lifetime chance to acquire a commercial highway home in the busy town of Jhapa, Damak. This gorgeous home in Damak-8 offers the perfect balance of comfort and elegance for both the efficient operation of your business and for residential use. People searching for a prominent business in a tranquil oasis can choose this two-story residence on a 22 dhur plot that faces east.
Property Description
The house provides you with 12 rooms on each story, which is the most unique aspect of it. Both business and residential uses are possible for the rooms.
With a face size of 49 feet and easy access through a 30 & 50-foot driveway, located just 1km south of Mahendra Highway this highway home stands out among the alternatives. On the ground floor, seven large shutters offer sufficient commercial space for a variety of business activities. For entrepreneurs looking to build a store or investors looking for rental income, this level presents fascinating prospects. A homeowner may receive up to Rs.50,000 to Rs.60,000 in rent each month.
There is a kitchen, a comfortable living room, four bedrooms, and two bathrooms on the first floor. At this level, your professional and personal needs are exactly met, allowing for the ideal work-life balance…
 Services and environment
This highway home offers several conveniences, like cable TV, clean toilets, telephone connectivity, efficient drainage systems, and a consistent supply of drinking water. This house's added benefit is its ability to grow up to seven stories.
Due to the property's accessibility to hospitals, you and your loved ones may feel safe knowing that medical care is nearby and easily accessible. You can stay connected thanks to high-speed internet access, and there is plenty of space for parking your automobiles.
The location of this highway house adds to its attractiveness. Its position in a quiet, well-connected area gives you and your family convenient access to services like schools, shopping centers, and transportation routes, ensuring a comfortable way of life.
 Price and Contact Information
This gorgeous home along the highway is being sold for a negotiable price of Rs. 2.80 crores, offering an excellent investment opportunity. Please contact us at 023-580777 or 9842666298 for further information.
Conclusion:
Experience the height of larger commercial opportunities together with its housing options with this superb highway property in Jhapa, Damak. We warmly encourage you to view this lovely home, which has a fantastic location, first-rate amenities, and a well-planned layout to satisfy all your needs.   Don't pass up the chance to improve your quality of life and buy a beautiful house in this bustling city. Contact us right away, and we'll work with you to make your dream of buying this house a reality. For more details:
Contact Purbeli Real Estate now at:
Facebook: पूर्वेली Real Estate
Twitter: पूर्वेली Real Estate
Website: Purbeli Real Estate
For easy, fast, and reliable real estate services always remember Purbeli Real Estate. Where we provide a one-stop solution for everything pertaining to real estate services.