Your Dream Home Awaits: Experience Luxury Living with Purbeli Real Estate:Buy House in Damak-5, jhapa, Nepal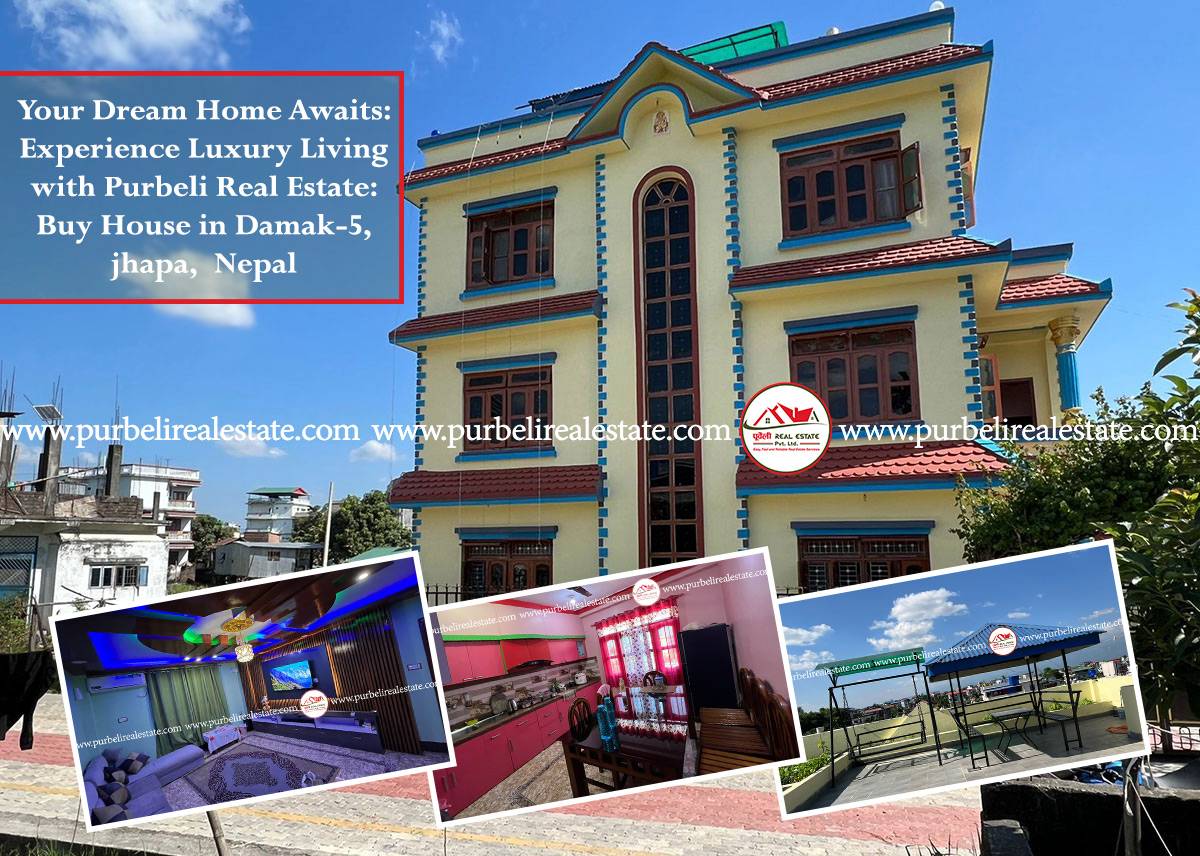 Buy house in damak with Purbeli Real Estate, your reliable companion in the real estate world. We are excited to introduce a stunning property that can turn your dream of owning a luxurious home into reality. Situated in the beautiful area of Damak-5, Jhapa, this 2.5-storey house combines elegance, comfort, and convenience flawlessly. Let us take you on a virtual tour of this remarkable property.
Location:
This stunning house is situated in Damak-5, Jhapa, offering a prime location that combines accessibility and serenity. It is just 100 meters north of Mahendra Highway, ensuring easy connectivity to essential amenities and services. The 20 ft paver blocked road linked to the house provides seamless access, making it a convenient and desirable location for residents.
Property Overview:
2.5-storey house
Land area: 12 dhur
West-facing property
Face size: 51 ft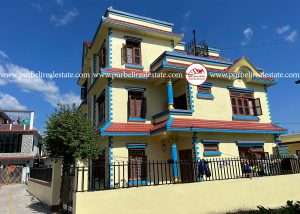 Ground Floor:
As you step into the house, you'll find a spacious parking area to accommodate your vehicles. The ground floor also includes a well-maintained bathroom and five bedrooms, providing ample   space for your family or guests. The meticulous design and quality construction of this floor ensure both comfort and functionality.
         First Floor:
Moving up to the first floor, you'll discover another five bedrooms and a bathroom. Each bedroom is thoughtfully designed to create a cozy and inviting atmosphere, offering a tranquil space for relaxation and rejuvenation.
        Second Floor:
The second floor of this magnificent house offers an elegant living experience. It features a tastefully designed living room, a bathroom, two bedrooms, and a well-equipped kitchen. The living room provides a perfect setting for quality time with family and friends, while the kitchen is equipped with modern appliances and fittings, allowing you to indulge in your culinary pursuits.
Price and Features:
This exceptional property is available at a competitive price of Rs. 2.15 crore. In addition to its attractive price, the house offers a range of remarkable features that enhance your living experience, including:
Fully-furnished interiors:  The house is elegantly furnished, ensuring a seamless move-in experience.
Peaceful Environment: Enjoy the tranquility of the surroundings, providing a serene retreat from the hustle and bustle of city life.
Tiles Marble: The house boasts exquisite tile marble flooring, adding a touch of sophistication to the interiors.
Garbage Management: The property incorporates an efficient waste management system, maintaining cleanliness and hygiene.
Drinking Water: Reliable access to clean drinking water is ensured, alleviating any concerns.
Property Amenities:
This exceptional house offers a range of amenities to cater to your lifestyle needs, including:
Telephone: Stay connected with your loved ones through the telephone connection.
A/C Rooms: Beat the heat with air-conditioned rooms, ensuring maximum comfort.
Bathroom: Well-maintained bathrooms are available on each floor for your convenience.
Cable TV: Enjoy a wide range of entertainment options with cable TV connectivity.
Drainage: The property features a well-designed drainage system, facilitating effective waste disposal.
Drinking Water: In addition to clean drinking water, the house provides a reliable water supply for daily use.
Proximity to Hospital: The house is conveniently located near a hospital, ensuring quick access to healthcare facilities.
Internet: Stay connected with high-speed internet connectivity.
Parking: The house offers ample parking space for residents and visitors.
Conclusion:
Purbeli Real Estate invites you to explore the epitome of luxury living with this remarkable house in Damak-5, Jhapa. With its stunning architecture, thoughtful design, and a range of amenities, this property is a testament to our commitment to excellence. Don't miss the opportunity to make this house your dream home. Contact Purbeli Real Estate today and take the first step towards a life of comfort, style, and serenity.
Click here for more info: #PRE170
View House video on Youtube: