Agricultural and Residential land on Sale at Urlabari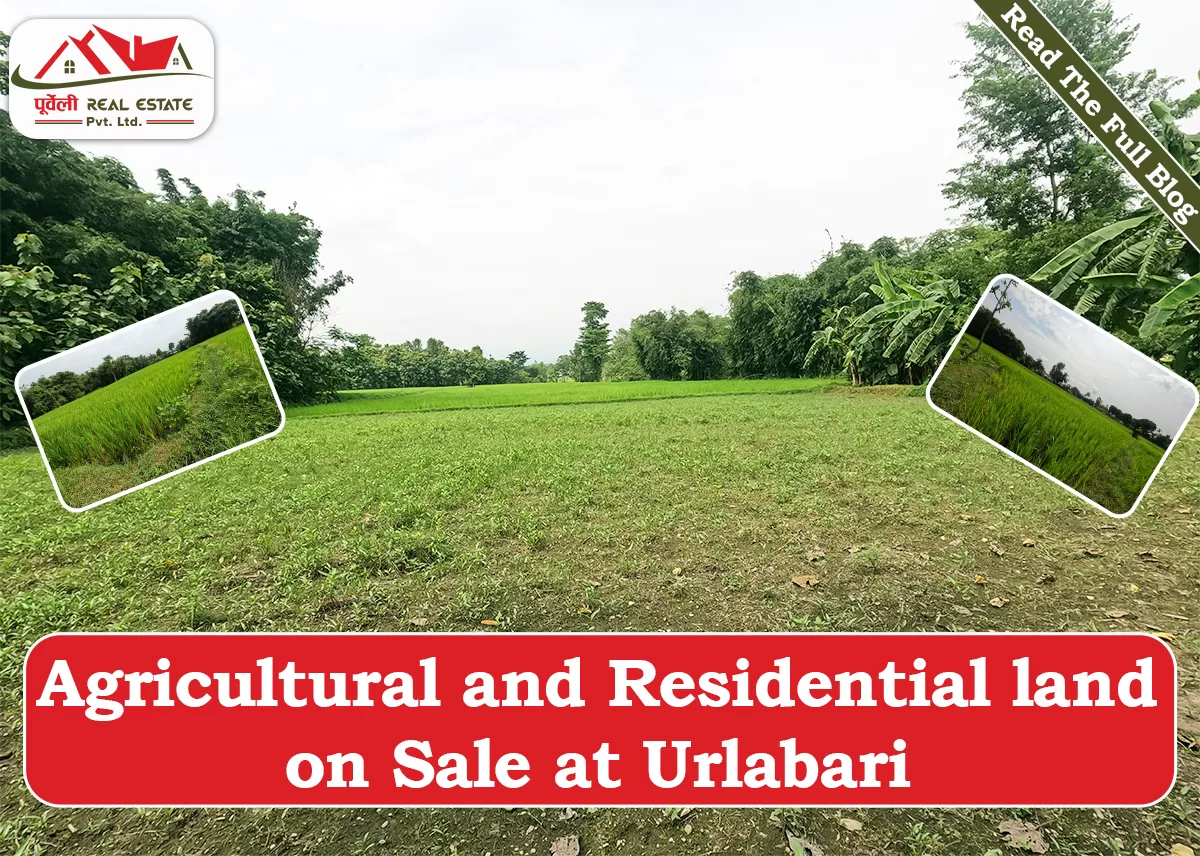 Agricultural and Residential land on Sale at Urlabari
Are you searching for residential and agricultural land in the beautiful Urlabari? Look no further than this exclusive property just 1.5 km North of Mahendra Highway.
 Features of Property:
Area of Land: 1 Bigha
Land Orientation: South faced.
Face Size: 100 ft
Road access: 20ft graveled road linked.
5 km North/West of Mahendra Highway
Reasons to invest in Urlabari:
Located in Eastern Nepal, Urlabari is a lovely town renowned for its beautiful vegetation and peaceful atmosphere. Due to its advantageous location and bright future potential Urlabari is becoming a popular location for investment.
The property's 1 Bigha of land is ideal for individuals looking to start up agricultural businesses. It is a great place to grow a variety of crops and create a sustainable life because of Urlabari's fertile soil and ideal weather.
If you've always wanted to create your own house in a peaceful area away from the bustle of the city, this property is the ideal place to start. As a result of the building's south orientation, it receives enough sunlight throughout the day, which makes the space seem warm and comfortable.
The property has quick access to stores, schools, healthcare facilities, and other necessities because it is only 1.5 km North/West of the Mahendra Highway. You'll benefit from having access to both metropolitan conveniences and the peace and quiet of countryside living.
Potential for Investment:
With the real estate market in Urlabari expanding, it is a desirable destination for investors. The potential for this property's value to increase is encouraging, whether you want to build your ideal house or just want to make a smart investment.
Don't miss out on this incredible opportunity to own this beautiful property for just 15 Lakhs per Katha. This outstanding piece of land won't be on the market for very long because of the booming Urlabari real estate market. So, for a visit to the property, you can contact the owner directly on 9829379222. For other inquiries call us at 023-580777 Purbeli Real Estate Near to Inland Revenue Office Damak-05, Jhapa.
About Us:
Purbeli Real Estate is a registered real estate company located in Damak-05, Jhapa established to develop professional real estate services.  Since 2022 AD (2078) BS, Purbeli Real Estate has been providing quality services to sell/buy/rent your land/house/apartment. 
🏆 Why Choose Purbeli Real Estate?
✅ Easy Process: We understand that navigating the real estate market can be overwhelming. That's why we simplify the process for you, making it stress-free and straightforward.
✅ Fast Transactions: Time is valuable, and we respect that. Our swift and efficient service ensures that your real estate transactions are completed promptly.
✅ Trustworthy & Reliable: With years of experience in the industry, we've earned a reputation for being dependable and honest. You can count on us to deliver on our promises.
✅ Extensive Property Listings: Our wide range of properties caters to various preferences and budgets. From cozy apartments to spacious villas, we have something for everyone.
✅ Knowledgeable Team: Our team of experts has an in-depth understanding of the Nepali real estate market. We offer valuable insights to help you make informed decisions.
Call us on 023-580777 or 9842666298. You can visit our office at Damak-05, Jhapa (next to the Inland Revenue Office).
For more details, visit us at:
Facebook: पूर्वेली Real Estate

Twitter: पूर्वेली Real Estate
Website: Purbeli Real Estate